The 12 Best Strapless Bras That Won't Slip & Fall Down
We only recommend products we love and that we think you will, too. We may receive a portion of sales from products purchased from this article, which was written by our Commerce team.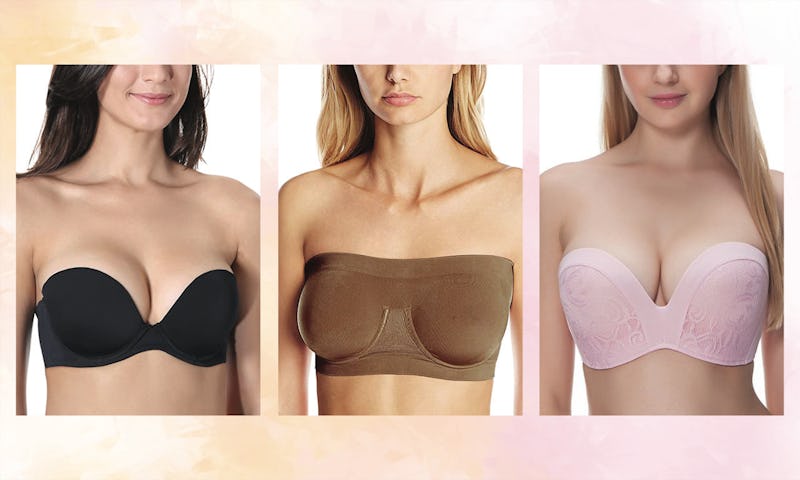 Bustle/Amazon
If you've ever spent a day pulling up a strapless bra that's sliding all around, you'll know the value of one that stays securely put. The best strapless bras that won't slip and fall down feature design elements like silicone edging and multilayer hook-and-eye closures for extra support and grip, so you can comfortably wear them all day long (and even all night).
What To Look For When Shopping For The Best Strapless Bras That Won't Slip & Fall Down
Design Features
A strapless bra that stays up is notoriously tricky to shop for, but there are a couple design features that'll help ensure a secure fit, especially if you have your eye on a traditional style with contoured cups. Namely, you'll want to look for silicone edging that'll comfortably grip skin, so that the bra material (which is often made from slippery materials like nylon) won't slide around. Multiple hook-and-eye closures can add extra staying power, and you may want to hook the band closer together than you normally would for a tighter fit. Speaking of, if you're between band sizes, it's worth going for the smaller band size so that you don't run the risk of a bra that's loose around the ribcage — a recipe for slippage.
Alternatives To Traditional Strapless Bras
Depending on your support goals and what you're wearing, you can also think outside the box of a traditional strapless bra. If you're less concerned about molded cups, for example, you can opt for a soft and comfy bandeau made with four-way stretch fabric that still offers decent support. You may also want to consider nipple covers — while they don't offer much in the way of support, they do provide coverage and blend in with your breasts for a seamless look under clothes. Nipple covers are also helpful for backless, strapless outfits, but you also have the option of a stick-on bra with a front clasp that offers a bit more support and lets you adjust the fit if you want to create a little cleavage.
Last, it's always worth checking out customer reviews; there's nothing like feedback from real wearers to determine whether or not your strapless bra choice really will stay right where you want it to.
From the best bra for a backless dress to simple unlined styles, these are the best strapless bras that won't slip and fall down.
Shop The Best Strapless Bras That Won't Slip & Fall Down
In a hurry? These are the best strapless bras that won't slip and fall down:
1. A Convertible Demi Bra In A Wide Range Of Sizes
Although it's pricey, this Wacoal strapless bra is arguably worth the investment, thanks to its clever design features and unmatched versatility. The multi-way bra feature optional straps that allow you to wear it as a traditional bra or even as a halter or one-shoulder bra. The underwire and triple hook-and-eye closure offer support while the silicone edging helps ensure a stay-put fit. Even better? It comes in an impressively wide range of sizes up to an H cup.
According to one reviewer: "Strapless bras are largely not an option for me. I had basically given up wearing one for years. But this bra has changed my life. It is worth every penny and then some. I have never had a bra fit so well, let alone a strapless one. It literally doesn't move. I have never had to pull it up or adjust it even when wearing it for hours and moving around. It is literally the best bra I've ever worn and being as large busted as I am, that's saying a lot."
Available sizes: 30D — 44G
Available colors: 6
2. A Lace Bra With A Push-Up Balconette Design
This push-up strapless bra has lace detailing for a chic touch, and a hook-and-eye closure plus a spandex construction that keeps it from slipping down throughout the day. The underwire provides you with plenty of support and it also comes with optional straps you can criss-cross, wear traditionally, or convert into a halter. There's a bit of padding, and the balconette construction works to lift breasts upward, but note that some reviewers find this pick to be a bit more constricting than other strapless options.
According to one reviewer: "Ahead of my wedding, I dreaded shopping for a strapless bra. I turned to Amazon hoping to get lucky, and with this one I did. The price truly couldn't be beat and it fit perfectly. Because it's strapless of course it feels tighter than a regular bra but here is why it gets 5 stars. This thing stayed up my entire wedding - I never had to pull it up once! A true dream come true for that reason alone."
Available sizes: 34A — 40DD
Available colors: 5
3. A Combination Backless & Strapless Bra That Stays Put
The best backless strapless bra (yes, backless!) may look like a science project, but it makes wearing unique, formal styles an absolute breeze. It uses a front clasp and adhesive gel to support your bust and add coverage. The deep-V design means you can wear it with low-cut tops and dresses, and the adjustable clasp allows you to bring the breasts closer together if you like.
According to one reviewer: "I ordered this bra Because I had a dress that was backless and low cut. [...] The biggest reason I'm writing this review is because I wore this for literally 13 hours straight. This bra stuck like no other. I usually do a wipe of rubbing alcohol before putting stick bras on. It did begin to loosen when I got very sweaty, (after like 12 hours already) but a quick wipe and readjustment and it stuck the rest of the evening. I can truly amazed at this bra!"
Available sizes: A — E (no band options)
Available colors: 4
4. This Comfy Bandeau Made With 4-Way Stretch Fabric
If it's comfort you're after, you can't go wrong with this soft, seamless bandeau. Instead of relying on cups for support, the bra is made from four-way stretch fabric for a secure fit that won't fall down. It's unlined, so may offer less coverage than the other picks on this list, but it's ideal if you're looking for something you can wear all day long, and it's extra-cute when worn on its own under overalls.
According to one reviewer: "Very, very comfortable compared to the strapless bras I've bought. I can wear at home all day, with a light t-shirt or for working out."
Available sizes: X-Small/Medium — X-Large/XX-Large
Available colors: 33
5. A Plus-Size Bra That's Stylish & Supportive
Strapless bras for big chests are usually so hard to find in both stylish and supportive designs. Enter this bra that solves both of those problems. This lined sweetheart number has a light lace at the top, underwire, and boning for extra support. It also comes with optional straps you can use to convert this into whatever style bra you'd like to wear. The only downside? No silicone edging to upgrade the stay-put factor.
According to one reviewer: "The band is firm and true to size. It does an amazing job at holding up a larger breast! No issues with the band slipping down when worn as a strapless bra. [...] Will purchase again in a larger cup, it's almost impossible to find a strapless bra in larger cup sizes, much less one that stays put!"
Available sizes: 32I — 46DD
Available colors: 2
6. A Longline Bra You Can Wear With Plunging Backs
An extra couple of inches under the ribs meant way more support up top, and that's the beauty of this longline bustier bra. It has has a low-profile hook-and-eye closure in back and plenty of spandex to ensure it stays securely on your body throughout the day. Silicone edging works to further keep things secure, and the smooth cups create a seamless silhouette under clothes.
According to one reviewer: "I ordered the black. I will be ordering the white too. Honestly, I don't think I will ever go back to wearing a bra with straps again. I have to say it again, it stays in place all day. I'm working from home now and I walk around the block on my lunch and it just stays in place."
Available sizes: 32B — 44G
Available colors: 4
7. A Basic Bra At A Budget Price
A great basic pick, this wireless strapless bra features side boning and silicone grips along the bra's edges for a no-fall, no-slip fit. Lightly lined cups provide coverage, and four-way stretch fabric provides a smooth profile under clothes. It comes with optional straps that can be worn traditionally or in a criss-cross fashion, depending on your look.
According to one reviewer: "I'm extremely pleased! I'm heavy chested (42DD) so it's hard to find good fitting bra that doesn't slip & slide. Some reviews suggested sizing up, but I just got my original size & it fits perfectly. I feel super supported, it doesn't roll down, I love that the band is wide in the back [...] I'll definitely be purchasing in other colors."
Available sizes: 34B — 44DD
Available colors: 4
8. A Supportive Strapless Bra You Can Wear 7 Different Ways
This strapless multi-way bra is made with 26% spandex to hug you without feeling uncomfortable, and silicone lining gives it a secure grip. While you can certainly rock this molded bra in the strapless style, it can actually be worn seven different ways, simply by adjusting the optional straps. Speaking of which, you'll get one set of matching straps and one set of clear straps. The underwire bra has cushioning in the lower band for even more support and comes in four neutral colors.
According to one reviewer: "For years I've stayed away from strapless bras because they always slide down. This bra doesn't do that. It says in place all day!!"
Available sizes: 34DD — 44H
Available colors: 4
9. An Unlined Bra Made From Pretty Lace
Finding a comfortable strapless bra that can be worn for hours on end can prove challenging, but this highly rated version that one reviewer calls "the best bra ever" is a pretty solid bet. With a delicate floral pattern that's invisible under clothes, it's as pretty as any lingerie, but uses a hidden underwire and silicone lining across the top for support and security. The full-coverage cups are non-padded and unlined, and the bra comes with optional straps.
According to one reviewer: "I don't normally write reviews but this bra is fantastic. I am a 38DDD and I have three strapless bras that I hate and avoid because they are so uncomfortable. [...] Last night I wore my new strapless bra and I forgot I had it on. There was no fidgeting with it all night, trying to fix it and make it comfortable. It was so comfortable and there was no spillage. Everything stayed in place all night and I took the bra off when I got home; not in the car like I usually do. I highly recommend this bra and will be ordering another one."
Available sizes: 32B — 40DD
Available colors: 3
10. A Classic Strapless Bra Built For Support
This padded strapless bra has all the features of a more structured supportive bra without any of the discomfort. With side panels and soft boning, it features full-coverage contoured cups and silicone grips to help prevent slippage. You can hook it securely with the quadruple hook-and-eye closure on the back (which offers tons of support), and it even comes with optional straps you can use on days when you'd rather go with a classic bra style.
According to one reviewer: "I've never had luck with strapless bras. I'm currently a 34G (or 32H, depending on the bra) and I was skeptical that any strapless number would provide support and stay where it was supposed to. I was incredibly surprised that this bra did both. It's well-made and provides adequate support, even when I'm bending/moving around/living life. [...] I also appreciate that it does come with detachable straps, so it has an element of versatility I wasn't expecting. Overall, great bra."
Available sizes: 32B — 46DD
Available colors: 26
11. A Strapless Bra With Gel Push-Up Padding
If you're looking to create cleavage, the best strapless push-up bra features gel pads that bring the breasts together and up. And underwire adds support while the silicone lining offers a comfortable grip to keep the bra from slipping and falling down. It comes with clear straps that you can wear any which way if you want to wear this as a non-strapless bra.
According to one reviewer: "I don't wear much strapless bras because they tend to slip down to my body type. But I look into this one I read the reviews and so I was convinced. I tried it on as soon as I received it and the first thing I noticed is that it does hold pretty well. This will definitely fit nicely on some of the outfits and dresses that I will be wearing in the future. If I had to buy another one I will definitely order another one of this again."
Available sizes: 32A — 38D
Available colors: 3
12. These Nipple Covers With A Cult Following
Boasting a 4.7-star overall rating after 22,000 reviews, these nipple covers have a bona fide fan following, and they're a great pick for anyone whose main goal is coverage over support. Made from smooth silicone, the washable and reusable covers are thin so that they seamless blend in with your body. They come in skin tones like espresso, caramel, and hazelnut, and the two size options are suitable for all breast sizes.
According to one reviewer: "THESE ARE AMAZING! I have tried lots of different brands and they usually only stay half stuck on so I am constantly pushing them back on, but these stay on so well I forgot I was wearing them. These are a total game changer and probably will honestly change my life since bras are really difficult and uncomfortable for me to wear."
Available sizes: A to C cup — D+ cup
Available colors: 5
This article was originally published on