The 25 Best Work Bags, According To Bustle's Chicest Editors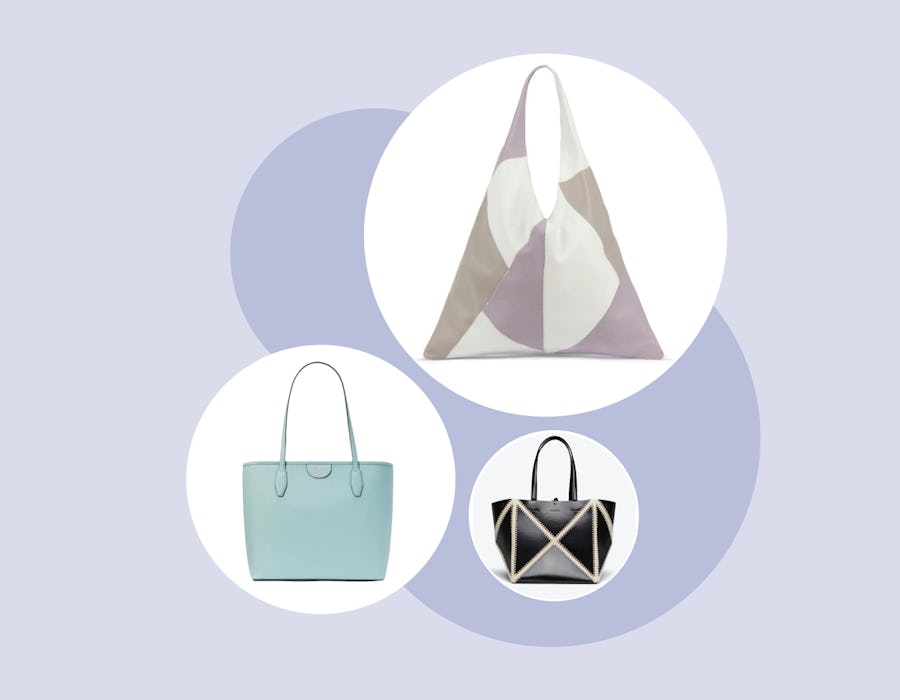 Courtesy of Loti, Kate Spade, Nanushka
We may receive a portion of sales if you purchase a product through a link in this article.
Everyone has a trusty rotation of bags for navigating daily life: a fun going-out bag, the timeless investment piece you'll keep forever, and the ever-reliable travel bag, among others. But there is one oft-undervalued and unsung hero of your bag collection (without which, none of us would be able to live that commuter lifestyle): the simple work tote.
There's nothing more sacred in someone's professional life (aside from one's daily oat milk latte) than the bag they use to trek all their career-furthering tools. Aside from its practical uses — like housing a laptop, a water bottle, or even an umbrella — as the focal point of literally every single office 'fit, the work bag also helps define your professional style. If you settle for poor quality, it can be hard on your shoulders and your budget in the long run — not to mention your perfectly-curated aesthetic.
In short: it's crucial to find a work bag that meets your physical demands (whether that be extra compartments, lightweight materials, or commuter-friendly openings), while also helping set the tone for your day-to-day style. And contrary to what Succession's Tom Wambsgans may say, a ludicrously capacious work tote is a draw — not a drawback — especially if you have... stuff.
When it comes to work bag recommendations, editors are the best people to ask. In the fashion industry, the subgroup is notorious for showing up to even the most glamorous events with their laptops in tow. Here, editors across several Bustle Digital Group brands — Bustle, NYLON, The Zoe Report, and Elite Daily — share their top recs (read: the spacious purses they shamelessly tote to fashion week and beyond). All those, right ahead.
"This bag is the perfect size for carrying a laptop and has a long enough handle that it easily goes under your arm when you're wearing a thick coat in winter. The leather wears really nicely, it doesn't look empty when it is empty, and the bottom of the bag is rectangular, which means you can get a lot of stuff in it. The dream." — Charlotte Owen, Editor in Chief at Bustle & Elite Daily
"The GOAT of totes: durable, spacious, and has straps that are long enough to easily throw over my shoulder. I love that the top zips close for an added level of security while I'm commuting. It has a few interior pockets, but I like that the inside is mostly open and not too compartmentalized, so I can fit a lot of different things inside. It's a moderately capacious bag that I absolutely adore." — Hayley Schueneman, Senior Newsletter Editor at Bustle
"I love a multi-purpose item, so when I saw this bag could be worn four different ways, I was sold. I was originally on the search for a trendy backpack that could fit my laptop, but this one could also be used as an over-the-shoulder purse, a clutch, or as a cute briefcase. I've taken it to the office, dinner, fashion week — literally everywhere. Shay Mitchell knows what she's doing." — Kaitlin Cubria, Deputy Editor, Style & Experiences at Elite Daily
"Every NYC girly needs a tote bag, and this one from NYON has been my daily go-to for months. I use it for everything — work, pilates, groceries, etc. It easily fits a computer, chargers, other purses, and more — and the cotton canvas fabric makes it super comfortable. Couldn't imagine a day without her." — Kimberly Perry, Senior Social Media Strategist at Bustle
"Don't let this bag's price point fool you — it's super soft, well-structured, and high-quality. I've been carrying it around for months as a work tote, and I like that it's a neutral without being basic black. It easily fits my laptop, charger, wallet, and other essentials, and it looks as good as new, even after months of commuting." — Sarah Ellis, Dating Editor at Elite Daily
"This backpack has a compartment for everything (laptop, phone, water bottle, etc.) without looking or feeling bulky. It's also very durable, comfortable to wear, and still looks brand new after years of me dragging it all over the city." — Gaby Bondi, TV Editor at Bustle
"Loti's Supergrande is perpetually on my shoulder and — thanks to the wide, padded straps — it doesn't budge. Pieced together with upcycled leather, this geometric stunner is easily the chicest work bag I've found in my 8+ years as a fashion editor. The triangular shape provides the capaciousness of a classic tote, with all the style of a posh designer bag (due to the suede and patent patchwork). I constantly get compliments from fellow editors." — Kelsey Stiegman, Senior Fashion Editor at Bustle
"I bought this tote at a concert two years ago and it has served me well ever since. It's the perfect size for my laptop and goes with everything so I don't have to think twice about putting it on. Plus, my eye doctor once complimented it and I think that's really funny." — Lauren McCarthy, Executive Editor at NYLON
"Milaner's Elena bag holds everything you need for work and beyond. It's just as functional as a tote, but has better structure and an elevated, timeless look." — Kate Marin, Senior Branded Fashion Editor
"This bag instantly levels up any outfit, and just *happens* to be big enough to fit all my work essentials. I love the chunky silver hardware and how the movement of the leather fringe reveals the nylon camo underneath. The thick, comfy shoulder strap, interior pockets, and snap closure make it practical for everyday use, but my favorite thing about this bag is that it never feels too clunky or cumbersome. Even if it's stuffed to the gills, it still feels sleek and easy to tote around." — Abby Lebet, Manager, Editorial Operations at BDG
"If you're looking to invest in a quality carryall, this is the perfect spacious tote. This vegan leather bag folds completely flat, yet also expands to hold all of your workday necessities — in addition to matching everything and looking very elevated all at the same time." — Copelyn Bengel, Accessories Editor at BDG
"I recently found an incredible deal on a pristine vintage Bottega Veneta Intrecciato tote on The RealReal. They're always getting new ones in and the hunt is half the fun. Mine has three roomy sections, various zip pockets, and can fit my laptop without feeling too bulky. I love that it feels sophisticated but still very functional — and I probably won't see anyone carrying the same one." — Jenna Wexler, Senior Fashion Director at BDG Studios
"Sooo chic and soft, but with very good quality leather. Its shape is minimalistic, so it matches everything — plus, its super light, and fits so much without losing shape." — Trinidad Alamos, Fashion Fellow at BDG
"My neck is already destroyed from staring at my phone, so I'm not trying to ruin it more with a heavy one-shoulder bag! This backpack is cute, big enough to fit my laptop, and won't ruin what's left of my posture." — Chloe Foussianes, Culture Editor at Bustle
"It's big! There's room for a big wallet, snacks, a change of clothes, and literally whatever else you need — so it doubles as a great travel bag. As someone who prefers to quickly throw everything in, I like that the inside design is minimal (with one zipper pocket for small items). It's also super soft, almost like a walking weighted blanket. The straps are sturdy and wide, with the perfect drop length so you never worry about it getting uncomfortably wedged under your arm." — Grace Wehniainen, TV Writer at Bustle
"It's a classic! It will always be there for you. The LL Bean Boat and Tote is the reliable best friend that will protect your Chanel bag during a rainstorm and hold anything you need when you're on the go." — Jennifer Yee, Fashion Market Director at BDG
"Post-2020 all my commuter bags need to be laptop friendly in order to accommodate a hybrid work lifestyle. This sleek burgundy style from The Row feels far more sophisticated than most totes (which skew clunky 99% of the time, IMO), but is still roomy enough to pack away a water bottle and power bar alongside my computer." — Alison Syrett Cleary, Deputy Fashion Editor at TZR
"Back when I was commuting into the city every single day, I noticed my back would hurt way more with a tote or top-handle purse. I adore this super-slim backpack that perfectly fits my daily essentials. Countless co-workers ended up buying their own, too. It became an instant office fave." — Olivia Rose Rushing, Beauty Writer at Bustle
"There are many things I love about this Rains backpack. First, it comes in several iterations; I prefer the buckle clasps to carabiner clips. Second, it's waterproof with a reinforced base — essential for any public transport-using commuter. What sets it apart for me is the fact that it's square, not rectangle. I'm on the shorter side and have found some rucksacks are just too long to sit comfortably on my back, so this is a real win in my book." — Charlie Mock, Associate Director, Social Media - Lifestyle
"When I don't wear my vintage leather messenger bag, this Freitag style is my go-to. Made from recycled truck tarps, each Freitag bag is both sustainable and unique — and their distinct patterns add a touch of cool to any look. If the price puts you off, you can find plenty of like-new (yet marked down) iterations on eBay." — Maya Ernest, Branded Fashion Editor at BDG
"I have it in 'Bleecker Blush' and the neutral goes with everything. It holds literally all of my things — which I need because I'm often commuting into the city from my parents' house on Long Island, or heading out for a long weekend. Most importantly, though, I often go from the gym to the office to happy hour or dinners with friends, and I hate the idea of carrying around a bag that looks like a 'gym bag.' It also has literally a million compartments. We stan a bag that keeps your sh*t organized!" — Christina Amoroso, Editorial Director at Bustle
"This chic backpack is perfect for commuting in Manhattan — it's not bulky for riding the subway and has space for everything. I've had it for almost two years and it doesn't look worn out from the throes of New York subways or being kicked under tables during happy hour." — Marina Watts, Entertainment News & Strategy Editor at Bustle
"I'm that person who travels with copious amounts of belongings. Fortunately, Cuyana's Leather Backpack has a slew of handy compartments to house all my items. Plus, it looks a lot chicer than most backpacks on the market, IMO." — Kelsey Stewart, Associate Fashion Editor at TZR
"A confession: I love the Marc Jacobs Tote. I initially got this one in jacquard while on the hunt for an airport-friendly tote, but it's so sturdy, boxy (in a good way), and roomy that it's since transitioned into a trusty work bag. — Alyssa Lapid, Style Writer at Bustle
"I'm a backpack fan and have used Dagne Dover's medium-sized Dakota for years. It's water-resistant neoprene is perfect for the subway, there's plenty of room inside, and the simple, monochromatic design looks super sleek." — Erin Stovall, Senior Beauty Editor at Bustle