The 7 Best Hangers For Pants On Amazon
We only recommend products we love and that we think you will, too. We may receive a portion of sales from products purchased from this article, which was written by our Commerce team.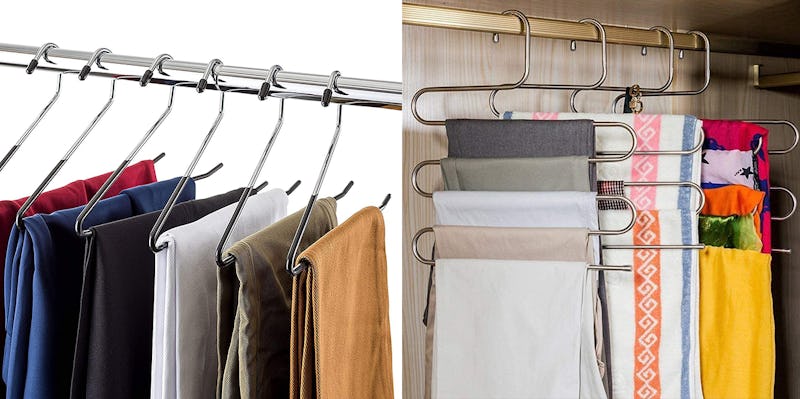 You invest time and money into your pants so, naturally, you want to store them in a manner that keeps them easily accessible and safe from wrinkles and creasing. With the best hangers for pants, you can keep all of your trousers, jeans, skirts, and various other bottoms comfortably in a closet, utilizing your space as efficiently as possible.
In order to choose the right hangers, start by considering exactly how many pairs of pants you're looking to hang and how much space you have. There are many sets of individual hangers available for wardrobes that only hold a few pairs of pants, and there are also space-saving hangers designed to stack four or five pairs in the amount of space that would typically only be occupied by one. There are even hangers that prevent heavy or slip-prone pants from falling to the ground.
And if you just don't have enough closet space — or a closet at all — you could look into a pants hanger cart, which conveniently stores tons of pairs along with other articles of clothing, too.
In a hurry? These are the best hangers for pants:
1. Overall Best Pants Hangers: Zober Open Ended Pant Hangers
2. Extra-Study Space-Saving Hanger: DOIOWN Non Slip S-Shaped Pants Hangers
3. A Space-Saving Hanger Designed For Convenience: BILLKAQ Magic Pants Hanger
4. Best Cascading Pants Hangers: Zober Metal Skirt & Pants Hangers
5. Best Hangers For Dress Pants: Zober High-Grade Wooden Pants Hangers With Clips
6. Pants Hangers You Can Use For Tops, Too: Home-it Clothes Hangers With Clips
7. Also Great: A Rolling Pants Trolley That'll Store Whatever Your Closet Can't: IdeaWorks Rolling Pants Trolley
Ready to organize your closet and never worry about wrinkled pants again? These hangers are ready to accommodate any wardrobe and any amount of storage space with room to spare.
This article was originally published on