69 Tall People Share Their Favorite Places To Shop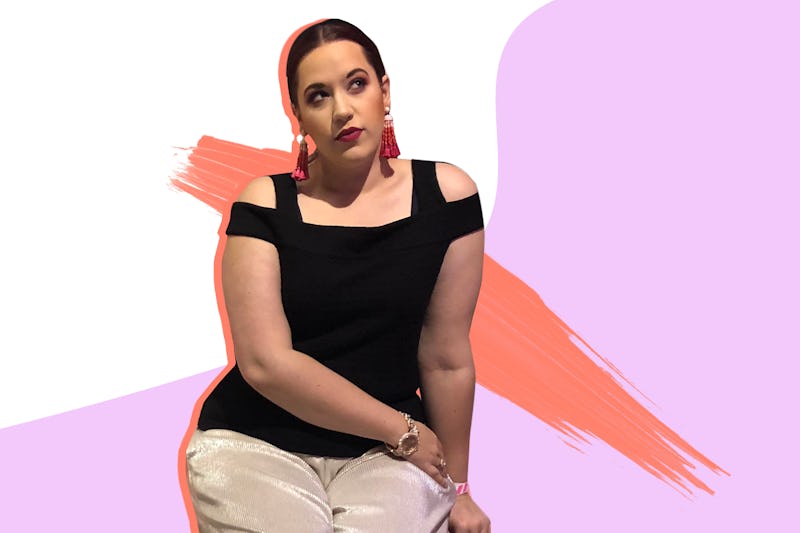 Kristin Mahler/Bustle; Courtesy Madison Hunnicutt
Even though it's supposed to be fun, for many people, shopping and finding clothes that actually fit is an emotional, difficult, and frustrating process. In a fashion industry where sizing is inconsistent and largely exclusive to people with bodies that don't fit into a standardized mold, shopping for clothing can be downright depressing. For individuals over 5 feet 9 inches, shopping can be an especially frustrating process. According to a 2016 report from the U.S. Department of Health And Human Services, the average height of an American woman is around 5 feet 3.5 inches. While vanity sizing and a generally complicated history of sizing in the U.S. has made standardized sizing more confusing than ever, generally speaking, most women's clothing caters to those who are close to this average height. Naturally, this leads to sleeve lengths, pant lengths, and dresses which are almost always designed for a person who is 6 or more inches shorter than a tall woman.
Regardless of height, though, shopping can be a difficult process for any woman (or person, for that matter). In an effort to get to the bottom of people's biggest frustrations with shopping, learn their best tips, and share their favorite places to find something that fits, Bustle surveyed more than 400 people of many different sizes and body types about shopping, sizing, and how they feel about it all. This included getting the perspective of 69 people who self-identified as tall. Of those 69 people, 8.7 percent fell into a size 00-4, 31.9 percent fell into the size of 4-8, 43.5 percent identified as size 10-14, and 15.9 percent identified as 14-18 or above.
What They Think About Shopping & Sizing In General
Almost 90 percent of those surveyed noted they had never used a sizing app, which ultimately reflected a larger trend we saw in the survey — that, regardless of their size or body type, the vast majority of individuals don't know their measurements at all.
Less surprisingly, those surveyed who identified as tall noted that length is a reoccuring problem when it comes to tops, bottoms, and dresses.
Nicky Bates, a Detroit-based marketing and development associate, is 6 feet tall and a size 16/18. Bates tells Bustle that finding plus size clothing that is also the right length is a particular struggle.
"Most of my shirts with longer sleeves are 3/4 sleeve length on me, but were made to be full length. I'm a triathlete so I swim a lot and have chubby/muscular biceps and broad shoulders. In most shirts, I have to go up a size to fit my arms and shoulders even if the size down fit the rest of me," Bates says.
Some people surveyed mentioned other work-arounds for problems like these, with one suggesting "going a size larger to get more length in shirts then tucking/tying them in the sleeves, waist, etc. to fit."
What They Think About Shopping In Store Versus Online
Of those surveyed, only 2.9 percent said they shop either in-store only or online only. Interestingly, despite online shopping have far more access to niche sizing for tall people, more than 53 percent of those surveyed said they shop mostly in store and sometimes online. Alternatively, almost 41 percent of those surveyed said they shop mostly online and sometimes in stores.
When asked in the survey about their favorite places to shop in store, one person who identified as tall simply wrote, "Makeup stores lol, clothes shopping can be overwhelming and I need to be in the zone and not annoyed with people."
This quote perfectly highlights the general frustration that many people can feel with shopping in stores that often don't have sizes that work for their bodies. When clothing that fits you isn't available, sometimes it's easier to avoid the IRL trying-on process altogether.
But as Dallas-based Customer Service Agent Madison Hunnicutt, who is 6 feet 2 inches and a size 16, tells Bustle, shopping online also presents it's own unique set of problems when you're tall.
"I would say my height is definitely a unique factor when it comes to shopping, especially online shopping. Because you never know when you order something, if it is going to actually fit they way it should," Hunnicutt says.
Hunnicutt's description of the problems of shopping online might explain why so many tall people still opt to shop in store and see the items in real life while shopping.
Bates tells Bustle a similar story about shopping online.
"My size makes me really hesitate to shop online. Sometimes I'll fall in love with a pattern or how it looks on the model and be really disappointed when it doesn't fit," Bates says. "If I do it in store, I just won't buy it, but if I order it online, I'll think that maybe it'll fit one day and it'll sit in my closet forever, unworn. Once I've found something I love (a brand, a dress/shirt style, etc.), I tend to just stick to that. It makes me hesitate to branch out in terms of fashion because often I feel like I couldn't 'pull off' a look because I only see people much smaller than me wearing it."
Where They Like To Shop & Where They Tell Other People To Shop
Those surveyed who identified themselves as tall most commonly listed the following as their favorite places to shop: Old Navy (offers sizes XS - 4X, 00-30; tall/petite options), Nordstrom (offers sizes XXS - 3X; 00-29W; petite/tall options), Target (offers sizes XXS - 4X; 00-26W; tall/short options), ASOS (offers sizes XS - 3X; 00 -26, tall/petite options), American Eagle (XXS - XXL; 00 - 20; long/short options), Gap (XS - XXL; 00-20, tall/petite options), LOFT (offers sizes XXS - XXL; 00-26; tall/petite options), H&M (offers sizes XXS - 4X; 0-30, petite options), Madewell (offers sizes XXS - 3X; 00 - 22; petite/tall/taller options), Amazon (offers sizes 00 - 38; XXS - 8X; petite options), J.Crew (offers sizes XXS - 5X; 000 - 24; tall/petite options), and Anthropologie (offers sizes XS - XL; 00 - 16; tall/petite options).
Other stores that made the cut were places like Long Tall Sally (offers sizes 4-20; XS - XLL; extra-long/tall options), which specializes in clothing for tall women, as well as more niche stores like Girlfriend Collective (offers sizes XXS - 3X) and Uniqlo (offers sizes XS - 3X; 0 - 12).
One person surveyed suggested thrift stores, as well, writing "In many ways [they have] more inclusive sizes for larger girls like myself than newer retail." This tip is particularly interesting given that a common complaint about vintage clothing is that it runs smaller. However, it is an important reminder to keep an open mind when it comes to where you do and don't shop. What works for one person may not work for you, and vice versa.
And as for the overall shopping experience and how to find clothes that fit them? Those surveyed had a few tips for that, too. One person suggested "ordering ankle length pants in the tall size so they are actually the perfect inseam length for my long legs." This solves the specific problem of standard length tall pants being too long, but standard length pants being too short. Another said to simply, "Buy the tallest pants you can; the rise will be higher and you can hem them if they are bit too long."
Another pro tip? Always read the reviews, and don't be afraid to go up or down a size.
"People are usually forthcoming about their own measurements and body shape and will tell you honestly how it fit them. My second tip is to not be afraid to size up. I've found that going up one size or more can make the biggest difference in how I feel in a piece of clothing (for both comfort and confidence)," one person wrote in the survey.
What Could Be Better About Their Shopping Experience
Hunnicutt says that taking Bustle's sizing survey opened her eyes to how much her own perspective on shopping has changed, and how much the industry has changed as well.
"[When I took the Bustle survey] I remember feeling less embarrassed than I use to feel when taking these kinds of surveys. Even though they are anonymous, I used to feel reminded of how frustrating shopping was when answering these questions. But now, I feel more empowered, as I have seen the fashion industry change so much during my lifetime and really stand up and take notice to our thoughts and suggestions."
Bates noted something similar, but also mentioned that when it comes to online shopping in particular, diversity in models is something she'd like to see more of — and something that would help not only her shopping experience improve, but others as well.
"To me, the issue with online shopping comes down to a need for more diverse models. Diverse in race, size, height, body shape, physical ability, etc. I've seen this slowly happening, but even in the plus size world, I see a lot of models with similar plus sized bodies in terms of proportion, height, and weight. They'll use a model who's a size 14/16, but have clothing up to a 26/28. The clothes will look way different on someone who's a 26 then on someone who's a 16." Bates says. "I want to see what it's going to look like on someone who's the same size or weight/height as me."
When talking to tall individuals like Bates and Hunnicutt or petite-plus size people or plus size people, or almost any person at all, one thing is clear — the industry still has a long way to go. And, in the meantime, it only helps for all of us to talk to each other about our own struggles (and victories) when it comes to finding clothing that makes us feel great.