25 Heartwarming Gifts For Your Mom That She'll Actually Love
We only recommend products we love and that we think you will, too. We may receive a portion of sales from products purchased from this article, which was written by our Commerce team.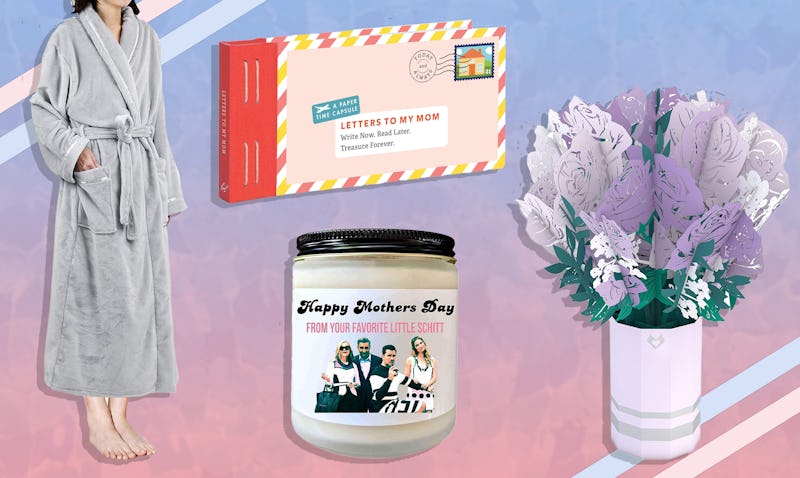 Like so many women, my mom is my best friend. She's been there for me through some rough times and has always continued to support me (and the wild way I live my life). I know that I could show her a bit more appreciation, so I went searching for some heartwarming gifts that moms will totally adore in order to give her the thanks she deserves.
Even though I still live with my mom, we have a relationship much closer to roommates than mother and daughter. We go out for happy hour, watch a million tv shows together, and sometimes even hang out on the weekends. My mom has done so much for me and I think that she's earned some serious gratitude for that. And the best way to do that is give her a present that will cause some tears (and not sad tears so much as happy, sentimental tears).
Feel the same way about your mother? Definitely give this list a look so that the the next time your mom does something great for you — or if you're simply feeling an overwhelming sense of love and thankfulness for her — you can give her a super thoughtful gift that she'll love. After all, moms should be recognized for all of the things they do for their kids each and every day.
1. A Pop-Up Floral Bouquet That She Can Keep Forever
This stunning rose bouquet is actually made of paper, so it'll last a lifetime. And, because even the vase folds flat, these are super easy to gift, store, or tuck into a meaningful card you're giving to your mom. And while the roses are gorgeous, you can also get daisies, tulips, lilies, and even wildflowers. There's a reason these flowers have more than 8,000 Amazon reviews.
According to one reviewer: "This card is great and will make for an amazing Mother's Day card. It looks just as it is shown in the pictures and opens very nice and smoothly and there are no issues with it popping up."
2. These Aromatherapy Shower Steamers That Smell Amazing
If your mom isn't much of a bath bomb person, she can still get an aromatherapy session courtesy of these essential oil shower steamers. The steam from a shower activates the release of heavenly scents like lavender, peppermint, and watermelon, so you she can de-stress or refresh before taking on the day. Each set comes with six steamers.
According to one reviewer: "Bought these as Mother's Day gift, and mom said [they are] her favorite shower steamers that she's ever tried, and she's kind of a connoisseur."
3. Long Distance Coffee Mugs To Keep You Connected
If you don't have the pleasure of living in the same state as your mother, this gift is the next best thing. Personalize this mug so you have your state and her state on there. It'll be her favorite mug.
According to one reviewer: "This was a Mother's Day gift for my mom who eats oatmeal and drinks tea daily, and she absolutely loves it! The extra cost for the gift packaging was money well spent! She was delighted with it - said it was the "cutest she had ever seen.""
4. A Book Of Letters You Can Write To Your Mom
After you get this book by Lea Redmond, hold onto it for a few years and write your mom letters thanking her, sharing big moments, and recording memories for when you gift it in the future. It'll bring your mom to tears when you someday present it to her and she finally starts to open them.
According to one reviewer: "I have used this for my mother in law for her birthday and for my mom on Mother's Day. The whole family participated in writing letters. The moms were told to open one letter each morning and one each evening for a week long celebration of love and appreciation. They were really touched by the letters and looked forward to opening each one."
5. A Sterling Silver Necklace That Comes Ready To Gift
This sterling silver necklace is sure to be a hit with any mom, and is nickel-free and rhodium-plated, so even moms with sensitive necks will love it. The center stone is cubic zirconia, and will catch the light when she wears it. And, since there's a matching bracelet, you and a sibling can get a matching gift.
According to one reviewer: "Got this for my mother in law for mother's day. She loved it. She cried when she read the message. Great gift!"
6. A Spa-Worthy Bath Set You Can Customize
This spa gift basket can be customized to whatever scent preferences your mom has, and includes a soap, lip balm, set of bath salts, and multiple rescue balms, so she has everything she needs for a spa-worthy bath. It also comes in a cute gift box, so it's ready to give as a present.
According to one reviewer: "Sent this to my Mom...she absolutely loved it!!! Came in a cute box with a ribbon packaged so nicely! And [came] early! "They smell divine" she said!"
7. Create A Keepsake That Can Be Shared For Years To Come
Fill the Top Shelf memory jar with all your favorite recollections, funny stories, and happiest times. When mom's having a bad day, she can read through the tickets — and when she's having a good day, she can fill out one of her own. This set comes with the jar, a chalk tag, a roll of memory tickets, and a pen.
According to one reviewer: "Perfect gift! Got it for my mother on Mother's day and she loved. Will be nice to look back and see memories made."
8. A Necklace With The Birthstones & Initials Of All Of Her Kids
Get this beautiful customizable necklace for a thoughtful present. Not only is it so pretty, it also can feature the initials and birthstones of each of her kids strung from the necklace. That way, she can bring you all along wherever she goes.
According to one reviewer: "I bought this necklace for my mother and my mother-in-law for Mother'sDay. It brought tears to their eyes.. they both loved it. The charms are dainty but do not feel fragile. It's a simple and elegant necklace."
9. A Pretty Painted Jewelry Bowl For All Her Sparkly Things
Now every time your mom takes off a piece of jewelry and places it inside of this beautiful cherry blossom bowl, she'll immediately think of you. This hand-painted bowl can be customized to have whatever name you want to feature in the center, whether yours or your mom.
According to one reviewer: "This is a perfect gift. You can tell time was put into the craftsmanship and the results are a really cool, unique bowl that you wouldn't be able to find in huge corporate stores, especially nowadays . I would definitely buy again!!"
10. A Bath Bomb Set For The Spa Day She Deserves
With ingredients like shea butter, coconut oil, kaolin clay, and Epson salt, these bath bombs moisturize her skin, soothe her body, and relax her mind. They come in a set of 12, and each one features a different color and subtle scent.
According to one reviewer: "These were a mother's day gift! My mom says they smell wonderful. I'm going to have to buy myself some now."
11. An Elegant, Comfortable Robe She'll Want To Live In
Available in 18 colors, this premium fleece robe is trimmed with satin and feels like you're "wrapped in a warm, soft blanket," according to reviewers. It also has convenient pockets, a waist strap, and extra long sleeves.
According to one reviewer: "I bought it for my mom and she absolutely loves it. It's warm, it is the perfect length and the hood is adorable."
Available in sizes: Small - X-Large
12. A Family Photo Tree Where She Can Display Her Loved Ones
Create a beautiful focal point for your mom's living room with this family tree picture frame set. You can include up to six of your favorite family photos in the included frames. This best-selling family tree is also available in a larger size that can display 10 pictures, as well.
According to one reviewer: "This is a great gift for Mother's Day, birthday, [etc.]. I gave it as a Christmas present. My mother in law loved it! It sits nice on any shelve, table, desk. It's a nice big size."
13. A Necklace To Show Her How Important She Is
This "mama bear" necklace is adorable and so sweet, making it a great gift from a son or daughter to show her how strong you think she is. It comes in various different metal tones and with a different amount of baby bears, so you can match to your family's structure.
According to one reviewer: "Bought this as a Mother's Day gift for my sister. She wears it faithfully. Has not tarnished or turned her skin (which is very sensitive) green!"
14. This Calendar That Turns Birthdays Into Art
This birthday calendar turns everyone's special day into a small work of art. Just write names and dates on each disc, then hang from the appropriate month in descending order. Choose from six board design options. A beautiful gift, even if your mom never fails to remember a birthday.
According to one reviewer: "Got this for my Mom and she LOVES it!"
15. A Matching Mother & Daughter Necklace Set
Let your mom know that she'll always have a piece of your heart with this set of hand-stamped mother and daughter necklaces. When you're together you can nestle the daughter necklace into the mother necklace. These also come in a rose gold tone and in matching bracelets, as well.
According to one reviewer: "Got it for my sister to give my mom for mothers day, came quick, good quality. Can clearly read "Mother" and "Daughter.""
16. A Schitt's Creek Candle Great For Any Fan
For any mom who is a fan of the television show Schitt's Creek, this soy candle is scented wild rose and honey and has a burn time of 50 hours. This 9-ounce candle would make for a great gift, and while there aren't any reviews to back up this product, the seller has rave reviews on other handmade candles they sell. There's also a Moira Rose candle that says, "Happy Mother's Day from your Bébé," that's an even deeper cut.
17. An Interlocking Necklace That Symbolizes Your Connection
You and your mom will be forever connected, and this interlocking mother-child necklace is such a beautiful and symbolic reminder. Made from sterling silver, the delicate 19-inch chain features two interlocking infinity circles — one small and one large — that represent your forever relationship.
According to one reviewer: "It is beautiful. My mom loved it as her Mother's Day gift and the packaging (gift bag/tissue paper) was fantastic. I should have ordered one for myself so we can wear them together."
18. This Picture Frame That's Super Sentimental
This picture frame would look gorgeous on any tabletop, desk, or mantle, and can even be hung off of a door knob or picture hook on a wall. The handmade string art depicts a heart, and the script message is great for any mother-daughter duo that fall into that mother-friend hybrid.
According to one reviewer: "I ordered this frame for my mom for Mother's Day and she is going to absolutely love it! It looks handmade and I love that about it! Will be ordering others in the near future for other gifts!"
19. A Mug & Coaster Set That She'll Actually Use
Be sure to tell your mom that she's the best all of the time with this pretty "Best Mom Ever" mug, which is a 14-ounce mug that comes with its own matching coaster and a stirring stick. This one comes in two different colors, and is also dishwasher-safe.
According to one reviewer: "I bought it as a gift in Mother's Day. She really loves it. It looks exactly the picture, and nice! 100% satisfied."
20. A Jewelry Box For All Her Favorite Accessories
With its velvet lining, synthetic leather exterior, and multiple compartments, the Vlando jewelry box is a "fantastic find," reviewers say. It even has a mirror and key, and comes in four different color options.
According to one reviewer: "I bought this for my mother for mother's day. It comes so nicely packaged for gifting and the quality is great. I want one for myself! I hope she will like it."
21. A Cutting Board With A Sentimental Message
If your mom loves to cook, give her a gift that she'll use over and over again. Whenever she makes something fun in the kitchen, she'll smile from the lovely message engraved into this bamboo cutting board.
According to one reviewer: "Bought this for my mother in law. Makes for a nice decoration although made to be very sturdy if you plan to use it as a cutting board. Great quality."
22. A Meaningful Print For Her Wall
If your mom loves to have sentimental prints and pillows sprinkled around her house, give her a new one that she'll truly appreciate. "Mom, I am so blessed with all you do — your love and kindness will guide me through" this heartwarming poster reads. "Forever thankful to have you as a mom, you are the most wonderful one."
According to one reviewer: "Got this for Mothers Day. Shipping was extremely fast. My mom's eyes lit up when I surprised her with this. Looks great. She put it in a frame to make it pop more. Very satisfied and so is she!"
23. A Jewelry Box That'll Make Her Tear Up Whenever She Opens It
This jewelry box plays the song "Wind Beneath My Wings" whenever you open it, which will pretty much guarantee some tears in your mom's eyes. Plus, the cover reads, "Mom, your love means the world to me." Awww.
According to one reviewer: "My mom loved it!!! Gave it to her for her birthday, and I must say, the quality of this box is amazing!!! The music is adorable, too!"
24. A Cookie Gift Basket For Any Mother With A Sweet Tooth
For any mother with a sweet tooth, this cookie bucket has so much to love including a collection of chocolate chip cookies and pecan meltaways, two of David's Cookies most popular snacks.
According to one reviewer: "My mother said that the cookies and brownies were delicious. She also liked the bucket that they arrived in."
25. For The Mom Who Loves To Be Creative
Give your mom a gift that will help her show off her creative side as well as help her de-stress after a long day with this "I Love You Mom" coloring book. Reviewers say this has around 30 different fun pages to color through, a perfect gift for the mom looking for a relaxing hobby.
According to one reviewer: "This was a mothers day gift from myself and the kids for my wife. She Loves it and can't seem to put it down. This coloring book has about 30 thick pages of some pretty fun intricate designs and makes great gift when matched with with gel pens."