7 Apps To Track Who Follows You & Likes Your Instagram Posts
Let these apps do all the work.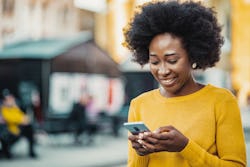 blackCAT/E+/Getty Images
If you're trying to appeal to your audience and grow your Instagram following, learning from your followers could be the key to success. While Instagram itself does offer analytics about how your followers engage with your posts, you have to have a Business Account to access these. But that's not your only option — there are also several third-party apps you can use to track followers' Instagram activity.
Before it was removed for being too complicated and a little creepy, you could check Instagram's Following Activity Tab to find out which posts and accounts your individual followers were liking and following. Instagram Insights, which is available for business accounts, offers more in-depth information by giving you a breakdown of your interactions, reach, and impressions. This can really help if you put out a lot of sponsored or paid content and want to see how it's doing. A Business Account also allows you to see the overall stats for the gender, age, and location of followers and other users that are interacting with your posts.
If you don't want to convert yours to a Business Account, there are apps you can download that let you in on your followers' activity trends, as well as information about how much they're interacting with your posts. These features usually come included in apps that help you check who's unfollowed you. All you have to do is download them, give them permission to access your account, and let them do the rest of the work.
Here are seven apps to use to track your followers' Instagram activity:
Your Instagram may not grow overnight, but with the proper data and analytics, you can have the necessary information to understand how your followers function and how to increase their engagement with your account.
This article was originally published on