Safety Apps To Download If You're Concerned About Walking Home Alone
These apps are designed to keep you safe & alert your loved ones in an emergency.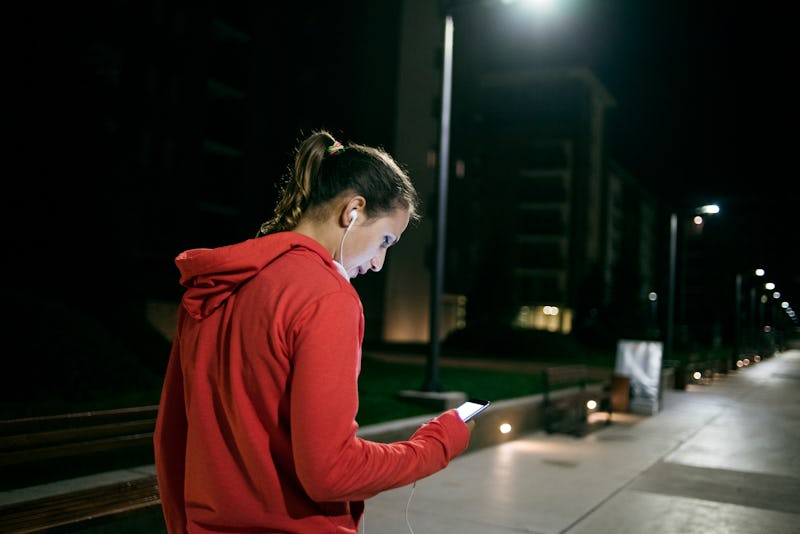 mihailomilovanovic/Getty
For so many people, walking alone doesn't feel totally safe. And with research published by the UN showing that 97% of women in the UK aged 18-24 have experienced sexually harassment of some kind, it's no wonder we're wary of our surroundings at any given time. You may be used to trying techniques like messaging your friends your whereabouts or calling a loved one during the journey but if walking alone leaves you feeling vulnerable, then there are other measures you can put in place – including downloading safety apps on your phone.
Following the tragic death of Sarah Everard, it was reported that the immediate response from the police was to tell people, particularly people who identify as women, not to walk alone and to take precautions. However, research conducted by YouGov in 2019 found that at least one in three women already took conscious steps to avoid being assaulted on a daily basis. This included not walking alone, not interacting with strangers, and being aware of how much they drink.
Clearly more needs to be done to make women feel safe. We're all waiting for the day when gender-based violence is eliminated entirely but, sadly, there's still some way to go. With this in mind, I've looked into apps you can download that aim to keep you safe and to alert loved ones in the case of an emergency. These apps are not the solution, but they may help in some small way.