13 Alexa Games That'll Add Excitement To Your Virtual Happy Hours
When you need to keep the momentum going.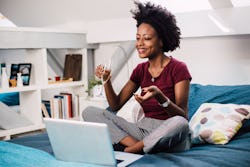 MixMedia/E+/Getty Images
There are two words that are the tell-all signal of the enjoyment that's about to follow a long day of work: happy hour. And what's better than a happy hour that doesn't require you to leave your house? Due to the pandemic, we're all still stuck inside, but thanks to smart tools like Amazon's Alexa games and Zoom, happy hour just got more fun and chill.
Happy hours are usually a time of camaraderie, laughs, and enjoying a couple drinks, but after the first initial cocktail and small talk of how work's been holding up, the glimmer starts to dull. That's why throwing in some fun games while you throw your drink back is the best way to keep the momentum alive.
Every game becomes a drinking game during happy hour. Start the evening with a round or two of Trivia Battle or Categories to warm up and then head into the real fun of the evening with topsy-turvy games like Simon Says and Never Have I Ever. Or you can test your co-workers' knowledge with games like Who Wants To Be A Millionaire and guess who the liar is with Two Truths and a Lie. Alexa games offer a variety of fun to be had that will keep the energy and drinks flowing into the night.
Here are 13 Alexa games that are perfect for your next happy hour.