This Google Lead Got Genius Career Advice From Her Energy Healer
Ava Donaldson, 29, starts her workday with podcasts and Oracle cards.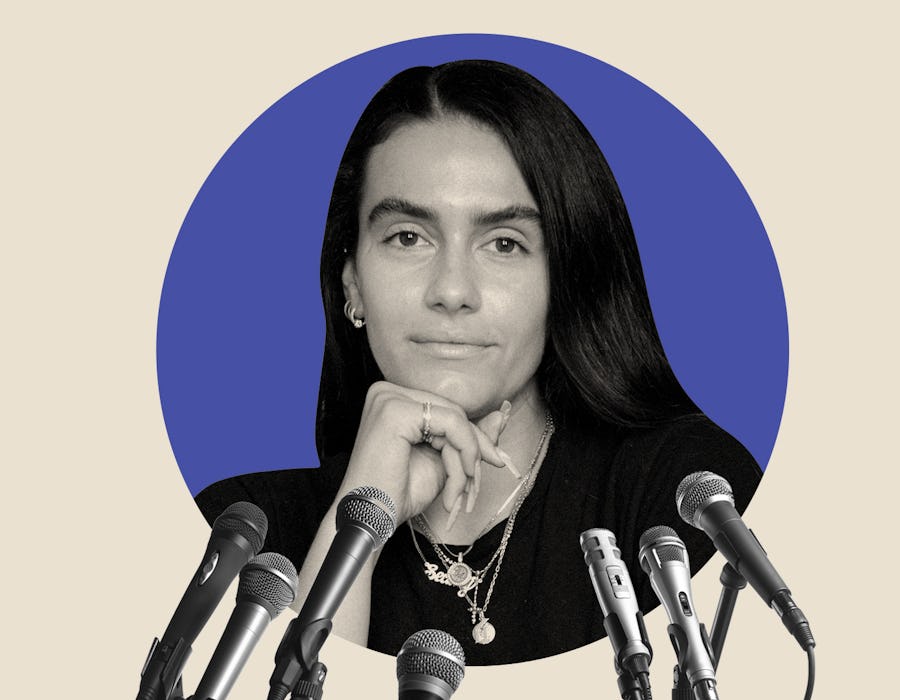 Courtesy of Ava Donaldson
In Bustle's Quick Question, we ask women leaders all about advice — from the best guidance they've ever gotten to what they're still figuring out. Here, Ava Donaldson, U.S. inclusion and influencer lead at Google Devices & Services, tells Bustle about DMing her way to success, the importance of a grounding morning ritual, and surprising career advice from her energy healer.
When Ava Donaldson went off to Wesleyan, she figured she'd follow her mother, Connecticut Lieutenant Governor Susan Bysiewicz, into government. Only, she found herself hungry for more creative pursuits than politics. "I was eager to have a more imaginative job but wasn't sold on an industry yet," Donaldson tells Bustle. She found inspiration on Instagram, which was growing in popularity in 2013, by following people who would later be known as influencers, like Hannah Bronfman. Like a true millennial, Donaldson slid into Bronfman's DMs, offering up her services as, well, anything. Turns out, she needed an assistant; the part-time gig turned into a full-time job, and Donaldson's first official foray into a career in social media. "The timing was kismet," she says.
Donaldson, 29, now works to promote, expand, and diversify influencer marketing at Google, but first she had to convince people that influencers were worthy of brands' attention at all. When she first spoke with a friend at Google about working there, in 2014, she was told she'd never be hired — using influencers to market products "wasn't a huge focus" at the time. Three years later, influencers made it to the mainstream, and the same person offered her a job. The validation of both predicting the future of marketing and having a once-shut door opened was satisfying and surreal. Donaldson says she's still pinching herself.
This summer marks her four-year anniversary at Google and her fourth season leading Pixel Creator Labs, which gives professional photographers, directors, and YouTubers resources like devices and funding to create passion projects about social impact. Still buzzing from the launch of Creator Labs 4 in May, Donaldson talks about what stresses her out, how she practices self-care, and how to lead the way in an industry that's still being built.
What does your role as the inclusivity lead look like in a project like Creator Labs?
We are very intentional about creating a space for diverse and inclusive storytelling. And the beautiful thing is it feels like that's what is created by our artists. And it's authentic because there are really no parameters. We're pretty much just like, "Tell the stories that you want to tell." And by nature of all of these individuals coming from such different backgrounds, that's what happens, which is so cool to see.
When I think of working at Google, I imagine office life as one of the biggest draws. How does WFH compare?
It's been interesting. I'm a Capricorn, so I can find the routine wherever I am, which is a blessing. I've been able to settle in, but it's harder to set boundaries around the time that you're working, because you're doing everything in the same space. I've actually crystallized a morning routine for myself and been very vigilant about not working on the weekends because if I slip up and cross those boundaries, then I don't feel like myself anymore.
Tell me about this coveted morning routine.
Are you ready for this? My team mostly works on the West Coast, so my meetings start at 11 a.m. So I have a little bit of buffer time in the morning and I definitely like to take all of that time. I wake up, I listen to the news (my rotation is The Daily, The Economist Morning Briefing, and NPR News Now). I walk my dog. I come home and I pull an Oracle deck, which is sort of like tarot — the card sets the tone for the day. I'll do a little journal writing based on that, read one daily lesson from A Course in Miracles, and then do a workout. And then I feel like I'm complete and can start my day because I've just had a little grounding ritual.
As a fellow Capricorn, I'm curious how you stay organized.
If it's not in my calendar, it won't happen. I am religious about using my Google calendar. I literally have to schedule every single thing, even if it's forcing myself 20 minutes to take a break and meditate or to finish a document. If you look at my calendar, even on the weekend, it is scheduled minute by minute.
What's on the to-do list today?
The most basic thing that I have to do is shower. I need to specifically wash my hair. My immediate team does a fun biweekly virtual meeting and I'm hosting it. We're playing Skribbl, which is like a virtual drawing game, and I have to pick all the words.
Has anyone ever given you really solid career advice?
The best advice I ever got was from my energy healer. She said, "You don't need a title to be a leader." And that just resonates so much for me. You don't need to be C-suite to be a good person and to be doing the right things.
What's the worst advice you've received?
To leave your emotions at home. I'm really obsessed with Brené Brown and she's always talking about the power of vulnerability and the importance of having it in leadership. It's all about balance, but I feel like when you bring your heart to work, you connect with people on a human level.
Allowing yourself to be vulnerable in a leadership role sounds trying. Does the pressure of your job ever keep you up at night?
Thankfully, I sleep through the night. But I'm not exempt from anxiety. I work in an industry where there is no precedent and we're kind of in the Wild West, like moving the train forward as we're building the tracks. My parents have never understood what I do. I still don't think they know what I do. So I think that's the biggest thing that stresses me out. Am I pushing hard enough? Am I pushing for the right things, the right way? That's my biggest anxiety.
This interview has been edited and condensed for clarity.
Correction: A previous version of this story mischaracterized Donaldson's initial job-seeking conversations with Google. It has been updated with correct information.
This article was originally published on