Exactly How To Train Your Hair To Need Less Washing, According To Pros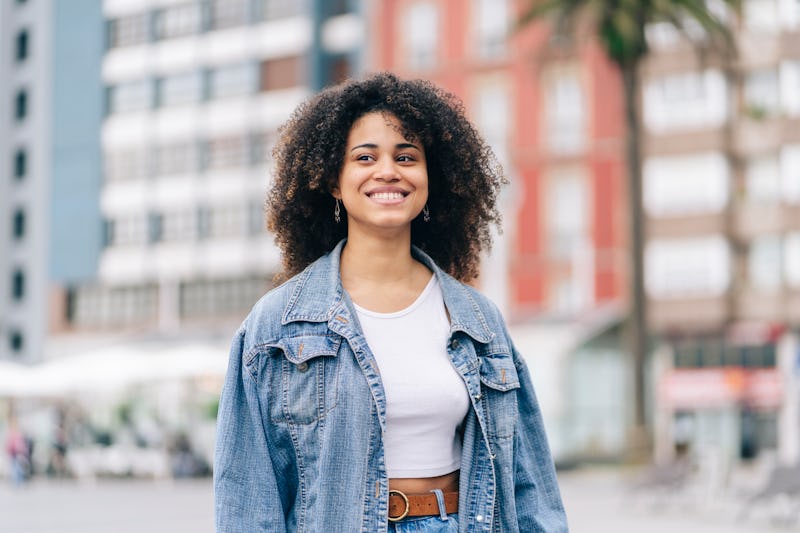 Daniel Gonzalez/Moment/Getty Images
There are not enough hours in the day. Self-care alone can involve a half-hour of dancing to Stevie Nicks, a bath, meditation, and some makeup experimentation — hence why shortcuts can make or break your daily schedule. In the spirit of saving time, you may want to brush up on how to train your hair to wash it less.
Learning how to do this can extend dye jobs, save you from split ends, and generally keep your locks lustrous and healthy. And, for those gifted with curls, less washing can mean ending the cycle of dryness.
One thing to remember before you start tweaking your shampoo schedule, though: "Everyone's hair canvas is different and so is their lifestyle," says Color Wow brand ambassador and celebrity hairstylist Bradley Leake. So before taking any advice into consideration note that the most important thing is to "listen to your hair and do what works for you," according to Dianna Cohen, founder and CEO of hair care brand Crown Affair.
A quick word to the wise: "A very common misconception is that people with dandruff or a dry scalp should wash their hair infrequently," says Dr. Orit Markowtiz, MD, board-certified dermatologist and founder of OptiSkin. Because dandruff is caused by a buildup of product, you'll need to wash it more often, she explains.
That being said, there are some general best practices that can help extend your days in between washes. Leake says that most of his clients can go three to four days between washes when they're properly cleaning and maintaining their hair — that means a mere once-a-week shampoo (!!!). To harness this incredible skill, Leake and Cohen have shared their tips on how to wash your hair less.
We only include products that have been independently selected by Bustle's editorial team. However, we may receive a portion of sales if you purchase a product through a link in this article.
1. Make Smart Shampoo Choices
Both Cohen and Leake stress the importance of picking the right product to wash your strands with. Using not-so-ideal formulas can strip your hair of its natural, healthy oils, according to Cohen — which leads to the opposite effect of what you're looking for. "This causes your scalp to produce more oil, which is when your hair can start to look greasy," she tells Bustle.
For starters, know what to avoid. "Steer clear of any shampoos with sulfates or polyethylene glycols (PEGS) that are petroleum-based compounds," Cohen says. Leake also recommends adding parabens, synthetic colors, and synthetic fragrances to the do-not-use list. "Many of these ingredients can temporarily seem to leave the hair clean, but the harsh chemicals strip your hair of its natural oils and cause the scalp to overcompensate and produce more to maintain the balance," Leake explains. Synthetic colors and fragrances can meanwhile discolor your hair or create scalp sensitivity issues, he says.
When you're picking a shampoo product, "look for something that is the equivalent of Cetaphil or CeraVe for your scalp — gentle, nourishing, and able to remove build-up and debris," says Cohen. Juliana Ohlmeyer, a New York City-based stylist and colorist, recommends shampoos that use plant-based cleansing agents in lieu of sulfates, as they're less harsh on your scalp when cleansing. These can include coco glucoside, decyl glucoside, and caprylyl/capryl glucoside.
2. Keep Hair Moisturized
Look for products that will hydrate your hair without weighing it down — according to Cohen, moisture is essential for all hair types. This means products packed with ingredients like tsubaki seed oil and meadowfoam seed oil (her personal faves) rather than coconut or argan oil, which are heavier. You can also use a moisturizing hair mask before shampooing on wash day to supercharge hydration.
Whether your hair is fine or curly, Ohlmeyer says using oil is a great way to add in moisture. "The best thing [for hydration] is applying a little bit of hair oil to your ends," she tells Bustle, noting it'll help revive curl patterns and smooth frizz. "It also protects your hair if you are blow-drying," she says.
Markowitz suggests skipping out on styling products, though, as they can cause buildup on your scalp. If you're going to use one, only use a minimal amount, says Ohlmeyer. And, if you need a little help removing dirt or sweat, Markowitz recommends using a micellar water-based hair product to gently clean your scalp in between washes without drying it out.
3. Use Extending Products
If your hair is on the straighter side, Leake says a dry shampoo can help stretch out your time between wash days. For curly hair, he recommends products that refresh between shampooing: think curl reactivating mists and energizing sprays.
Pro tip: Apply your dry shampoo to your roots when your hair is dry and clean. "If you put it on clean hair, it will help prevent extra oil, especially if you work out and sweat a lot," says Ohlmeyer.
4. Be Picky About Materials
Watch the towels, pillowcases, and hair accessories you're using when you're trying to avoid shampooing. According to Cohen, coarse towels can be rough on your hair and cause breakage — look for those that gently absorb excess moisture, like microfiber or bamboo towels.
Other important materials in this quest for less hair washing are silk and satin. "Sleeping on a silk pillowcase is a great way to fight frizz and bed head," Leake says. The smooth texture means less friction with your strands (so it'll be in better shape between wash days). Also key? He says this applies to your hair ties, too. Stick with silk or satin scrunchies to extend the wash life of your locks.
5. Brush Your Hair
Cohen and Ohlmeyer have another super simple tip that doesn't require introducing anything new to your repertoire: Brush your hair more often. "Brushing your hair with a dual-bristle brush moves your healthy, natural oils down the strand, making your hair stronger and shinier," says Cohen. This also means pushing down some of the oil that can make your hair look greasy and in need of a more immediate wash, so it's a double-win.
An important thing to note before you grab your brush or comb, though: Make sure it's clean. "Some people will have the same hair brush for five years and never wash it," says Ohlmeyer. "Imagine all the buildup if you brush your old, dirty strands on your fresh, clean hair." A clean brush will translate to clean hair... for longer.
Studies:
D'Souza, P. (2015). Shampoo And Conditioners: What A Dermatologist Should Know? Indian Journal Of Dermatology. https://www.ncbi.nlm.nih.gov/pmc/articles/PMC4458934/
Godse, K. (2012). Sensitive Scalp. International Journal Of Trichology. https://www.ncbi.nlm.nih.gov/pmc/articles/PMC3500070/
Kiderman, A. (2009). The Effect Of Brushing On Hair Loss In Women. J Dermatolog Treat. https://pubmed.ncbi.nlm.nih.gov/19016066/
Kubicki, S. Ketoconazole Shampoo-Induced Hair Discoloration. International Journal Of Women's Dermatology. https://www.ncbi.nlm.nih.gov/pmc/articles/PMC7105667/
Experts:
Bradley Leake, Color Wow brand ambassador and celebrity hairstylist
Dianna Cohen, founder and CEO of Crown Affair
Dr. Orit Markowtiz, MD, board-certified dermatologist and founder of OptiSkin
Juliana Ohlmeyer, New York City-based stylist and colorist