The 5 Best Bar Stools For Your Home Bar, Counter, Or Pub-Style Table
We only recommend products we love and that we think you will, too. We may receive a portion of sales from products purchased from this article, which was written by our Commerce team.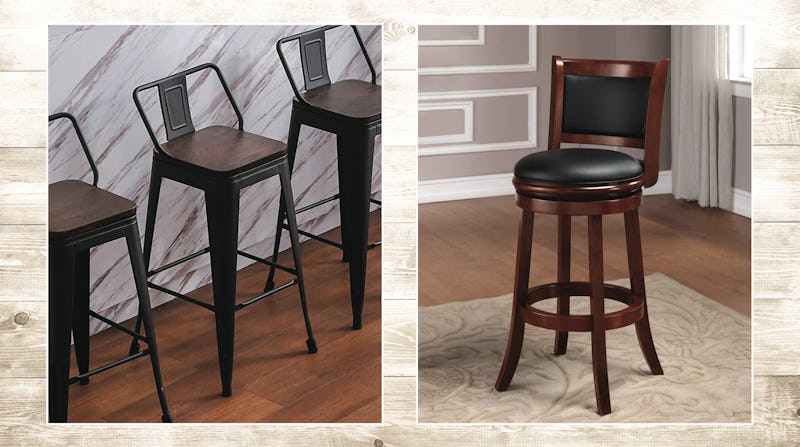 Amazon / Bustle
Whether you need a single stool or a full set, the best bar stools should fit nicely in your space, with wide, stable bases and comfortable seats. While a true bar stool measures 28 to 30 inches tall, people also often use the term "bar stool" to refer to shorter counter stools (which typically measure 24 to 26 inches in height). In order to choose the right stool height for your setup, look at the height of your bar or dining surface — a bar-height surface measures 40 to 42 inches tall and should be paired with a bar stool, and a counter-height surface measures 35 to 36 inches tall and should be paired with a counter stool.
Bar stools come in a number of different styles, and choosing the right one for you is about more than aesthetic preferences. For tall dining tables or backyard setups where you want to lean back and relax a while, long-term comfort is a major consideration. If you expect people to linger in your bar stools, you may want to look for designs with backrests or cushioning for additional support (though you can also add cushioning if you'd like). For an easier time getting in and out of the stool, keep an eye out for a swiveling option or look for a stool with no backrest if you don't need the support.
As with all furniture, it's important to make sure your stools fit well in their intended location and that you buy the right number of stools, so always note the dimensions of the stools and compare them to those of the space before you buy (there are handy calculations for determining the number of stools you should buy if you need help). If you're working with a smaller space, it can be great to choose stools that tuck under the bar or dining surface so they don't take up valuable floor space when not in use. For stools that can fit completely under the bar, look for backless options that are shorter than the bar and not as deep.
To make your search a little easier, every pick in the roundup below comes in both bar and counter height so they'll work in any space you're furnishing:
1. A Set Of 4 Bar Stools With Detachable Backrests
Available seat heights: Counter (24 inches, 26 inches), Bar (30 inches)
Weight capacity: 330 pounds
Metal and wood contrast with each other for an industrial look in this set of four bar stools from Yongchuang, which boasts a 4.6-star overall rating and more than 1,100 reviews on Amazon. Each stool's sturdy metal frame boasts a compact 12 -by-12-inch seat that can tuck under most bars or counters, though you'll likely need to remove the backrests (which you can!) in order to fit them all the way under. When you detach the backs, the stools also become stackable.
The stools come with rubber foot caps to prevent your floor from getting scratched up. Some reviewers point out that the stools can feel a bit hard and uncomfortable for extended sitting, so you may want to add cushions if you plan to sit on them for longer periods of time. While there is some assembly required, Amazon reviewers note that all the necessary tools and screws are included, and the instructions are clear, so they're easy to put together.
You can buy these stools in three different heights ranging from a lower counter stool to a taller bar stool, and they're available in eight different colors, so you're sure to find a set that fits your space to a tee.
According to one reviewer: "Super functional and fun! Fits beautifully under my counter, family and friends always marvel over how comfortable they are."
2. A Simple Wooden Saddle Bar Stool
Available seat heights: Counter (24 inches), Bar (29 inches)
Weight capacity: 220 pounds
These simple saddle stools from Winsome can tuck neatly underneath your bar's overhang and come in four gorgeous finishes that will accent any space. The minimalist design comes in both bar and counter heights, each boasting a depth of less than 9 inches, which allows it to tuck nicely under even the most shallow bars.
More than 6,000 Amazon reviews and an overall rating of 4.5 stars show that users think there's a lot to love about this stool — after all, it has an affordable price, stable design, and multiple height and finish options. The saddle-style curve makes the 17.5-inch-wide seat feel comfortable, but since there's no padding or backrest, this may not be a stool you'll want to sit on for extended periods of time.
While the stool comes with clear instructions and assembly isn't complicated, there are lots of little screws that need to be installed by hand to avoid stripping the wood, so reviewers note that the process can feel a little tedious — especially if you're assembling more than one stool. A second set of hands might also be useful.
According to one reviewer: "There were absolutely no scratches or dings on any of them and assembly was a breeze. There is no weird unevenness to the legs causing them to wobble, I've had them for about a year now and they are still structurally sound [...] The wood looks great and they are extremely easy to wipe down any mess."
3. A Swivel Bar Stool With A Backrest
Available seat heights: Counter (24 inches), Bar (29 inches), Extra tall (34 inches)
Weight capacity: 250 pounds
High-density foam cushioning on the seat and backrest make this bar stool from Boraam a cozy place to lean back and hang out for the evening. A broad base with four square legs offers a ton of stability. However, while the 19.5-inch-deep seat and the 14-inch-tall backrest make the stool comfortable for extended sitting, they also make it too bulky to tuck underneath your bar or counter. You might find it makes a better choice for medium-sized to large spaces.
With three height options, including one that's taller than the average bar requires, this sturdy stool should work for most bars, counters, or pub tables. It's also a great option for homeowners who want to minimize damage to their floors, since the 360-degree swivel design allows you to easily get in and out of the seat without sliding the stool across delicate floors.
With a ton of different finish and color options, it's easy to see how this elegant yet comfortable stool has earned a 4.4-star overall Amazon rating after more than 6,000 reviews. The stool might look daunting to assemble because it comes in a lot of pieces, but reviewers note that the instructions are clear and many of the steps are repetitive, so it's easy to get into a rhythm. Grab this pick in packs of one or two.
According to one reviewer: "We recently renovated our basement and put in a bar and wine storage room. I was looking for bar stools that matched the bar, but that were also elegant on their own and comfortable. These fit the bill perfectly! They are easy to put together, the swivel feature works perfectly and are definitely comfortable - at least based on the time our guests spend on them!"
4. A Pair Of Mid-Century Modern Bar Stools With Backrests
Available seat heights: Counter (24 inches), Bar (29 inches), Dining (19 inches), Lounge (seat height not provided)
Weight capacity: 300 pounds
Covered in your choice of five colors of faux leather, this set of two comfortable bar stools from Walker Edison makes a great addition to any room or even outdoor hangout space. The curved seat and backrest provide plenty of room to sit, and the thin layer of padding provides the finishing touch that lets you really get comfy.
Due to the backrest, these might prove a little too big to tuck all the way under your bar. However, the slim steel legs and sleek, thin backrest still provide a minimalist look so they won't feel bulky.
Homeowners with delicate hardwood floors will also appreciate the rubber floor protectors that attach to each corner of the legs so you can move these around without worrying about scratches. As an added perk, assembly is really easy, according to the multiple reviewers who were able to get their stool finished and ready to use within 15 minutes.
According to one reviewer: "My partner and I were able to assemble them in under 30 minutes, with only some minor issues getting the last screw to align with the pre-drilled hole. In terms of comfort, they may be the most comfortable bar stools I've ever owned! I have been using one as a desk chair at my kitchen island while I move this week, and am able to sit in it for hours comfortably! The leather-like material is also nice quality and the color is about as pictured."
5. A Pair Of Cushioned Backless Bar Stools
Available seat heights: Counter (24 inches), Bar (29 inches)
Weight capacity: 325 pounds
These cushioned saddleback stools from Angel Line strike a unique balance of comfort, stability, and compact design that works in a wide range of spaces. Not to mention, the six color options give you plenty of freedom to find the perfect match for your décor. Available in both bar and counter height, these stools should be a great fit for many homes.
With high-density foam cushioning on top, these stools should be comfortable enough for regular use, so long as you can manage without the back support. The backless design and 13-inch depth should also allows you to tuck these stools all the way under your bar.
Many reviewers reported that they appreciated the clear instructions and labeled parts that made it possible to assemble these stools quickly and easily. It's no wonder these stools have maintained a 4.8-star overall Amazon rating after more than 7,000 reviews.
According to one reviewer: "We absolutely LOVE them! They are super sturdy, the top leather seat is soft and durable, the white legs are solid and just everything about them is perfect. We would buy them again in a heartbeat. Definitely recommend these barstools."