The 5 Best Bathroom Speakers That Can Stand Up To Moisture
We only recommend products we love and that we think you will, too. We may receive a portion of sales from products purchased from this article, which was written by our Commerce team.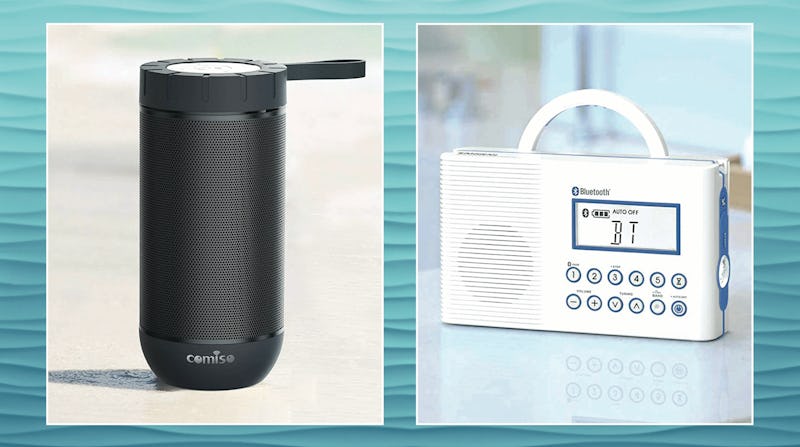 Amazon
If you decide to invest in one of the best bathroom speakers, you can use it anywhere else, too — but it doesn't work both ways; you can't just use any old speaker inside of the bathroom. The waterproof rating is likely the most important factor for this purchase. However, you'll also want to consider the size and the mounting features.
Waterproof ratings (typically given in IP ratings) can be a little confusing at first glance. The first digit after the IP- represents the solid protection (say, dust), but here, you'll want to pay closer attention to the second digit, which represents the liquid protection. A 0 means a speaker has no protection against water, while a 7 means it can be submerged under 1 meter of water for 30 minutes. Ideally, you'll want at least 4 or a 5 rating if you'll be placing your speaker outside of the shower (which should protect against humidity and light splashing), or a 6, 7, or 8 if you plan on bringing your speaker into the shower with you.
Next, think about how the overall design works in your particular bathroom. Since bathrooms are often relatively small, your speaker should be portable and space-savvy without compromising on sound quality. Especially if you don't have too much counter space to spare, you might also consider a speaker with a clip, hanging cord, or even a suction cup (though these will work best on smooth surfaces, not textured ones).
Below are six of the best bathroom speakers on the market, as well as their waterproof ratings, dimensions, and other bathroom-friendly features.
1. The Overall Best
Sometimes smaller speakers can sound muffled or grainy, but that's not the case with the JBL Clip 3. Even though it fits in the palm of your hand, reviewers rave about the "fantastic quality" and "crystal clear audio." The IPX7 waterproof means it's well-suited for damp environments, and can stand up to being submerged for 30 minutes, and the sturdy, built-in carabiner allows you to attach it to your towel bar or shower organizer. It also has on-device controls, 10 hours of playtime, a built-in microphone, and more than a dozen color and pattern options. No wonder this Bluetooth speaker has more than 30,000 reviews and a 4.8-star overall rating.
Size: 4.33 by 2.17 by 4.3 inches
Available colors: 13, including Black, Camo, Red, and Teal
One reviewer wrote: "I bought this speaker to have in my bathroom so I can listen to music, podcasts, and youtube videos while I take showers. It does the job perfectly. The sound is loud enough to fill the entire bathroom and the quality is surprisingly clear. It does not sound tinny and distorted even on the higher volumes."
2. The Best Suction-Cup Shower Speaker
There are several reasons why the INSMY speaker is a great option for inside the shower: For one, it has a waterproof rating of IPX7, so it can be fully submerged under a meter of water for 30 minutes without getting damaged. For another, it has both a hanging cord and a built-in suction cup for easy mounting. Third, the rechargeable battery lasts for up to 12 hours, and fourth, the Bluetooth 5.0 technology offers a quick connection and an impressive range. Last but not least, it comes in six cool colors and reviewers rave about the portability and sound quality.
Size: 3.54 by 3.54 by 1.2 inches
Available colors: 6 including Black, Cashmere Pink, Mint, and Purple
One reviewer wrote: "This speaker packs a punch! Great crisp, clear, loud sound! Would definitely work amazingly well outside at the pool, as well as in the shower where you can really jam to your favorite music."
3. The Best Option Under $20
It has a lower IP rating of IPX4 (which means it's splash-resistant, so you might not want it in the shower) and a shorter battery life, but the SoundBot also has a much lower price tag than many of its competitors — not to mention a few genius features. Stick the suction cup in your bathroom and use the on-device buttons to change the volume, pause a podcast, or skip through your songs. You can also make hands-free calls using the built-in microphone. This one has over 12,000 reviews and a 4.3-star overall rating, plus it comes in a few colors. You get about 6 hours of play with each charge, and it has Bluetooth 3.0.
Size: 3.25 by 3.25 inches
Available colors: 6 including Black, Blue, and White
One reviewer wrote: "Safer than bringing your phone into the bathroom. [...] Good quality for the price. Waterproof speakers are ridiculously expensive. If you're just looking for a speaker to make showers a bit more fun, this is great."
4. The Longest Battery Life
It's bigger, but if you have the room for it on your counter, tub shelf, or back of your toilet, the COMISO Bluetooth speaker is worth it for the battery life alone. This one can last for up to 36 continuous hours. It also has controls right on the top, plus a 360-degree output that makes for impressive sound quality. Since it has a waterproof rating of IP65 — good for splashes and brief jets of water — it's best for placement outside the shower. However, it's durable and powerful enough that reviewers take it outside the house, too.
Size: 2.8 by 6.5 inches
Available colors: 7, including Blue, Malachite Green, and Rose Gold
One reviewer wrote: "Longest battery life EVER! [...] I have no idea how on earth it is sipping power like this but it's unreal. The sound quality is great and I feel comfortable taking it into the shower although I have it up on the shampoo rack where it's not submerged in water. Love this little powerhouse!"
5. The Best Shower Radio/Bluetooth Speaker
Listen to the radio or your own playlists and podcasts with the Sangean shower radio. Yes, it can sync to your phone using Bluetooth, but it also has built-in antennas for AM, FM, and WX radio. Program your favorite stations with the 25 memory presets, or use the seek function to find something different. This one is water-resistant to IPX7 standards, runs on batteries for long-term wireless usage, and has a built-in flashlight and emergency buzzer.
Size: 2.2 by 9.3 by 5.6 inches
Available colors: White
One reviewer wrote: "Sangean makes great radios. I love listening to local sports stations, even in the shower. This reception is outstanding and its water resistance is outstanding. The batteries last forever, it seems."
Also Great: The Best Permanent Speaker
Finally, if you're looking for a high-end, permanent bathroom speaker, this one from Polk is the answer. It installs in the ceiling and offers loud, clear sound from above — and most importantly, it's designed to withstand damp, humid environments. Since it's hardwired, you'll never have to worry about charging a battery, and it's designed for easy installation that mimics a recessed lighting fixture.
Size: 6.5 inches
Available colors: white/paintable
One reviewer wrote: "We bought this speaker when having our bathroom renovated and asked the contractor to pop it into the ceiling and run some speaker wire to a wall jack, which they were happy to do. We bought a tiny amplifier, and have a cable hanging out so that we can plug in a phone, tablet, iPod, whatever is handy, and boom - music in the bathroom. The speaker is nice-looking, sounds wonderful in the small room, and was just an all-around fantastic purchase."