The 11 Best Bullet Journal Pens You Can Buy On Amazon
We only recommend products we love and that we think you will, too. We may receive a portion of sales from products purchased from this article, which was written by our Commerce team.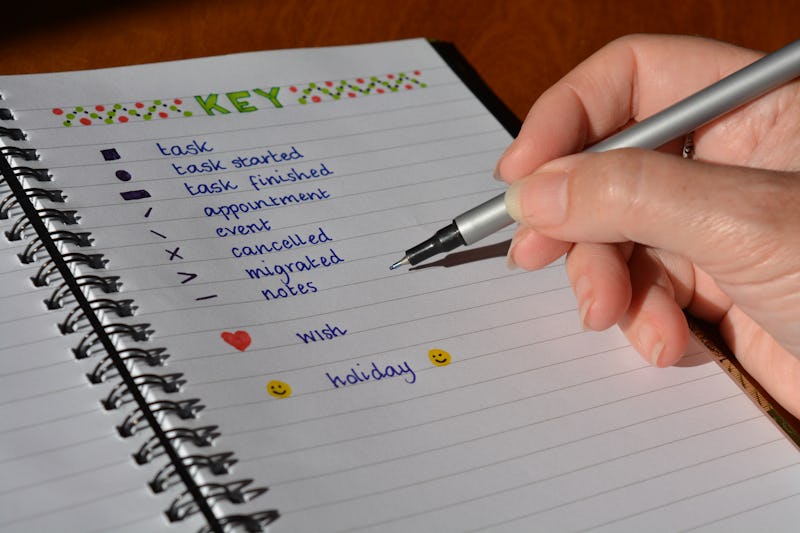 Josie Elias / Shutterstock
Whether you're a new to bullet journaling or a seasoned pro, the best bullet journal pens are absolutely vital when it comes to creating and using an effective bullet journal. The best pens should write smoothly and comfortably, without bleeding through the pages. Beyond that, deciding on a style of pen is largely a matter of personal preference — but each has pros and cons that can guide your decision making.
Gel, rollerball, and fineliner pens both use water-based ink, which flows easily to create bold and vibrant lines. These pens are often available in a wide range of colors, which is great for those who like colorful journals — just note that these types of pens can smudge. Ballpoint pens use smudge-proof, long-lasting, and budget-friendly oil-based ink, but can sometimes clump and may not write as smoothly as other types of pen. Fountain pens have a metal tip called a nib that dispenses water-based ink, adding a certain elegance to journaling. If this option appeals to you, just note that they tend to be expensive and prone to smudging, unless your notebook has thicker pages that are ideal for use with fountain pens. Felt-tip pens (aka markers) come in a variety of ink types and colors, so there are plenty of options to choose from. These pens create vibrant and defined strokes, but they can sometimes feather.
Before you make your choice, you'll also want to pay attention to the size of the pen's tip or point, which you'll find listed in millimeters or noted with terms like fine, medium, and broad. The terminology used to describe the tip size varies based on the pen type and brand, so it can be challenging to break it down — just know that when looking for a journaling pen, you'd likely want to go with a fairly narrow to medium point so you can jot down every task, event, and note more easily.
Writing in your journal should be a joy, and these seven pens ensure that it will be. From inexpensive multipacks to a complete bullet journaling kit for less than $30, there's a pen (or pens!) for every type of bullet journaler.
1. A Set Of Highly Rated Gel Pens In A Range Of Colors
With more than 69,000 reviews on Amazon and a knockout 4.8-star rating overall, these Paper Mate gel pens are a cult favorite on the site — and for good reason. The gel pens write amazingly smoothly, and they dry quickly to minimize the chance of any smearing. An ergonomic grip wraps each pen, making them comfortable to hold for long journaling sessions.
This set comes with 10 gel pens in a range of bold colors, including black, green, and red. Each pen has a medium point that's 0.7 millimeters in size.
This pick is also available in three, four-, six-, eight-, 10-, 12-, 14-, 16-, 20-, and 36-packs, and in other varieties including all black, purple, or blue options.
Enthusiastic Amazon review: "Perfect for bullet journaling. I haven't had any leaks, bleeding or skipping with any of these pens, the whole set works great!"
2. An Editor-Favorite Set Of Colorful Water-Based Pens
"I love LePen's point pens for my bullet journal," raves BDG commerce editor Amy Biggart. "They are fine point pens, which makes it easy to use them to both write and create charts and graphs and I love the range of colors." In addition, she explains, "they're also pigmented without bleeding very much, and write really smoothly." It's hard to argue with such a solid endorsement of the 10-pack of multicolored pens, and Amazon users simply back up the favorable review, giving it an overall rating of 4.8 stars. With incredibly fine 0.33-millimeter tips and water-based ink, the pens are especially great for bullet journaling, offering all the precision you could possibly need.
Enthusiastic Amazon review: "They're great pens that last. I've never had one dry up on me. [...] The consistency of this company is amazing. Over the years the pens just work, they're great and true colors and they glide easily on nice paper. These are my go to for my bullet journaling. [...] While these may be a little bit more money upfront, you will save in the long run because they work for a very long time. No going to use a color only to find out 3 months later it's dried out. Nope. Hasn't happened to me yet with these. :) I LOVE these pens!"
3. A Pack Of Extra-Fine Rollerball Pens
Prefer a pen with an extra-fine tip? These rollerball pens from PILOT have a 0.5-millimeter precision tip that delivers smooth and skip-free writing. And Amazon reviewers just can't get enough of them! This pick boasts a solid 4.8-star rating overall on the site, among 3,600 and growing reviews, a true testament to reviewers' love of these pens.
The rollerball pens dispense black ink, and since you can actually see the ink level in the barrel, you'll know when they're running low. Each pen has a metal clip so you can keep it attached to your journal if you'd like to, plus a rubber grip that makes it super comfortable to use for long periods of time.
Enthusiastic Amazon review: "I use these pens for bullet journaling and they're the best. They make thin, clean lines that don't bleed to the backside of the paper."
4. A Set Of Budget-Friendly Ballpoint Pens
If you're someone that's prone to misplacing pens, it's a good idea to have this pack of ballpoint pens from Paper Mate on hand for bullet journaling. The retractable pens are super low in cost — you get 12 of them for under $8 — so it's really no biggie if you lose one. But the price isn't their only appeal, because they also write surprisingly well. The pens have quick-drying black ink and a fine point (0.8 millimeters) that creates sharp and precise lines. The barrel features a full-length rubber grip that makes this pick super comfortable to hold. And a clip allows you to conveniently attach the pen to your journal.
These pens are also available in a blue ink option, or with a medium tip.
Enthusiastic Amazon review: "These pens are the best -always write smoothly & are comfortable to hold"
5. A Matte Black Fountain Pen
With a stunning matte black finish and a stainless steel nib, this fountain pen from Asvine is the pinnacle of elegance when it comes to writing tools. The fine tip pen writes super smoothly, and the weight of the pen is well-balanced for long-term use. This pick comes with a metal case for easy storage, plus a converter for bottled ink. Amazon reviewers are enthusiastic fans, giving this pick a standout 4.5-star rating on the site, among 14,600 and growing reviews.
This pick is also available in several other colors, including blue, dark green, purple, and silver. It comes in an extra fine tip and bent point options, too. Ink cartridges are not included but can be bought separately in a range of colors.
Enthusiastic Amazon review: "Absolutely love the way this pen writes. It's very smooth flowing and dries very quickly. I tried several different paper types and it performed well on all types. I will definitely purchase more. The matte black is just gorgeous. Great product for everyday journaling or writing."
6. A Set Of Colorful Felt-Tip Pens
Colorful, highly pigmented, and resistant to smears, these felt tip pens from AmazonBasics are a great option for bullet journaling. The set comes with 12 medium-point markers in a range of colors, including basics like black and blue, and unique options like yellow, magenta, and tangerine. And while this style of pen can be prone to feathering, this pick features a no-fray tip that writes wonderfully, according to Amazon reviewers, hence the 4.7-star rating they gave it on the site.
The pens use water-based ink, and they have a handy metal clip on the cap. Choose from packs of 12 or 24, or ones bundled with highlighters or pencils.
Enthusiastic Amazon review: "Such a lovely array of colors. Using these to create in my bullet journal [...] easy to hold and write so smoothly."
7. A Pack Of Pens With A Range Of Tip Sizes
If you aren't sure how thick you'd prefer your pen tip to be, or if you enjoy using a variety of options, this pen set from Sakura is calling your name. The set comes with six felt tip pens in a range of point sizes — 0.20, 0.25, 0.30, 0.35, 0.45, and 0.50 millimeters — each of which delivers smooth, skip-free writing. The pens all have a unique pigment-based black ink that creates crisp, rich strokes. Amazon reviewers confirmed that these pens don't bleed or feather, and that they're actually quite quick to dry; they gave this pick a knockout 4.8-star rating on the site overall, among 20,000 and growing reviews. The pens have metal clips on their caps.
Enthusiastic Amazon review: "I finally joined the bullet journal club (all the cool kids are doing it - I had to join!) and bought the Micron pens after reading reviews and hearing different friends recommendations. I have to say I LOVE these pens! You get six pens of varying line widths. If you want to use it to outline specific letters, draw tables, or just sketch, you can choose a pen to match your needs. They feel comfortable in my hand. And the pens do not bleed through the page!"
8. A Budget-Friendly 24-Pack Of Multicolored Fineliner Pens
At less than $3 per pen, this 24-pack of fineliner pens is a total steal that will fill your journal with a wide range of vibrant colors. The pens have 0.38-millimeter tips that make it easy to be super precise, and the water-based ink should look great without any significant smearing or bleeding. Reviewers note that the pens write super smoothly and last a long time without running out of ink. If 24 colors isn't enough, these pens also come in a 36-pack.
Enthusiastic Amazon review: "I bought these for bullet journaling. Slim tip is great for precision, vibrant and wide variety of colors, very slim profile."
9. A 100-Pack Of Gel Pens With Standard, Glitter, & Metallic Colors
If you want a massive color selection for your bullet journal, this 100-pack of gel pens is exactly what you need. Packaged in a pouch with four folding sections, the set contains a huge range of vibrant shades, and they aren't limited to your classic solid colors. In addition to 35 pastel, neon, and classic hues, the pens also come in six swirled-together colors, 42 glittery ones, and 17 metallics, ensuring you have tons of options for decking out and organizing every page. According to Amazon reviewers, they write smoothly without skipping. They're also an incredible deal at less than $30 for 100 pens.
Enthusiastic Amazon review: "I have tried so many gel pens and was ready to give up on them... until I decided to order these! I love them! They write smoothly, easy to hold, highly pigmented, and I love all the color choices in this set. I use them to color, in my bullet journal, and to write, they never let me down! I definitely recommend!"
10. A Set Of Black Pens With 8 Different Tips
Whether you like to fill your bullet journal with fancy lettering or simply like to keep your options open, this 8-pack of black pens is a really great choice. With pens tips ranging from 1 millimeter to 3 millimeters thick and from extra-fine to medium, you can create lines in a variety of different thicknesses. A flexible brush tip and skinnier soft brush tip allow for more expressive lines, like you'd use for calligraphy. The water-based ink writes smoothly and reviewers say they're great for beginners just learning how to employ different lettering techniques.
Enthusiastic Amazon review: "I'm a pen snob and these pass the test! They are great for journaling, lettering, and just writing period! The ink runs smooth and the tips are well built. Getting ready to order another set!"
11. A Complete Bullet Journal Kit That Includes Multiple Pens
This Feela bullet journal kit has all of the essential components to make you a bullet journal pro in no time. The set comes with a 224-page yellow journal that features bullet dots, numbered pages, and even a pre-made index. And it's thread-bound to ensure the pages won't loosen over time. Also included in the kit are 15 felt-tip markers in a range of fun colors, and even a black pen for basic journaling. Six slim rolls of washi tape are perfect for adding splashes of color, while the included reusable stencils allow you to make amazing layouts and designs.
If you aren't a fan of yellow, you can choose from other journal colors including black, green, brown, and purple.
Enthusiastic Amazon review: "I bought this bullet journal last week, and so far I'm loving it! The journal itself seems to be good quality, and all the accessories work great! The stencils are really nice for someone like me who isn't very artistic, and I also really like the colorful pens. The ink doesn't run or smudge, and the point is fine enough that I can use them with the stencils."
This article was originally published on