The 8 Best Couch Covers For Pets, According To Reviewers
We only recommend products we love and that we think you will, too. We may receive a portion of sales from products purchased from this article, which was written by our Commerce team.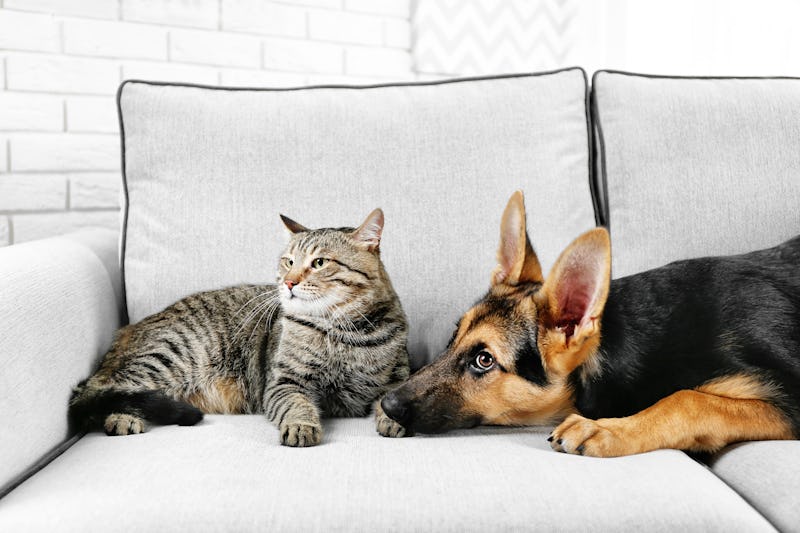 Shutterstock
If you have a dog or cat, there's a good chance they love napping on the couch — even if you've tried to get them to stay off the furniture. Luckily, the best couch covers for pets are made with durable — and sometimes water-resistant — fabric that protects your sofa from hair, accidents, and scratches, so you can let your pet hang out on the sofa without worrying about damage. Plus, most pet-friendly couch covers are machine-washable and come in a variety of sizes to fit your sofa and colors to match your decor.
When it comes to the best couch covers, you essentially have a choice between three different materials: thick microfiber, soft velvet, and stretchy polyester-spandex. Each of these materials is durable and will protect your couch from pet hair and minor spills, but if you want full protection against accidents, choose one with a water-resistant layer.
You'll also want to consider the size and shape of your couch, and how much of it you want to be covered. Most sofa covers for pets only protect the backrest, seats, and armrests — but if your pet loves to scratch the sides of the couch, opt for a stretchy cover that fits over the entire sofa, or transparent shields that adhere to the sides of the sofa to deter claws. And if you have a sectional couch, you can purchase individual pieces to get the perfect customizable fit and all the coverage you need.
No matter what kind of sofa you have, these are the best couch covers for pets on Amazon to keep your furniture safe from your furry friend.
1. A Quilted Water-Resistant Cover For Chairs & Sofas
Not only is this dual-sided pet couch cover relatively wallet-conscious, but it also boasts more than 42,000 five-star reviews on Amazon. Plus, it comes in 32 reversible color styles — including taupe/ivory, gray/beige, and wine/beige — so there's sure to be one that complements your furniture. Made from quilted, water-resistant microfiber, these furniture protectors for pets guard your couch from paws, pet hair, and other messes. The sofa cover stays in place thanks to elastic straps and foam pipes, which tuck into the couch cushions, and reviewers have reported it really does stay put. It's machine-washable for easy care, and comes in a range of sizes for chairs, loveseats, and sofas.
According to a pet owner: "Stays put on my couch, no slipping and sliding off. Somehow the fabric is soft enough to still enjoy laying on my couch and repels dog hair at the same time. I have 3 dogs, dog hair on my furniture is a real problem and after trying sheets and blankets finally I have landed on a winner! I am ordering a second one so I can rotate covers to wash. Love this cover!"
Available sizes: Chair, Oversized Chair, Loveseat, Oversized Loveseat, Sofa, Oversized Sofa
Available colors: 32
2. A Fully Waterproof Faux Suede Cover
If you want to protect your couch from spills and pet accidents, it's worth spending a bit more for one of these fully waterproof pet furniture covers. The quilted faux suede cover has a waterproof layer and the cover itself is shaped specifically to prevent liquids from seeping through at the corners. To keep the cover in place, there's a nonslip back, elastic straps, and foam pipes that tuck into the couch cushions. The machine-washable cover comes in 17 colors, and is available in five sizes ranging from loveseats to large sofas.
According to a pet owner: "It's the best couch protector I've had. It really is water and accident proof and easily washable. Perfect for dog owner."
Available sizes: Small — XX-Large
Available colors: 17
3. This Small Cover With A Bolster For Your Pet
If you'd rather cover only a minimal part of your sofa, this pet furniture protector is sold in individual pieces in your choice of four sizes. Perhaps the best part: There's a built-in bolster on three sides, which can enhance feelings of security for your pet while giving them a place to rest their chin, encouraging them to cuddle up on the cover, instead of on other parts of the couch. Made from machine-washable polyester, the quilted cover is reversible and water-resistant.
The brand also offers a cover made from plush faux fur — worth a consideration if your pet is drawn to soft fabrics.
According to a pet owner: "Love this cover for protecting our new leather couch from scratches. Our fur baby seems to like it too. A great feel, perfect size, the pillow part is wonderful and the pieces that hold it on work perfect. I will order another one."
Available sizes: Small — X-Large
Available colors and styles: 6
4. The Customizable Covers Sold In Individual Pieces
These pet covers for sectionals are sold piece by piece, so you can choose exactly which size you need to fit your couch and protect it from pet hair and stains. The covers are made from soft velvet fabric with a quilted design, and each piece has nonslip backing to help keep it in place. They're not water-resistant, but they're thick to keep moisture from quickly seeping through. The machine-washable covers come in four colors and a range of sizes, so you can customize coverage to a T.
According to a pet owner: "We have a sectional leather couch along with two playful cats. These covers are great for keeping their claws out of the furniture. The tacky backing allows for the product to sit firmly on the leather and not slide around. We've actually ordered some for our other furniture to help preserve the life of them. We measured the couch and added a few inches to each side to be able to tuck the cover in. They work great and look great. We prefer the look of these over traditional couch covers or slips."
Available sizes: 11
Available colors: 4
5. These Shields That Guard Against Cat Scratches
A unique solution for cat owners, these transparent furniture protectors can be attached to the sides of your couch, where they guard your upholstery from claws. Even better, since the slippery surface isn't attractive to cats, it may help train them to not target your furniture at all. The flexible vinyl sheets can be trimmed to size, and the adhesive backing and twist pins secure them firmly in place. Of course, these aren't your pick if you're also looking to protect your sofa from fur or potential accidents, but if scratching is your main concern, this is a great pick with a transparent design that won't interfere with the look of your couch.
According to a pet owner: "It's like a bullet proof vest for your furniture. The utter confusion as they tried to scratch the vinyl was priceless! Also it doesn't look obnoxious. It's a little bit shiny over the couch material but that's preferable to shredded, so it's a win for me. Now my cats all have a thirst for destruction, so I'm sure they will find a way to eventually rip apart my new rocker, but for the price this product has already gone a long way in deterring them from ripping apart the sides and back."
6. A Stretchy Cover That Fits The Whole Couch
If your kitty is fond of scratching the sides of your couch, this sofa cover for pets will work to add extra protection. Made from polyester and spandex with a quilted jacquard pattern, the durable couch cover has an elastic bottom and styrofoam rolls to keep it in place, and it comes in four stretchy sizes to fit most easy chairs and sofas. The cover is stain-resistant and machine-washable, and according to reviewers, spills dry quickly, but it's not fully water-resistant. You can choose from 12 colors, including beige, wine red, and navy blue.
According to a pet owner: "Cover was much nicer than I'd anticipated. I have a small wine red upholstered chair that my cats recently decided was a good scratching post. I got this cover in a similar color so I can take the time change cat behavior without the chair being ruined meanwhile. [...] The textured fabric feels nice and the stretch is unpleasant for the cats so they are scratching less, vand it seems they aren't damaging it. It's doesn't have the plastic-y stretchy feel of the usual covers, feels more like an upholstery fabric even though it stretches into place."
Available sizes: Small — X-Large
Available colors: 12
7. This Cozy Velvet Cover
If you want a soft option you can really snuggle up on, this velvet pet couch cover is just the ticket. The cover repels liquid (though it's not waterproof) and protects your couch from pet hair and other messes. It's available in three sizes, and it has thick, durable straps and nonslip backing to keep it in place. The cover is machine-washable and comes in nine colors, including navy, burgundy, and taupe.
According to a pet owner: "Needed a cover, as my dog loves to sit atop a leather sofa as he surveys his domain outside the front windows. Very pleased to discover that the cover doesn't budge out of place at all, and the material makes dog fur super easy to clean up. Highly recommend."
Available sizes: Medium — X-Large
Available colors: 9
8. A Cover For Sectional Sofas
If you've got an L-shaped couch, this sectional couch cover for pets will protect it from your furry friends. Made from microfiber polyester with a diamond quilted pattern, the cover shields your sofa from pet hair and stains. The one-piece cover protects the seat, back, and armrests, and comes in three sizes. That being said, you can also opt for simple covers that simply shield the seat cushions if you're looking for a little less coverage. There are no elastics, but the cover comes with six foam pipes that can be slipped between the cushions to help keep it in place. It's water-resistant and comes in 20 colors.
According to a pet owner: "Love my cover. Easy to attach, looks attractive, cats can't shred the material and my dog jumps up and down on it without leaving dirty paw prints. Honestly, it stays looking great even with all the animal traffic."
Available sizes: Small — X-Large
Available colors: 20
This article was originally published on