The 4 Best Deck Cleaners For Wood, Composite & More
We only recommend products we love and that we think you will, too. We may receive a portion of sales from products purchased from this article, which was written by our Commerce team.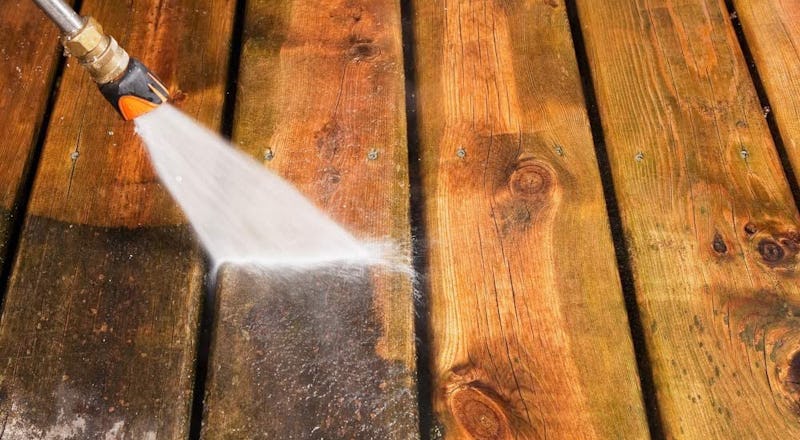 Amazon
A deck may feel like an extension of your indoor living space, but it's still exposed to the elements all year long. The best deck cleaners can remove the dirt, stains, mildew, and discoloration that builds up, but unfortunately, there's no one-size-fits-all solution. The material of your deck will dictate which cleaner is best for you, but you'll also want to consider the prepping and application process for any particular formula.
First, know what your deck is made out of. The best wood cleaners will often differ from the best cleaners for plastic or vinyl, and that's because different ingredients are better-suited (and safer) for different surfaces. Additionally, if you have a garden or lawn directly next to your deck, you might also want to choose a formula that's expressly safe for plants and grass.
Next, know exactly which tools you need. Some cleaners are designed for use alongside a pressure washer, while others can be applied with a brush or a broom. Some merely need to be sprayed on and left alone for a few minutes, after which you can just give it a quick rinse with the hose. Note, too, whether or not a formula is concentrated; if it is, it'll require you to add water before you start — but it'll probably last longer and be a better value in the long run.
With all that in mind, scroll on for the best deck cleaner for your space.
1. The Overall Best Wood Deck Cleaner
Simple Green's Oxy Solve is a concentrated formula that's designed to remove tough stains and discoloration on wood. Using peroxide, it can even tackle things like grease and tree sap, which explains why it has more than 1,100 reviews and a 4.3-star overall rating. While it's designed for use with a pressure washer, you can also apply it manually with a bucket and bristle brush before rinsing it away with a garden hose. Each bottle contains enough concentrate to clean up to 6,400 square feet — and it's also great for fences, gazebos, and sheds, painted or not. According to the brand, it's biodegradable, nontoxic, and landscape safe, too. While some customers have happily used it on their vinyl, it doesn't offer quite as many perks as the next option for tougher plastic and vinyl.
One reviewer wrote: "My deck hasn't been cleaned in 10 years. It was like a grayish greenish color, but after I used this one time WITHOUT a pressure washer I couldn't believe the results. My deck looks wooden again."
2. The Best Deck Cleaner For Vinyl & Plastic
For vinyl or plastic decks (as well as materials like metal, rubber, composite, fiberglass, and even painted surfaces), there's Star Brite deck cleaner. This solution not only removes grime, but it also uses polymers to prevent future stains and create a less slippery surface on non-textured surfaces. It can be applied easily to a wet deck and scrubbed with a deck brush before rinsing. Though thanks to the chelating agents, it's designed to lift dirt and stains with minimal effort on your part. (A lot of reviewers also use it to clean their boats!) While it isn't explicitly grass-safe, one customer reports: "I have used this product [...] which drained into a planted area and grass and never had a problem with either." However, it'd be a good idea to rinse plants if it directly gets in contact with them.
One reviewer wrote: "When instructions are followed, my composite-material deck looks almost brand new. Take your time, follow every step and you will be happy with results."
3. The Easiest To Use
This one doesn't require any diluting or pressure washers. Simply screw your garden hose into the nozzle of this Scotts Outdoor multipurpose cleaner and spray it right on your deck (or siding, stone, roof, or patio furniture). It contains fast-foaming ingredients that lift dirt and grime on impact — but the formula is also designed with the environment in mind, so it won't hurt your plants or lawn. From there, just scrub lightly and rinse it away. According to reviewers, it works relatively well on woods, vinyl, plastics, composite materials, and more. It's also designed to be safe for use around grass and other plants. It's also available in spray bottle and concentrate formats.
One reviewer wrote: "I needed a product that would clean my deck, made of Trex, composite material. This worked. I wanted something that wouldn't hurt plants and grass around the deck. It's easy to use and I'll be using it again this spring."
4. The Best Deck Cleaner For Mold
Finally, if you're dealing with stubborn mold, mildew, moss, or algae, Wet & Forget is the way to go. The brand describes that it works on vinyl siding as well as wood decks, but a few customers also report good results on composite decks. Dilute the formula and apply it to your deck with a garden sprayer. Then just let it air dry. Even though the formula is bleach-free and biodegradable, it'll remove stains from organic growth without any scrubbing, rinsing, or pressure-washing. It's safe for use around plants (though you'll want to rinse off your plants or grass quickly after if it goes directly on them). However, it's recommended for use at least 100 feet away from ponds, streams, and other waterways.
One reviewer wrote: "I had neglected my wood deck since it was built in 1999. It was almost completely black with mold. I tried various other cleansers with brooms, power washers, etc, with varying success. [...] My final foray came with Wet and Forget with a power wash finish. Now, 2 months later, it looks like new; unbelievable."