The 7 Best Deduction Board Games
We only recommend products we love and that we think you will, too. We may receive a portion of sales from products purchased from this article, which was written by our Commerce team.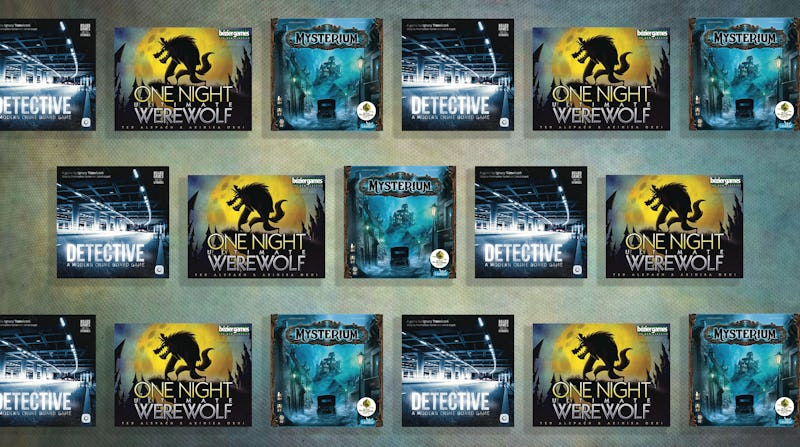 Amazon / Bustle
If you love to reason and problem-solve your way to victory, the best deduction board games are sure to be a hit at your next game night. Deduction board games come in a wide variety of themes that range from true crime to dystopian intrigue, so choose the theme that's most appealing to those that are playing. In order to narrow down the available options from there, you'll need to decide whether you'd like to team up in cooperative-style game play, or if you're more interested in games that pit players against each other to come out on top — perfect for those that thrive on a little healthy competition.
You'll also want to take note of the game's play time, which can vary from just 10 or so minutes for a quick game to multi-hour picks for more complex play. It's also important to consider how many players you're looking to include (some games can even be played solo!).
While all deduction board games require players to whittle down possibilities in order to arrive at a conclusion to win, social deduction board games are a subcategory within the genre that go one step further — think hidden roles and major deception of other players. If you are hosting a game night with players that are new to the deduction genre or board games in general, social deduction board games are the perfect choice, since they're usually easy to learn and have minimal components or pieces.
The seven best deduction board games will require you to put on your thinking cap! They're favorites on Amazon, boasting thousands of reviews to back them up, so you really can't go wrong with any of them.
1. A Fan-Favorite Social Deduction Game That Can Be Played In 10 Minutes
Players: 3 to 10
Game time: 10 minutes
Ages: 8+
For a quick yet totally satisfying game fix, look no further than One Night Ultimate Werewolf from Bezier Games. The social deduction game has minimal pieces and takes just minutes to set up and learn. In fact, it can be played in 10 minutes or less. Sound too good to be true? That's certainly not the case, as one Bustle commerce team editor can attest. "I spent hours playing this with friends and everyone was super into it," she reports.
To play One Night Ultimate Werewolf, each player gets assigned a unique role, such as werewolf, seer, troublemaker, and minion, among others. As the good guys work to root out the werewolf that's been terrorizing the village from among the other players, the bad guys have their own agendas. The game is super immersive, because the game's free iOS/Android app, does the narrating for you, so no one has to miss out on the fun.
Amazon reviewers are also wild about this pick; they give the game a whopping 4.8-star rating overall on the site, among 6,500 and growing reviews.
Enthusiastic Amazon review: "I'll admit, I read the instructions and went, "What? How is this going to work?" But after playing, my game group can't get enough. All of the roles make for some fantastic bluffing and deduction. And it plays super quick! We can squeeze three or four games into a half hour. Quick note: GET THE APP. Seriously. It will make playing this game soooooo much easier."
2. A Writer-Approved Social Deduction Game That's Budget-Friendly
Players: 2 to 6
Game time: 15+ minutes
Ages: 13+
With a knockout 4.8-star overall rating on Amazon, among 5,000 and growing reviews, Coup from Indie Boards and Cards is clearly popular on the site. And it also happens to be a favorite game of mine, as well! The social deduction game takes just minutes to set up and learn — perfect for a game night with new or returning players. The game is set in a dystopian universe where the government is on the cusp of collapse and players compete against each other to come to power. Each player starts with two cards, which represent roles like ambassador or assassin that come with unique abilities. Each turn you declare an action you're taking based on the abilities on your cards, or you can try to bluff and use abilities that aren't in your hand. But here's the catch: If you get caught in a lie, you'll lose a card. The last player with a card in their hand wins the game!
The game comes in a compact box, so it can easily be taken with you wherever you'd like to play.
Enthusiastic Amazon review: "This game is so much fun! My group of friends always plays this at the beginning of our game nights and it breaks the ice and gets everyone in the mood for some competition. It is also really nice because the games are very short even if you are playing with the max amount of people. This is a game of lying and it is really funny to see your friends getting sneakier with each game as they are learning how to play. [...] Great for traveling and you can take it anywhere and play it anywhere. There is not many pieces either so you do not have too much to keep track of."
3. A Mystery-Filled Cooperative Deduction Board Game
Players: 2 to 7
Game time: 45 minutes
Ages: 10+
With the deduction board game Mysterium from Asmodee, all players will either win as a team or go down together trying! There's been a horrible crime committed in Warwick Manor, and players have just seven turns to determine who did the crime, where, and with what weapon — essentially the ultimate whodunnit adventure. The game involves a ghost, visions, and plenty of other mysterious encounters, so get ready for a chilling good time.
Reviewers on Amazon indicate that there is a learning curve to this pick since it has a lot of pieces and rules, but once you understand how to play, it's a total blast.
Enthusiastic Amazon review: "We've played this a couple of times already and we all absolutely love it. The theme is easily immersible if you're into anything involving mystery, ghosts, seances, or random spookiness. [...] I loved the interaction between the ghost and the psychics. The game was full of non-verbal communication and very abstract artistic messages, which we somehow managed to grasp right from the very first game. The ghost is not supposed to speak at all, and can only provide hints and answers by knocking on the table - once for yes or twice for no. This was one of those games that helped us all learn a bit more about how each of the other gamers think around the table. If you have a ghost who is an established gamer and will not be overly stressed at having to guide everyone else in the room, this can be a very simple and rewarding experience for the psychic players. This game will be hitting our table pretty often."
4. A Classic Deduction Game For 2 Players
Players: 2
Game time: approximately 30 minutes
Ages: 7+
There's just something about Hasbro's Battleship that's kept it feeling fun and fresh, even though it's been around for years. Maybe you're familiar with this classic deduction game, but if you've never had a chance to play, the premise is that two players partake in a naval-themed battle to destroy their enemy's entire fleet. Players call out coordinates to locate and sink each other's ships, and the first one to sink their opponent's entire fleet is named the winner. The game is simple to learn and play, but you might be surprised by how competitive it can become!
This pick is also available in an electronic version if you prefer.
Enthusiastic Amazon review: "Great, quick game for two people. An update on the old classic version. The pieces seem solid overall and the board structurally sound. My wife and I enjoy it greatly when we need a quick game to play even though I almost always lose."
5. A Fast-Paced Social Deduction Board Game For Large Groups
Players: 4 to 12
Game time: 20 minutes
Ages: 14+
For larger groups (up to 12 players), Deception: Murder in Hong Kong from Grey Fox Games is the perfect pick — heck, tons of Amazon reviewers even commented that the more players involved, the better! The highly rated social deduction game is simple to learn and super fast-paced, so you'll be able to get in plenty of rounds in during your next game night. Players are randomly assigned roles — one person is a forensic scientist, another is the murderer, and the rest are investigators. The investigators team up to figure out the means of the murder and the key evidence to convict the killer. Meanwhile, the murderer must deceive and mislead in order to save themselves.
Enthusiastic Amazon review: "This game is one of the best social deduction games out there! Plays great with a lot of players and is simply fun. Highly recommended party game, a must own in every collection."
6. A Word Deduction Board Game With Coded Messages
Player: 3 to 8
Game time: up to 30 minutes
Ages: 12+
If you're a fan of word board games, Decrypto from IELLO will steal your heart. The deductive board game requires players to split into two teams and correctly interpret coded messages given by their fellow players. But here's where it gets extra interesting… the teams have to attempt to intercept and break the codes of the opposite team at the same time.
Amazon reviewers indicate that Decrypto is fairly simple to learn. And once you get the hang of it, it's seriously compelling.
Enthusiastic Amazon review: "This is a great game. It has a nostalgic feel to it and is perfect for gamers and non-gamers alike. It has a similar feel to Codenames, but the hilarious challenge of having to make increasingly more obscure connections between your clues and your words. We have a fairly sizeable game collection and this one has come out again and again."
7. A Lengthy Crime Deduction Board Game That Can Be Played Solo
Players: 1 to 5
Game time: 120 to 180+ minutes
Ages: 16+
With a game time of 120 to 180 minutes, Detective from Portal Games is definitely an investment, but Amazon reviewers indicate that it's wildly captivating — many describe the game as like being immersed in a true crime show in which you're the detective. The deduction board game requires players to work together as Antares National Investigation Agency members in order to solve five different cases, each of which affects the next one. The fictional stories are actually set in the real world, so you will have access to data on the Internet — and plenty of problem-solving is required in order to come out on top.
This pick is complex, so it's intended for teenagers and adults. And you can even play this one solo.
Enthusiastic Amazon review: "Super fun game! Definitely takes a minute to understand the breadth of the game but once you get started on the case, you will pickup quickly. Packed full of details and really neat how they manage to tie the game to real life events."