The 10 Best Desk Accessories For A More Productive Workspace
We only recommend products we love and that we think you will, too. We may receive a portion of sales from products purchased from this article, which was written by our Commerce team.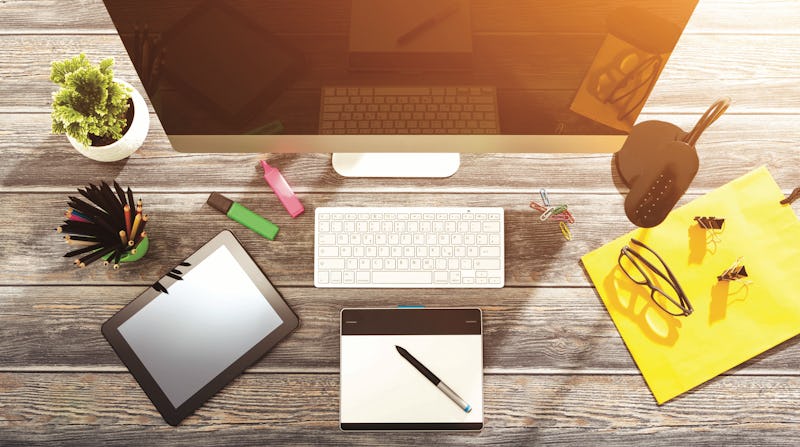 REDPIXEL.PL / Shutterstock
Whether you work from home or the office, the best desk accessories can create a more comfortable, organized work environment and make your day a little easier. While practicality is the most important thing, you should also look for items that fit your personality and mesh with the room's decor. And consider the amount of available space on your desk (and in your drawers, too, if you have them) before purchasing anything, since a cramped, cluttered desk is bad for productivity.
If organization is on your mind, there are plenty of products to help you out. Desktop organizers usually have multiple compartments to sort your stuff. If you have drawers in your desk, look for small organizers that can be configured to fit conveniently in your drawers. (Bonus points if they interlock with one another so they stay in place.) A pen and pencil holder can hold your loose writing utensils on your desktop, and if your cord situation has gotten out of hand, look for clips that can wrangle them.
If you want to make your desk a more comfortable place to work, there are multiple ways to achieve this with accessories. A good desk lamp can create the lighting you need to keep your eyes happy, while a small fan will keep you nice and cool. If your posture isn't the best, invest in an adjustable stand that can raise or lower your laptop as needed for a more ergonomic setup.
No desk is complete without certain essential accessories, either, so be sure that you have the basics like a mouse pad (bonus points if it has wrist support), stapler, and tape dispenser. In addition, a cork and white board combo can be utilized in many different ways to keep your workflow on track.
These 10 accessories will take your desk from OK to seriously next level — you'll wonder how you ever got anything done without them.
1. A Desktop Organizer With Multiple Compartments & A Drawer
If you have a lot of odds and ends that need to be corralled, this organizer from SimpleHouseware is calling your name. The steel mesh organizer is designed to sit on your desktop, and it has tons of compartments and a drawer that can hold everything from paper clips to sticky notes. A letter tray and upright compartments can hold notebooks, papers, and file folders. With more than 19,000 reviews on Amazon and a solid 4.7-star rating overall, it's clear that I'm not the only one that's totally wild about this organizer; some reviewers on the site mentioned that this pick has been a game-changer for their desk setup.
This desktop organizer is 13.25 by 13 by 9 inches (length by width by height) in size, and it's lightweight at less than 1 pound. Choose from two colors — black or silver.
While this pick is highly functional, if style is more of the priority for your desktop organizer then you may prefer this wooden one or even this marbled one.
Enthusiastic Amazon review: "I bought this product to help organize the odds and ends I have on my desk. It was quick and easy to assemble, the mesh is very sturdy considering it's thickness and once assembled the product is stable and functional. The drawer at this point is the main thing in use, holding office supplies such as sticky notes and extra tape, etc. The second shelf is being used for a tape dispenser and hole puncher with the uprights holding some papers/folders and writing/drawing books. Overall, I am very satisfied with my purchase!"
2. An Adjustable Laptop Stand
Say goodbye to bad posture; this stand from DUCHY can easily be adjusted in both height and angle (just push or pull to adjust depending on your needs) to always have your laptop in the perfect viewing position. The laptop stand is made from aluminum alloy, so it's sturdy and durable. The manufacturer states that it can support up to 13 pounds, and Amazon reviewers confirm that it really can, awarding it an overall rating of 4.4 stars after more than 5,000 reviews. Silicone pads keep your laptop from sliding around as you work, while ventilation holes at the bottom prevent it from getting overheated. When not in use, the laptop stand folds down for storage, and it also has a handle in case you want to tote it around.
This pick is compatible with laptops that are 10 to 17 inches in size. Choose from a handful of color options.
Enthusiastic Amazon review: "This laptop stand is helpful for posture, and is very sturdy with mac laptops. It helps with space on my desk, and I don't have to slouch anymore! It has grips so your laptop does not slide.. Highly recommend this [laptop] stand for the price and quality."
3. A Pen & Pencil Holder That Doubles As Decor
This pen and pencil holder from Kikkerland strikes the perfect balance of adorable and functional. The potted faux grass will bring some productivity-boosting greenery to your desk without any watering required while simultaneously holding a few writing utensils. The pencil holder is pretty compact, measuring 3.75 inches in diameter and 4.25 inches tall, so it won't take up too much space on your desktop.
Enthusiastic Amazon review: "Adorable and very functional. This is so cute on my desk and holds lots of pens and pencils. No problems with them falling out."
4. A Set Of Interlocking Drawer Organizers
With more than 11,000 reviews on Amazon and a knockout 4.7-star rating overall, these plastic bins from madesmart are adored by reviewers since they have such a large number of uses, including desk drawer organization. The set comes with eight bins in a variety of shapes and sizes; the small ones are great for little stuff like tacks, staples, or paper clips, while the larger ones are ideal for bigger accessories like pens and pencils. I actually have a couple of sets of these bins myself, and my favorite feature is that they interlock with one another, so they'll stay put when you open and close your drawers. Plus, they can be configured in any way that you need.
Enthusiastic Amazon review: "Added these into my desk drawers to keep my items in a more organized fashion and they are great for [...] my needs. They snap together well and can be separated and re-positioned to your specific needs. These are very inexpensive and great for keeping drawers looking neat. Would recommend to anyone who is looking for a great solution to cluttered drawers."
5. A Decorative Mouse Pad With Wrist Support
Using a mouse all day long can be really tiring for your arms, wrists, and hands, but luckily this mouse pad from Dooke has a soft, ergonomic wrist support built in that can make a big difference. This pick also has a nonslip base to prevent the pad from sliding as your mouse moves, plus reinforced edges for durability. Functionality aside, this pick is seriously stylish. It comes in a ton of captivating patterns, so you can surely find one that matches your decor, but if you'd prefer a less decorative (but equally functional) option, check out this one from Gimars.
The mouse pad is approximately 9.4 by 8.3 inches in size (length by width) and a little under an inch tall.
Enthusiastic Amazon review: "This product completely exceeds my expectations. The cover is smooth and allows the mouse to glide easily, and the wrist rest is very comfortable. I bought this for my desk at work because I started to experience wrist pain, and my company didn't have any with a cushion. So glad I purchased this and it's extremely cute. Win, win!!"
6. A Set Of Clips To Wrangle Cords & Cables
If cords just seem to run rampant on your desk (I'm speaking from personal experience here) then you need these cable clips from Blue Key World, which will work wonders when it comes to keeping them organized. The clips all have adhesive backings, so you can stick them to most surfaces, including walls, plastic, wood, glass, metal, or rubber. Once in place, the clips will effectively hold your cords, keeping them within reach and tangle-free. These clips are designed to hold almost any cord imaginable — yes, even thick ones like HDMI cords — and they come in a pack of six. If you're skeptical of their life-changing organizational power, consider that they have more than 14,000 reviews on Amazon and an overall rating of 4.3 stars — not bad at all.
Enthusiastic Amazon review: "My headphone wires were driving me nuts so I was browsing and found these. They're great for keeping the wires tidy from my tower to the upper part of my computer desk. I've used all 6 for cable management and they install very easily and generally large wires (HDMI chords) can fit into the clips. To install just take the protective backing off and stick to the surface, push the cord in and you're golden. The cord holder is a rubbery material so it has some give so it wont harm or cords or your fingers, I would recommend this product for any type of cable management if you don't want to drill into surfaces and use a peel and stick method."
7. A Sleek Desk Lamp That's Highly Adjustable
This desk lamp from TaoTronics is wildly popular on Amazon — boasting a whopping 4.8-star rating overall, among 33,000 and growing reviews — so you can rest easy knowing that it's a high-quality pick that's packed with features you'll love. For one, the lamp is super adjustable, with five lighting modes and seven brightness levels (with the max being 410 lumens). The built-in touch controls are simple to use — slide your fingers along the touchpad to adjust them, and you're good to go. And it even has a USB port for charging your devices. The lamp's head and arm tilt and swivel, allowing you to always position it exactly where you need it.
To power this energy-efficient lamp, plug it into a wall outlet. Choose from a few different color options.
Enthusiastic Amazon review: "This lamp is truly awesome, especially for the price point. It's so adjustable and can be fully customized based on use. You can bend it, angle it, turn it, and you can adjust the the shade of lighting as well as brightness. It's clean lines and takes up minimal desk space too. I plan on ordering more for my kids."
8. A Whiteboard & Corkboard Combo
Half corkboard, half whiteboard, and 100% convenient, you'll find so many uses for this pick from Quartet in your office space. The 17-by-23 inch board can be hung horizontally or vertically (use the included sticky pads to do so quite easily), or you could even just lean it up against the wall. The white board side is magnetic and can be written on with dry erase markers (magnets and a marker are included). Use push pins on the cork side to hang up documents, notes, or even decorations and photos.
This pick features a sleek black curved frame, but there are many variations available including an option with a white frame, an option that's just a whiteboard, and straight frames, too.
Enthusiastic Amazon review: "It's the perfect size for the side wall of my desk. I wanted something small, but handy. It's good for little notes and posting up small photos or quick notes from pads or stickies. Easy to put up."
9. A Small Fan To Keep You Cool
If you tend to get hot at your desk, this small fan from Honeywell will help you keep the air flowing. The plastic fan has three speeds to choose from, and the 90-degree pivoting head allows you to adjust exactly where it blows, whether you want it directly aimed at you or just cooling the room in general. Amazon reviewers indicate that while the highest setting is certainly powerful, the fan is actually super quiet, so it shouldn't interrupt your work or bother any coworkers. Users on the site give this pick a solid 4.6-star rating overall after more than 65,000 reviews.
The fan is small in size — it's 10.9 by 6.3 by 10.9 inches (length by width by height) — so it'll easily fit on most desks, and it weighs under 3 pounds if you ever want to move it.
Enthusiastic Amazon review: "It is an amazing fan! I've had it for a few months and it still works great. I use it almost daily at my desk because my room gets hot often. It has a very nice switch and great 0-3 levels of power. I usually use 1 but I like having the option to go up to 2 or even 3 if I am really hot."
10. A Stylish Set Of Desk Essentials
This kit from ALSISK includes a variety of essential office accessories — it comes with a stapler, tape dispenser, stapler remover, and 1,000 staples — but it also happens to be extremely pretty. Made from translucent acrylic with rose gold accents, it's sure to spruce up your desktop. And for around $20, how can you say no?
Amazon reviewers confirm that the quality of the set is totally there; they give this pick a 4.7-star rating overall after nearly 3,000 reviews. If you need to buy more staples, you can order a separate set of 6,000 staples.
Enthusiastic Amazon review: "Not only is it pretty to look at, it also works great! Easy one-handed use plus staples are nice and secure. In fact, it works better than some of the more expensive name brands I've used over the years! Definitely recommend."
Study referenced:
McMains S, Kastner S. (2011) Interactions of top-down and bottom-up mechanisms in human visual cortex. J Neurosci, https://pubmed.ncbi.nlm.nih.gov/21228167/.