The 4 Best Dog Sunscreens To Safely Protect Your Pup
We only recommend products we love and that we think you will, too. We may receive a portion of sales from products purchased from this article, which was written by our Commerce team.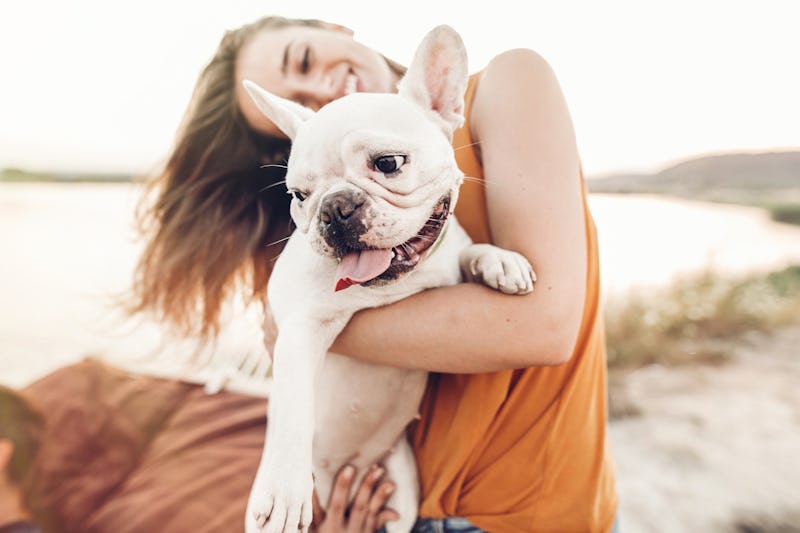 Bogdan Sonjachnyj/Shutterstock
Just like humans, animals can get sunburns — so the right sunscreen may help to protect their skin. Unlike humans, however, there's sometimes no stopping dogs from licking the spot of application, and dogs have their own sensitivities. As a result, the best dog sunscreens should be free from any potentially harmful ingredients, not to mention feature skin-nourishing ones and be easy to apply.
Unfortunately, the unregulated label of "pet-friendly" doesn't always mean 100% safe. Some leading brands of dog sunscreen contain zinc oxide (which can cause skin irritation or stomach upset in canines) and have at least several comments stating that they made customers' pets sick. While these sunscreens often show up first in search results and often have the most reviews, I've opted to skip them in this article. Instead, I've included only options with ingredients that both protect against the sun and nourish dogs' skin with moisturizing, nutrient-rich ingredients.
Sunscreen doesn't need to applied all over your dog for most breeds — concentrate on areas where there is minimal fur and therefore be more exposed to the sun, like the nose, ears, groin, and thighs. (Dogs with thin or light-colored coats are also more likely to burn.) However, you'll also want something that make it easy to keep the sunscreen out of your dog's eyes. Some find a spray to be more convenient for widespread application, while balms are often better for pain-free application around the face.
These four sunscreens for dogs are free from potentially harmful zinc oxide, easy to apply, and come highly reviewed by real pet owners so they'll be ready to hit the beach, park, and beyond.
1. The Best Spray Sunscreen For Dogs
It's free from zinc oxide, it's safe for use on all breeds, and it comes in a convenient spray bottle. Those are just a few of the reasons why Emmy's non-aerosol dog sunscreen is a great pick for all-over use — though it might be a little more difficult to apply to pup faces than a cream or balm formula. The nontoxic formula is also non-greasy, but it'll still nourish the coat and protect the skin with ingredients like shea butter and coconut oil.
One reviewer wrote: "The best part about this product is that my dog is in NO WAY interested in the flavor. [...] He likes to lay out on the balcony in his dog hammock and just roast all day (we call him a baked potato), and he was getting some skin darkening on the tum. Read A LOT of reviews and shopped so many products, so YOU DON'T HAVE TO! This is good stuff."
2. The Best Cream Sunscreen — & The Most Natural
Many dog sunscreens contain active ingredients like octinoxate, which some choose to avoid. If that's you, this cream-style dog sunscreen is the answer. This product contains only pronounceable, all-natural ingredients and protects against the sun using stuff like raspberry seed, carrot seed, hemp, and lemongrass oils. It's also a waterproof option, so if your pet likes to go swimming, this will keep them sun-protected all day.
One reviewer wrote: "I've been using it on my Boston Terrier for only about a week now and I can tell a big difference in how he looks after he sits in the sun. He LOVES laying, sitting, playing in our backyard and he tends to fall asleep in the sun's warmth all the time. I chose this product because it didn't have the chemicals advised to be toxic to our pups, and overall I think it's great!"
3. The Best Balm Sunscreen
If your dog's primary sun-vulnerable spot is their nose or ears, consider My Dog Nose It. It's a water-resistant balm that's easy to apply and formulated to protect against UVA/UVB rays. It also has ingredients like coconut oil and carnauba wax, which help to moisturize and protect skin. Finally, it goes on easily, dries quickly, and a little goes a very long way — this 0.5-ounce jar lasts up to four months when used every single day.
One reviewer wrote: "My dog had an issue with her nose and the vet said it was an auto immune disorder caused by sun exposure. He told me to start putting sunscreen on her nose, so I started using this product daily. After several weeks, her nose started looking back to its normal self. I was so happy."
4. The Best Value
Because it contains ingredients like coconut oil, neem oil, and lanolin, Gerrard Larriett Aromatherapy Pet Care's sunscreen is a great moisturizing pick that's also the cheapest per ounce on this list. In addition to its moisturizing abilities, it also provides an SPF 30 equivalent, and is designed to skip ingredients that may cause skin allergies or endocrine issues. Finally, since it sprays right on with a non-aerosol bottle, reviewers say it's easy to apply on almost any area (except maybe the eyes).
One reviewer wrote: "Love this oil! We received allergy test results back, for our pitbull, that he was allergic to the sun. I immediately began researching the safest sunscreen for him and here is where I ended. Kingston doesn't mind being sprayed with it and it isn't sticky at all. I would definitely recommend this product."