The 7 Best Drano Alternatives
Amazon favorites that work and are actually safe for your plumbing.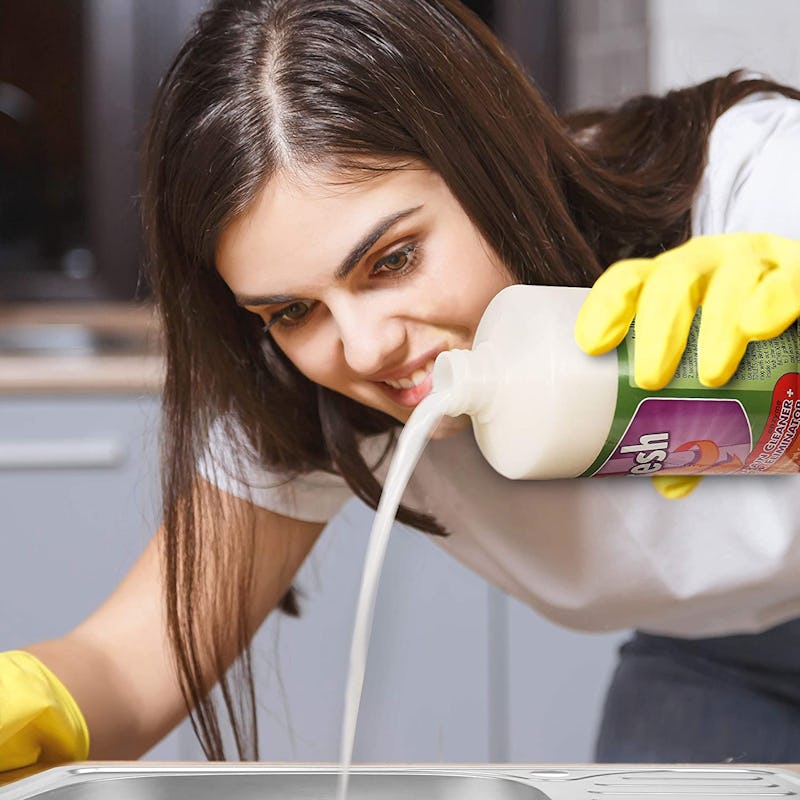 Amazon
We may receive a portion of sales if you purchase a product through a link in this article.
While it'll probably dissolve a clog quickly, the strong chemicals in Drano can corrode your pipes, too (while also being pretty harsh on your nose). That said, before you can find the best Drano alternatives, you first need to understand how Drano works. Better options aim to dissolve sink, drain, or toilet clogs with gentler ingredients or by mechanical means.
How Does Drano Work?
Drano uses bleach and other caustic chemicals to eat through hair, food, and soap scum in as little as 15 minutes. While those results can be tempting (and the brand states that its formula contains an unnamed "corrosion inhibitor" to prevent damage to your pipes), some plumbers advise against it, due to concerns about your personal safety, your plumbing system, and the environment.
What To Look For In A Drano Alternative
When your mission is unclogging a sink, drain, or toilet, you have two options: You can use a drain cleaning solution or you can use a physical tool.
If you choose a liquid or crystal drain cleaner, top alternatives use enzymes to break down odors and organic matter. These are usually biodegradable and safer for sewer systems and septic tanks.
For those who want to avoid any chemicals at all (naturally derived or otherwise), a physical tool is the best way to go. Amazon has affordable, effective drain snakes that'll dislodge most hair clogs in minutes, as well as plungers that work on toilets and sinks alike.
Finally, once your pipes are clear, the best drain protectors ensure that it doesn't happen again.
Shop The Best Alternatives To Drano
Scroll on for the best alternatives to Drano — and they're all Amazon shopper approved.
1. The Overall Best Drano Alternative
Pros:
Biodegradable formula that's low-odor
Works on most clogs in sinks, drains, and toilets
Comes in a self-measuring bottle
Cons:
Best results if left overnight
With over 45,000 five-star ratings, Green Gobbler Clog Dissolver is a great Drano alternative for most clogs. It uses a biodegradable formula to eat away at hair, toilet paper, soap scum, and other organic matter, so you can use it in everything from toilets to drains. It's also septic safe and comes in an easy-pour, dual-chamber bottle that measures for you depending on the job. The brand even offers a 30-day money-back guarantee.
One reviewer wrote: "I don't know what this stuff is made of but it works better than Drano or Liquid Plum'r and doesn't seem as caustic or dangerous to use. [...] It does a great job in the narrow, meandering pipes of the old 16-story apartment building I live in. So I keep it around, and it has never failed me in an emergency."
Works for: shower drains, tubs, toilets, and sinks
2. The Best Crystal Drain Cleaner
Pros:
Crystal formula is odor-free until activated
Activates with hot water
Works in under 60 seconds
Cons:
Reviewers report an odor after activation
Because it comes in the form of dry crystals, Thrift Marketing's drain cleaner is the best option if you want to avoid caustic (and heavy) liquid cleaners. The crystals are activated with hot water, after which they aim to break up clogs in drains, pipes, and grease traps. While it supposedly works in less than 60 seconds, the brand states that the acid-free formula is safe for sewer lines and septic systems.
One reviewer wrote: "My plumber brother-in-law recommended this product. It is easy to use. Works quickly. Lasts a long time."
Works for: drains and grease traps
3. A Versatile, Natural Drano Alternative That Also Tackles Odors
Pros:
Also designed to reduce odors and waste
Can also be used on washing machines, dishwashers, and garbage disposals
Cons:
Not the fastest or most powerful for clogs
BioFresh is an enzyme-based cleaner and odor eliminator that uses eco-friendly microbes to tackle unwanted smells and waste. While it's not the quickest solution, it's safe on plumbing, including septic systems. It's one of the best natural alternatives for toilets, but you can also use it to freshen and unclog sinks, drains, and even washing machines, dishwashers, and garbage disposals.
One reviewer wrote: "Love that this product freshens drains without toxic chemicals. Have used in shower, sinks, and toilets!"
Works for: shower drains, tubs, toilets, sinks, washing machines, dishwashers, and garbage disposals
4. The Best Drain Cleaner For Kitchen Sinks
Pros:
Uses enzymes to break down oil and food waste
Cleans out grease traps
Minimizes odors
Cons:
Can require a few applications for large clogs
While bathroom sinks are typically clogged with hair and soap scum, kitchen sinks are likely clogged with grease and food waste. In that case, Green Gobbler's enzyme cleaner is the way to go. It's specifically designed to break down oils, starches, and proteins in pipes and grease traps, all with biodegradable enzymes. It even helps to minimize odors, and it's safe for sewers, septic tanks, and cesspools. As with the brand's other products, this one also comes with a 30-day money-back guarantee.
One reviewer wrote: "I had issues with my kitchen drain clogging but after a few days of using this the problem went away. Easily beats [Drano] and smells good too."
Works for: kitchen sinks
5. The Best Hair Remover Tool
Pros:
Amazon best-seller with 25,000-plus reviews
Easy to use and unclogs drains and sinks in minutes
Comes with five wand refills for multiple jobs
Cons:
Might require more effort than chemical options
For those who want to remove a drain or sink clog without any chemicals whatsoever, the FlexiSnake Drain Weasel has over 25,000 reviews and a best-selling status for a reason: It's an "amazing little gadget" that "works well" and "in just a couple minutes," according to reviewers. Simply attach one of the five included wands to the auger, stick it down the drain or sink, and turn the handle. The micro-hook head is designed to grab onto the clog and pull it out. Toss the used wand in the trash and replace it for next time.
One reviewer wrote: "This flexisnake cleaner is amazing! I had a bathtub and vanity sink that had resisted all the other remedies - boiling water, drano, vinegar & baking soda - you name it. Five minutes after the package arrived, I had fully cleared out the bathtub which had been clogged for 2 years, and the vanity."
Works for: shower drains, tubs, and sinks
6. The Best Plunger For Clogs
Pros:
Plumber-recommended
Designed to minimize splashes
Cons:
Requires some elbow-grease
Available in six colors, the JS Jackson Supplies plunger costs less than $20 — but according to both happy customers and professional plumbers, it's the best plunger around. Its accordion design creates concentrated, high-pressure suction that removes clogs in not only toilets, but sinks, too. It also has a lip-free design that minimizes splashes and an ergonomic handle for comfortable leverage.
One reviewer wrote: "My plumber charged $180 to unclog a toilet using this product and it took him 5 minutes. He highly recommended this product."
Works for: toilets and sinks
7. The Best Way To Prevent Clogged Drains In The First Place
Pros:
Catches hair without stopping the flow of water
This two-pack includes one for the tub drain and one for the sink drain
Prevents clogs before they happen
Cons:
You'll need to clear out your drains first
After snaking my tub drain and bathroom sink several times in one year (I shed a lot), I finally got the Tubshroom and the SinkShroom. Since then, I haven't had to snake my drains once. The mushroom-shaped design sits inside the drain to catch hair without impeding the flow of water. When they're full, just pull them out, wipe them clean, and put them back. The brand also makes a SinkShroom strainer for the kitchen sink.
One reviewer wrote: "I have long hair. It's a real pain to keep out of drains. This is the best thing I ever bought to make cleaning easier. No more clogged drains. I love it!"
Works for: sinks and tubs