The 7 Best Earbuds For Zoom Meetings
We only recommend products we love and that we think you will, too. We may receive a portion of sales from products purchased from this article, which was written by our Commerce team.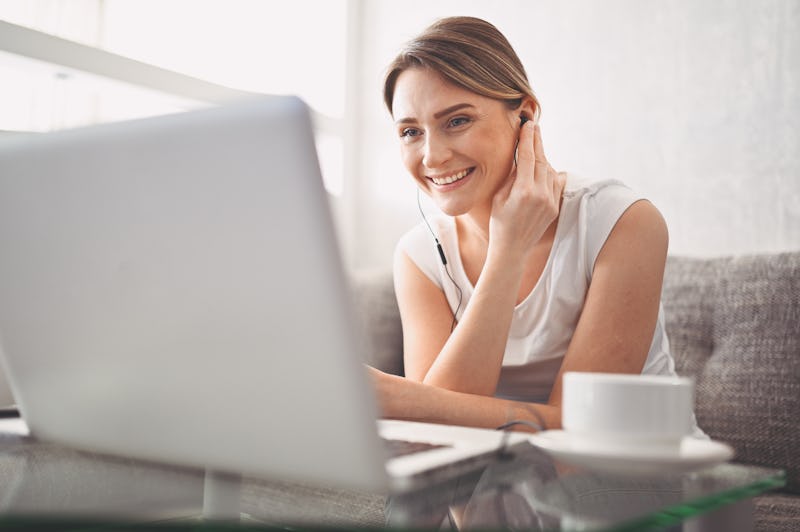 Shutterstock
No matter what you plan on using them for, a great pair of earbuds should be comfortable, be a connection method that works well for you, and offer clear sound. That said, the best earbuds for Zoom meetings have a few extra criteria: Because you'll likely be talking and listening, they should have a high-quality built-in microphone and you'll likely want some kind of noise-canceling abilities.
Most modern earbuds — even the cheapest ones — have built-in microphones, which is great news for those who use them for video conferencing. (Otherwise, your laptop or computer will likely default to its own built-in mic, which can sometimes sound muffled and pick up unwanted sounds, including typing, fans, and background noise.) But not all earbud mics are created equal, either. Some are clearer than others, and if your background gets noisy (think public spaces or a home with other people and pets), zero in on models with noise cancellation in the mic such as Clear Voice Capture technology, also known as CVC.
Then there are noise-canceling qualities in the speakers, which have to do with your ability to listen to what's going on in your meeting — despite background noise on your end. Some options use sound-insulating materials, like fitted foam or silicone inserts, while others use something called active noise-canceling technology: The latter is a digital ability that listens for outside noise disturbances and neutralizes them with opposing sound waves. Again, these headphones are more expensive, but a worthy investment if you're looking to minimize distractions.
Finally, consider your preferred connection method: In other words, do you prefer wired headphones or wireless ones? Wired headphones are a low-hassle choice because of their plug-and-play design — plus they're affordable and will never run out of battery life. Wireless options, however (aka the best Bluetooth headphones), require some extra setup and need to be charged regularly, but they allow you both freedom of movement and wire-free comfort.
All of these six earbuds have quality built-in mics and help to minimize background noise, making them great for Zoom meetings. Plus, I've included a top-selling headset if you decide you want an over-the-ear design.
1. The Overall Best Wired Headphones With A Mic
Despite their $20 price tag, these LUDOS Clamor wired earbuds have more than 19,000 reviews and a 4.3-star rating overall. Among their many redeeming features (including clear audio and a reinforced cable), reviewers love them for video calls because the buds block out background noise with memory foam inserts, they have a clear microphone that hangs right next to your mouth, and they offer an on-wire three-button control pad for mic and volume control. You can get them in just about any color, and since they plug right into your computer's headphone jack, they're ready to go as soon as a call comes through. While the mic and the speakers don't offer any active noise canceling, they're a great affordable option for day-to-day meetings.
Connectivity: Wired 3.5mm
Battery life: N/A
Available colors: Black, blue, brown, green, gray, orange, pink, purple, red, white, yellow, bright black, bright white, gold, turquoise
One reviewer wrote: "WFH during the COVID-19 outbreak forced me to be on Zoom meetings constantly. Several of my over-ear headphones become uncomfortable after a couple of meetings. [...] The memory foam is so comfortable, and the color is gorgeous! (I almost reached out for the red color, but decided to try yellow first). The unit is well built, the sound quality is top-notch, and the buttons to control volumes are easy to work with."
2. The Best Budget Earbuds For Zoom Meetings
They don't have active noise-canceling technology for the microphone or the in-ear speakers, but if you need an affordable, reliable pair of earbuds, these ones from Sony fit the bill. They have a built-in microphone, silicone earbuds to block out moderate background noise in your ears, and interior neodymium magnets for high-quality sound. They also come in your choice of five colors and have a Y-shaped slider to prevent tangling — oh, and each pair will cost you no more than $10.
Connectivity: Wired 3.5mm
Battery life: N/A
Available colors: Black, blue, pink, purple, white
One reviewer wrote: "I bought it because I have been a long-time customer for the cheapest Sony headphone since I was a kid (with a walkman). Sony never fails with their most basic product. So far, this is the most reliable headphone I have ever used. I used it a lot for Zoom calls. Very good mic quality and sound quality. Durable and reliable for all of my semester Zoom. I don't need anything fancier than that."
3. This Writer's Go-To Earbuds For Zoom Meetings
I spend all day working on a computer — and since I'm fully remote, I interact with all of my employers and freelance clients via Zoom. These House of Marley Smile Jamaica headphones are my go-to for all of them, not to mention my remote therapy sessions, hands-free phone calls, and neighborhood walks. I love them because, despite their affordable price tag, they have a clear line-in microphone, a simple one-button remote, and comfortable, noise-isolating buds (with two different-sized ear gels). The braided cable is durable and tangle-free, and since the headphones are made from FSC-certified wood and recyclable aluminum, they're as eco-friendly as they are practical. Finally, you can get them in a handful of cool-looking color combinations.
Connectivity: Wired 3.5mm
Battery life: N/A
Available colors: White, black, blue, brown, mint, purple, brass, multicolor, signature black, teal
One reviewer wrote: "Bass is clear and the added mic is perfect for talking during Zoom meetings."
4. The Overall Best Wireless Earbuds For Calls
They're small, totally wireless, and comfortable enough that you might forget you're wearing them, but those aren't the only reasons why these TOZO Bluetooth earbuds are still a great pick for video conferences: They have both a built-in microphone that reduces environmental noise and three-layer active noise-cancelation technology to prevent you from hearing those same distractions, too. They're also rechargeable and offer up to eight hours on a single charge. Plus, they come with a compact charging case for 24 more hours of portable battery life.
Connectivity: Bluetooth 5.0
Battery life: Up to 8 hours (24 more hours with charging case)
Available color: Gray
One reviewer wrote: "I wanted something untethered for zoom calls. These earbuds are a great product for the price — good sound quality, easy charging and pairing, and good noise canceling."
5. A Secure Earbud That's Very Durable
These Bluetooth headphones have multiple features that also make them ideal for a worker who's always on the go: This includes a 10-hour battery life, noise suppression in the mic (though not in the speakers), and an ear-hugging design with a connective wire for a secure fit. Since they're also Bluetooth 5.1, you won't have to worry about wires getting in your way. They're even sweat-proof and water-resistant if you decide you need a workout in between video meetings.
Connectivity: Bluetooth 5.1
Battery life: Up to 10 hours
Available colors: Black, blue, pink, red
One reviewer wrote: "Amazing! Worth every penny spent on it. [...] One recharge lasts a long time and feels very comfortable. I've been using a lot for my zoom calls and watching movies when everyone else is asleep."
6. The Earbuds With The Clearest Microphone
This one falls halfway between an earbud and a headset, but it's on this list because of its sleek, low-key profile and superb microphone quality. The COMEXION Bluetooth earpiece fits over one ear with its adjustable, detachable hook and stretchable, rotatable ear tip. If you find yourself presenting a lot, it actively blocks out background noises and echoing with its elongated mic while also delivering crystal-clear, disturbance-free sound to your ear. Last but not least, it has a range of 33 feet and on-device controls.
Connectivity: Bluetooth 4.1
Battery life: Up to 6 hours
Available colors: Black, blue
One reviewer wrote: "Being a teacher utilizing Zoom for my middle schoolers, this microphone has been invaluable. It fits very comfortably on my ear and students have no difficulty hearing me. I am able to leave my laptop signed into zoom and connect with the Bluetooth. I utilize an iPad signed into my zoom class and have it aimed at my Promethean board. I teach from there and can not only be heard, but if a student responds I can hear them. Great product that lasts all school day."
7. The Best Splurge For Apple Users
For those who love Apple products, AirPods Pro reviewers have reported that these are "the best buds to buy" and "worth every penny." While they're optimized for music and workouts because of their adaptive drivers and water-resistant design, they also have active noise-cancelation in the ears and high-quality dual built-in microphones for calls. In addition, they offer transparency mode (which allows you to turn off the noise-canceling so you can connect with your environment), three tapered silicone tip sets (so you can customize the fit to your ears), quick access to Siri (for voice-activated control of your devices), and a charging case (so you have up to 24 hours of battery life on the go).
Connectivity: Bluetooth
Battery life: Up to 4.5 hours (24 more with charging case)
Available color: White
One reviewer wrote: "The Apple AirPods Pro are a definite step up from the regular AirPods, stay in your ears well (the Beats Fit Pro does slightly better here, but the microphone is not as good as on the AirPods Pro), have good noise cancellation (Bose and Sony might be a tad better, but these are very good), and excellent microphone pickup. If you are going to be in a loot of phone calls, eMeetings (Zoom, Webex, Facetime, etc.) these are very much the ones to get."
Also Great: The Best Headset For Video Conferencing
If you'd rather have an over-the-ear design, this Bluetooth headset is a top-seller for Skype, Zoom, and webinars. The advanced mic cancels background noise while the memory foam earpad is comfortable and features a snug fit so fewer ambient sounds hit your ear. You can also flip the microphone upwards to automatically mute it and adjust the volume right on the earpiece. Last but not least, its wireless design offers up to 15 hours of talk time and has a 33-foot range.
Connectivity: Bluetooth 5.0
Battery life: 15 hours
Available colors: Black
One reviewer wrote: "So I live in zoom meetings 8 hours a day - previously I was using a cheap headset with a chord directly connected to my computer….this is a big step up from the old corded one. The sound quality is good, it's lightweight, and comfortable. I really like the charging dock. So far I have 0 complaints, 5 stars."
This article was originally published on