The 20 Best Fall Candles To Transform Your Home This Season
We only recommend products we love and that we think you will, too. We may receive a portion of sales from products purchased from this article, which was written by our Commerce team.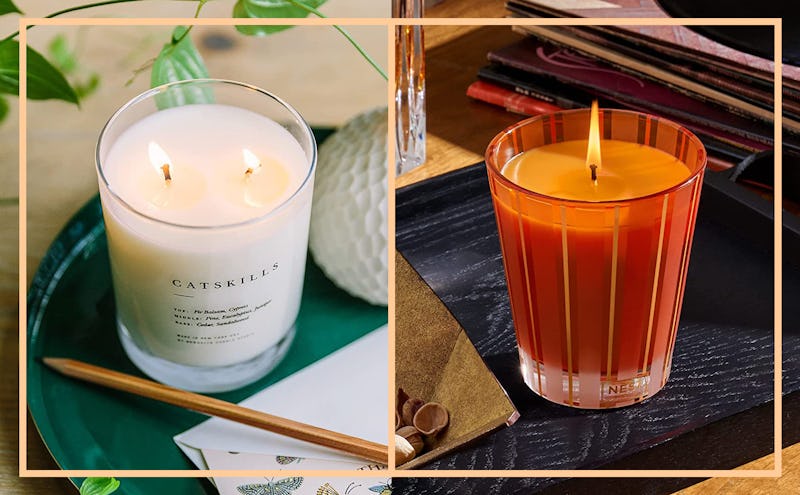 Amazon/Bustle
Whether you're in the "autumn begins in August" camp or you like to wait for the temperatures to drop and leaves to change before you embrace full-on fall vibes, nothing sets the mood for this season like candles. The best fall candles evoke autumn through cozy scents, rich colors and textures, or decorative holders that will have you reaching for a latte, a cozy sweater, and your favorite book.
Many people think of pumpkin and apple scents when it comes to fall candles, and there are plenty of options that fit the bill on this list. However, the aromas of autumn aren't limited to these two popular players. Base notes of wood, smoke, amber, and musk are also great for burning on crisp, cool nights, and anything with elements of spice (think: cinnamon, ginger) or persimmon, coffee, and vanilla can also be really nice.
If scented candles aren't your thing, or if you have pets or family members who are sensitive to fragrances, there are also some unscented candles on this list that are perfect for adding a touch of elegance to your fall decor. Choose tapers or dinner candles if you want to create a dramatic table-scape, or pillar candles to cozy up all the corners of your home.
Whenever you're shopping for candles, there are a few other features to consider. Burn time and size are probably the most important since these will give you a sense of how quickly you'll go through candles. Wick type is also nice to think about since cotton wicks light quickly and produce taller flames, while wood wicks tend to burn more evenly and have a pleasant crackling sound. Some candles have multiple wicks rather than just one, which allows for a better scent throw.
There are a wide variety of waxes used for both scented and unscented candles, and the best one for you will largely come down to preference. Some may prefer natural waxes like soy, coconut, and beeswax blends, while those who want a heavier scent throw may want to opt for paraffin wax candles.
If you're ready to get into the spirit of the season and find some new favorite candles you'll want to burn straight through the holiday season, keep scrolling for the best fall candles that you can buy on Amazon.
This article was originally published on