The 11 Best Floor Fans
We only recommend products we love and that we think you will, too. We may receive a portion of sales from products purchased from this article, which was written by our Commerce team.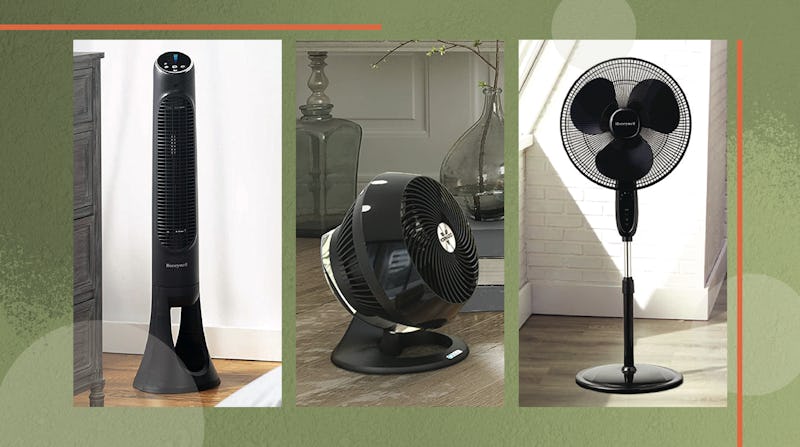 Bustle/Amazon
Floor fans are great when you want to create a cooling breeze in any room, and some are also stylish enough to enhance your home decor. The best floor fans are available in tower, pedestal, industrial, and box designs, but all will provide enough airflow to cool down your space. Most options also have additional features, like a sleep mode for the bedroom and control over how the fan's airflow is directed.
When choosing between various fan types, consider how much cooling power you'd like. A fan's airflow is typically measured in cubic feet per minute (CFM), and numbers can range from 100 CFM for small desktop options to over 3,000 CFM for industrial fans. While this is the quickest way to gauge airflow and most floor fans below are at least 500 CFM — which will cover about 2,000 square feet — not all brands list this info. However, you can check user reviews to see what other shoppers write about fan power.
Design-wise, tower fans are usually tall, narrow, and space-saving. And because they either have enclosed blades or bladeless designs, tower fans are often the safest choice if you have children or pets. On the other hand, pedestal fans are generally more powerful and quieter than tower fans, but they're less sleek and usually take up more floor space. Lastly, industrial and box fans sit low to the ground and are typically more powerful (and sometimes less expensive) than tower and pedestal fans. However, while industrial fans tilt so you can direct airflow, neither style will oscillate and both tend to be louder than pedestal and tower fans. It's also worth noting that a tower fan might be hardest to clean since its blades are enclosed, while other fans usually have removable grills that provide easier blade access for dusting. But again, grills might be a drawback if you have kids or pets.
As for features, all of the best floor fans below have several speed settings, but tower and pedestal fans often have extras such as a sleep setting, timers, and remote control. You might also like a cordless fan or an Alexa-compatible smart fan that works with voice commands — scroll on to find your favorite.