The 4 Best Guitar Stools, According To Amazon Reviewers
We only recommend products we love and that we think you will, too. We may receive a portion of sales from products purchased from this article, which was written by our Commerce team.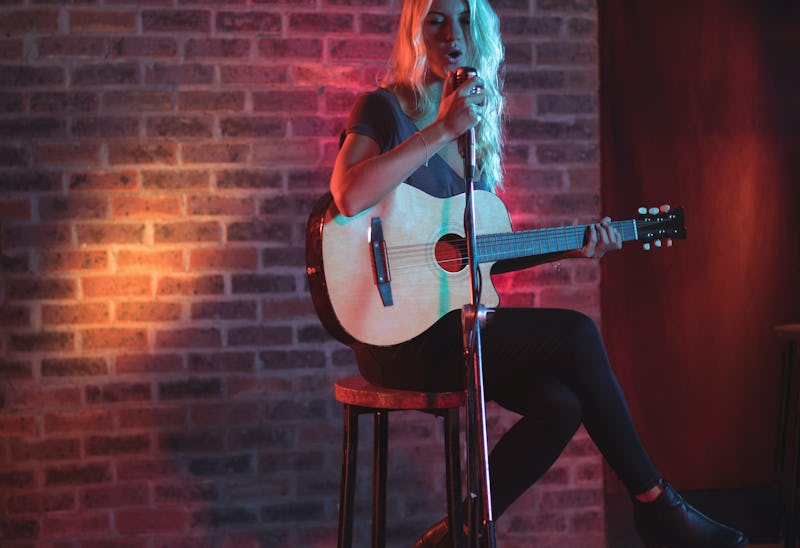 wavebreakmedia / Shutterstock
Unlike your average chair, the best guitar stools offer ample support and balance without getting in the way of your instrument. Anything you choose should be arm-free and on the taller side (bonus points if it's height-adjustable), but you'll also want to consider the specific support features and the weight capacity. These will differ depending on your needs and preferences.
While your guitar chair shouldn't have any arms (which tend to hit into the body of the guitar), a backrest is optional; some find that it provides comfort during long gigs or practice sessions, while others find it cumbersome and unnecessary — especially if they tend to lean forward while playing anyway. A comfortable seat, on the other hand, is a must no matter what. Most great guitar stools use padding and ergonomic shapes to improve posture and reduce pressure on the sit bones.
You'll also want to make sure that your chair of choice is sturdy enough — but keep in mind that, for some, guitar stools need to be lightweight and portable, too. If you'll be often taking yours with you to gigs, consider one that folds flat as well.
Chosen because of their specific features, durability, and reviews, these are the best guitar stools on Amazon.
1. The Overall Best Guitar Stool
Whether for practice or performance, there are several reasons why the Gator Frameworks seat is the best guitar stool for most people: For one, it's padded and ergonomic with a backrest for comfortable use. For another, it folds flat with a quick-release pin and weighs less than 15 pounds for easy travel. Next, it has a built-in stand that holds electric, acoustic, and bass guitars. Finally, with more than 1,200 reviews and a 4.4-star overall rating on Amazon, it's customer-approved. It also comes in an option without a back if you prefer.
Weight capacity: 300 pounds
Weight: 13.3 pounds
One reviewer wrote: "This is one amazing chair! It is high enough and comfortable enough to withstand a 3-hour gig! I just received it last week, had a show the following day. My lead guitar player was so impressed he ordered his today."
2. The Best Budget Option
Looking for something simple and affordable that gets the job done? The HOMOOI stool is the way to go. It has both a padded seat and a padded backrest made from PVC leather, while its frame uses sturdy metal. As a result, despite its compact, folding design that weighs less than 10 pounds, it can hold up to 220 pounds. Finally, it has a security pin so the chair won't close unexpectedly. Reviewers have given this one a 4.4-star rating overall because it's "comfy," "lightweight," and "very well-made" for the price. Choose between all-black and black with white.
Weight capacity: 220 pounds
Weight: 8.03 pounds
One reviewer wrote: "For stage you might want a high-chair depending on application but for practice this is a perfect musician chair. Cannot think of any better option for maximum portability as most guitar chairs with backrests are not foldable or only foldable without the backrest."
3. The Most Comfortable Guitar Chair
If comfort is likely your number one priority, consider this option. Yes, the Gibraltar is technically a drum throne, but it has a few key features that make it ideal for the guitarist, too. Its bike-style chair has cut-outs for your thighs and is made from memory foam for mobility and comfort. The seat ranges from 20 to 26 inches so you can find your ideal height, and the backrest is also adjustable for lower back support. No weight capacity is provided but one customer wrote, "I weigh over two hundred pounds and it seems very stable to me."
Weight capacity: N/A
Weight: 21.3 pounds
One reviewer wrote: "Like many others who purchase a throne, I am not a drummer. I purchased this to sit central to my home studio activities - Computer, Keyboard, Guitars. The seat is firmly padded and comfortable through long sessions. The anti-slip velour-like fabric is cool and much more comfortable than vinyl."
4. The Best Guitar Stool With Wheels
While it's probably not the best fit for stage performances, there are many people who prefer a rolling stool for at-home use — specifically if they have a studio space. The Be Well stool is designed for medical offices, but its padded cushion makes it great for guitarists, too. It has dual-wheel casters for easy movement as well as an adjustable seat height, plus it comes with or without a backrest. Thanks to its chrome base and sturdy gas lift, this one can support up to 275 pounds.
Weight capacity: 275 pounds
Weight: 12 pounds
One reviewer wrote: "I bought this chair for my music studio and it is just perfect for playing guitar. It's comfortable and was rather easy to assemble. I bought two and had them both put together in about 10 minutes. Perfect for my needs."