The 12 Best Lemon Candles
Freshen any room with the inviting scent of fresh-cut lemon.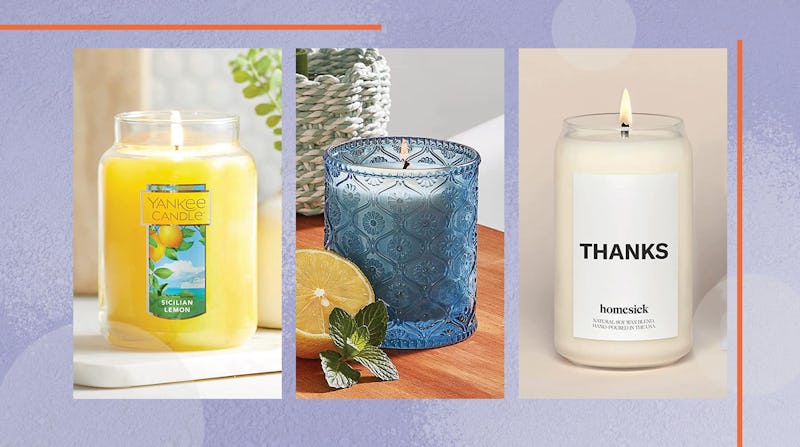 Bustle/Amazon
We may receive a portion of sales if you purchase a product through a link in this article.
There's nothing cozier and more inviting than lighting a deliciously scented candle, and when you're craving the fresh scent of lemons, there are a ton of great options available. The best lemon candles feature an impressive throw to make the entire room (and maybe even your whole home) smell fabulous. These come in a variety of waxes including paraffin, soy, and coconut, to suit your preferences.
What To Consider When Choosing Lemon Candles
Throw & Wax Type
One of the most important features of any candle is its ability to send luscious fragrance throughout the room, also known as the candle's "throw" — and the kind of wax it's made of can make a big difference. Paraffin wax candles are known for having great throw, but the wax is made from petroleum byproducts which some choose to avoid. Botanically derived alternatives include coconut or soy wax, which are both known to provide a long burn time with little to no soot. Coconut wax has the best throw of the two and can hold a lot of fragrance, while soy wax candles have a moderate scent throw and tend to be more budget-friendly. You can also check out reviews to get an idea of how much lemon scent you'll get from each candle.
Wicks
When it comes to the wick, lead-free cotton wicks are common, but you can also go with slow-burning wooden wicks that make a crackling sound for fireplace ambiance. However, wood wicks tend to be a little more expensive. There are also three-wick options that can help send even more scent into the air.
From unique scent blends to classic lemon desserts, there is a lemony-scented candle below to suit everyone's taste. Scroll on to find the best lemon candles with rave reviews on Amazon.