The 5 Best Nail Biting Polishes, According To Reviewers
We only recommend products we love and that we think you will, too. We may receive a portion of sales from products purchased from this article, which was written by our Commerce team.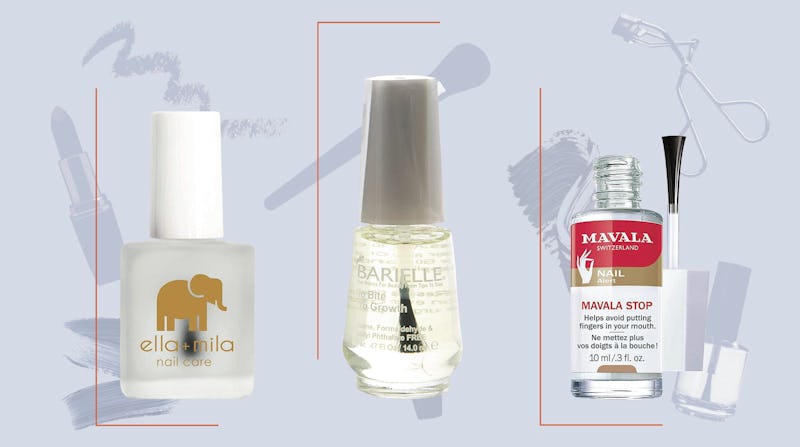 Bustle/Amazon
Breaking a nail-biting habit can feel like an uphill battle, but there's hope. I can personally attest to friends who have told me nail-biting polishes made all the difference for them. The best nail-biting polishes contain denatonium benzoate — an extremely bitter ingredient with an off-putting taste — so you think twice about landing those chompers on delicate cuticles.
What Causes Nail Biting?
If nail-biting is more than an occasional occurrence, it's then designated as onychophagia, a kind of body-focused repetitive disorder. While there is no definitive reason why people bite their nails, there are several widely accepted theories. There could be a potential genetic link or higher-than-average rates of mood and anxiety disorders in family members. The cause could even be excessive or pathological grooming, tied in with a quest for perfection, or it could be a calming coping mechanism for anxiety, boredom, and stress.
How Do Nail Biting Polishes Work?
Nail-biting polishes are almost identical to regular polishes but contain one special ingredient that causes intense bitterness: denatonium benzoate — the most bitter substance ever discovered. It's considered safe to use in low doses for human or animal consumption. Bitter nail polish can help bring awareness to the habit, which is the first step in what's called habit reversal training. The awful-tasting polish establishes negative associations with the habit.
What Are The Best Nail Biting Polishes?
To help stop biting your nails, look for formulas that include denatonium benzoate. For your convenience, know that all of the picks below are formulated with that bitter agent. From there, it's up to you as to whether you prefer a portable pen that allows for touch-ups throughout the day or even a nail-biting polish that includes botanical oils like nettle to encourage nail growth. Some nontoxic polishes are 5-free, which means they are free of dibutyl phthalate, toluene, formaldehyde, formaldehyde resin, and camphor, but you can even find nail polishes that go up to 17-free, which makes them free of the aforementioned dirty five, as well as acetone, animal-derived ingredients, bisphenol-A, ethyl tosylamide, gluten, glycol ether, nonylphenol ethoxylate, parabens, styrene, sulfate, triphenyl phosphate, and xylene.
Keep scrolling for more nail-biting polishes — there's one for every style and budget.