12 TikTok Hacks To Help You Stop Biting Your Nails
They're pretty brilliant.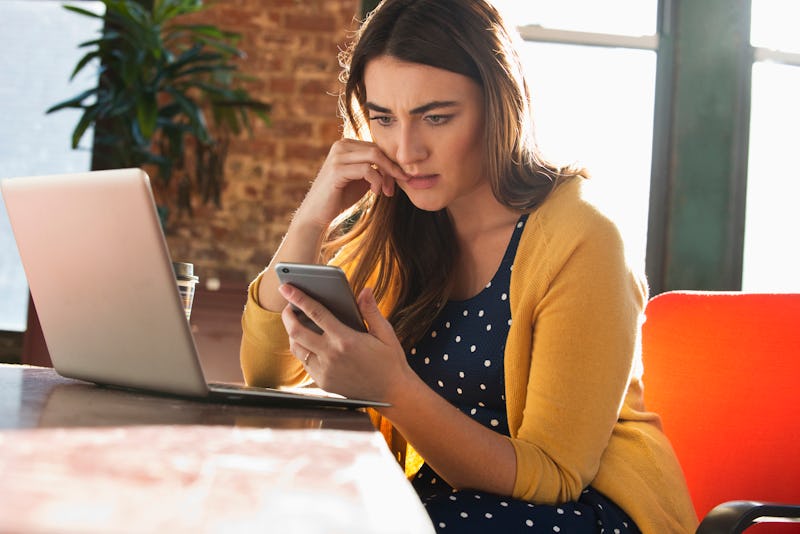 Getty Images/ Jose Luis Pelaez Inc
Anyone who bites their nails is not happy about the habit. It wrecks your manicure, first of all, and sometimes it leads to bleeding cuticles or painful hangnails. But kicking the tendency to gnaw on your fingertips can be really tough — especially if you're a lifelong finger-biter. Are your current attempts to suppress the urge not cutting it? If you're looking for intel on how to stop nail biting, these TikTok hacks could help you kiss those painfully short nails goodbye.
If you eat at your fingers, you're not the only one — about 20 to 30% of Americans regularly bite their nails, according to 2017 research published in the Journal of Dermatological Treatment. The habit is often a reaction to feeling stressed, restless, or bored. Besides reducing your fingertips to tender, unsightly nubs, too much of it can lead to nail damage, infection, and even dental problems from all the biting or from transferring harmful bacteria on your fingers into your mouth. Suffice it to say: It's not a healthy habit.
Unsurprisingly, TikTok is here to help. One scroll through the hashtag #nailbiting amasses 69 million views on the platform in part thanks to users' tips and tricks to beat the impulse. So if you're ready to finally put your nail-nibbling urges to rest, check out these 12 TikTok hacks for how to stop nail biting.