The 5 Best PopSocket Alternatives
All the function of PopSockets with unique designs and helpful features.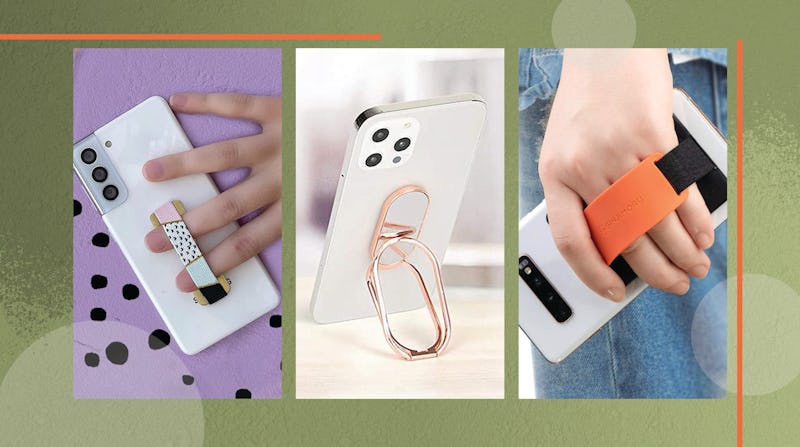 Bustle/Amazon
We may receive a portion of sales if you purchase a product through a link in this article.
When it comes to securely carrying your phone, PopSockets are one of the most popular phone grips on the market. That said, for those looking for increased durability or different designs, there are other options. In order to find the best PopSocket alternatives, you'll need to first understand what makes PopSockets so great: namely the functionality, portability, and compatibility.
What To Look For In A PopSocket Alternative
Functionality: The original PopSocket pops out to two different heights and functions as both a finger grip and a stand. Whether in strap or ring form, a good alternative will have both of those features — and some also function as a magnetic mount or strap ring as well. Keep in mind that one of the most common complaints about the PopSocket is its lack of durability, so tougher materials (like metal or silicone) might be better than plastic.
Portability: One of the best features of the PopSocket is that it collapses back into itself so it lays (almost) flat against your phone. This allows you to slip your phone into your bag or pocket and hit the road without hassle. A great alternative will also collapse or lay flat, so it remains sleek without snagging on anything.
Compatibility: Using a strong adhesive, the PopSocket attaches to just about any phone, tablet, or handheld device. The best phone grips are just as widely compatible and 3M adhesive tape is the most common material among top-selling options. Keep in mind, however, that textured cases may prevent the adhesive from sticking.
Shop The Best Phone Grips That Aren't PopSockets
In a hurry? Here are the top picks for PopSocket alternatives.
Whether you want a phone grip that can double as a stand or can even hold your credit cards, scroll on for the best PopSocket alternatives.
1. The Overall Best PopSocket Alternative
Pros:
Extremely durable and sleek
Functions as a grip, stand, magnetic mount, and strap ring
Comes with a three-year warranty
Cons:
The most expensive option on this list
The best thing about the Mobi handle is how durable and substantial it is. Instead of cheap plastic, the entire thing is made from zinc alloy metal. As a result, it's lightweight but extremely sturdy — and it has an eco-friendly coating that resists scratches and corrosion. In terms of functionality, this phone grip does it all: It works as a finger grip, stand, and a magnetic car mount, plus it has tiny holes so you can secure a wrist or neck strap. The brand even offers a three-year warranty and promises that it'll adhere to any plastic or silicone case.
One reviewer wrote: "This totally exceeded my expectations! It's a great magnet and doesn't spin or fall off my Joyroom magnetic car mount in my car. The stand itself is very nice and hasn't loosened over the past month that I've had it, even with me fidgeting with it all the time. I like how ergonomic it is with the shape and size of my fingers too. This phone ring is also really pretty and more attractive than a regular PopSocket and sits much flatter on a surface! Love it and recommend it to everyone that asks me about it."
Materials: Zinc alloy metal, 3M adhesive tape | Dimensions: 1.97 by 1.5 by 0.16 inches | Available colors: Black, gold, matte black, matte silver, rose gold, silver
2. The Best Budget Pick
Pros:
Less than $10
Works as a grip, stand, and magnetic mount
Cons:
Looking for a bargain? This phone ring holder gets the job done for just $10. Despite its reasonable price tag, it's earned an overall 4.4-star rating from over 40,000 reviewers on Amazon. While it's not the most ergonomic or decorative option, it still functions as a stand, phone grip, and magnetic mount that rotates 360 degrees and adjusts 180 degrees. It's also made from polished metal and uses 3M VHB adhesive pads (two included, plus an alcohol cloth for cleaning the surface before application).
One reviewer wrote: "I was looking between either a phone with kickstand or this piece and I'm happy I bought this instead. It's got a really strong grip. And my favorite part is that the ring rotates 360 degrees but feels secure. [...] Happy I went with something like this. It's good quality and affordable. I wish they made cuter designs but it's still 5/5!!"
Materials: Zinc alloy, 3M VHB adhesive pads | Dimensions: N/A | Available colors: Black
3. The Fan-Favorite Phone Strap
Pros:
Slim design that fits into pockets better
Comes in tons of designs
Cons:
Doesn't function as a stand
If you're just looking for a comfortable finger grip without stand functionality, the LOVEHANDLE phone grip is the way to go. Its elastic strap is comfortable and adaptive to offer easier selfies, one-handed texting, simple navigation, and even a better gaming experience. The low profile is also pocket-friendly, plus your order comes with a special adapter adhesive (in addition to 3M tape) for tricky glass or silicone surfaces. Finally, the LOVEHANDLE is sold in tons of colors, patterns, and designs, so you can find one that matches your personality. (For a similar design, but with a stand, opt for the LOVEHANDLE Pro instead.)
One reviewer wrote: "LoveHandles are so much more comfortable than pop sockets and fit in your pocket better. I have owned a number of popsockets and all of them start to hurt my fingers after holding my phone for a while. LoveHandles get rid of that problem by using an elastic band which is much more comfortable."
Materials: Plastic, elastic, 3M adhesive tape, adapter adhesive | Dimensions: 2.63 by 0.88 by 0.13 inches | Available colors: 15
4. A Versatile & Stylish PopSocket Alternative
Pros:
Works as a finger grip, raised stand, magnetic mount, and more
Slim despite its wide functionality
Cons:
It's not the most durable option
Because of its folded, adjustable design, this ring kickstand can adapt to a huge range of situations: It functions as a finger ring while you're texting or taking pictures, a short selfie stick to extend your arm's reach, a hanging phone grip when you're on the go, a magnetic mount (included) when you're in the car, a horizontal stand when you're watching a video, and a raised vertical stand if you're reading a recipe or filming a TikTok. It's made from durable zinc alloy, and the 3M adhesive works well on everything from phones to tablets.
One reviewer wrote: "I am beyond obsessed with this phone stand and sad I didn't find this product earlier. The versatility beats anything the PopSocket can do and it's much more affordable."
Materials: Zinc alloy, 3M tape | Dimensions: 2.8 by 1.61 by 0.16 inches | Available colors: Gun black, peach gold, rose gold, silver, hollow gun black, hollow rose gold
5. The Best Phone-Grip Card Holder
Pros:
Works as a stand, grip, and wallet for your ID and credit cards
Made from durable, comfortable silicone (or leather)
Comes with a 90-day warranty
Cons:
Strap isn't the tightest, so not ideal for small fingers
Can't use ApplePay when the pouch is attached
This phone grip card holder has a silicone (or leather) strap that wraps around your fingers for a comfortable grip. It also cinches into a U-shape for use as a horizontal stand — but the best part? The wallet base can hold up to five standard credit/ID cards at once. Needless to say, it's a great option for people who like to travel light or appreciate having all of their essentials in one place.
One reviewer wrote: "Love this little wallet. I've been hunting for a while for a phone grip and wallet all in one but not built into a phone case. This is very slimline it doesn't make the phone bulky at all. Holds my debit card and ID firmly. It's a two-hand process to open the wallet part to access cards but that also gives me [peace] of mind that they won't just slide out. Would definitely buy again."
Materials: Silicone (or leather), stretch fabric, 3M adhesion tape | Dimensions: 3.54 by 2.24 by 0.31 inches | Available colors: Leather black, leather midnight black, silicone clementine, silicone midnight blue, silicone olive gray, silicone teal