The 4 Best Projectors For Bright Rooms
We only recommend products we love and that we think you will, too. We may receive a portion of sales from products purchased from this article, which was written by our Commerce team.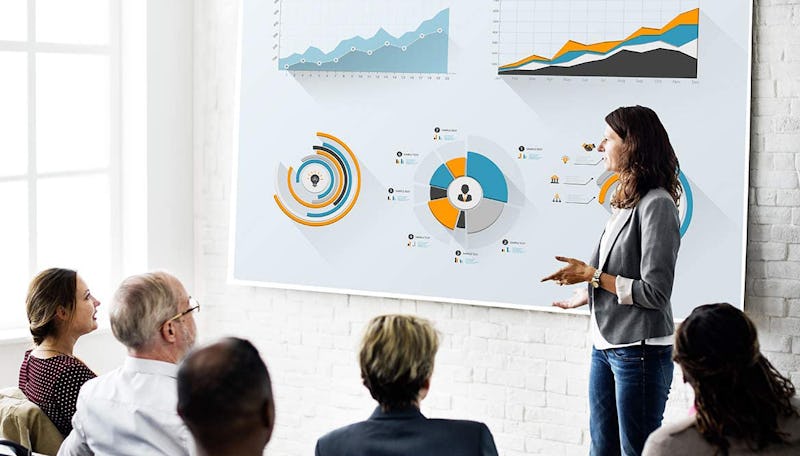 Amazon
Almost any top-rated projector on Amazon will give you a bright, clear projection — when the lights are off and the shades are down (and light-blocking). The best projectors for bright rooms, on the other hand, will work in a bright classroom, meeting room, living room, or even outside thanks to higher brightness levels. To ensure a clear image in a not-so-dark environment, you'll also want to consider the projector's throw distance and illumination source.
Brightness: When it comes to projectors, brightness is measured in lumens. The options on this list (which, according to happy reviewers, are plenty bright enough for moderately lit rooms) range from 2,600 to 4,500 lumens. The higher that number, the better when it comes to projecting in brighter environments — but 2,500 lumens is considered the minimum for rooms with windows.
Throw: Throw refers to the intended distance range between the projector and the screen or wall it's projecting onto. Long-throw projectors are the most common and require at least several feet of distance, while short-throw projectors only require a few inches. Short-throw projectors can be great for bright environments, but they're also usually more expensive and need to be set up right in front of your screen.
Illumination source: Most projectors use a lamp as their source of illumination — but some newer, higher-end projectors feature lasers instead. Laser projectors are bright and tend to be more vivid than lamp versions, but they also tend to be pricier.
Scroll on for projectors at a range of price points — and they've all worked well in bright conditions for real shoppers.
1. The Overall Best Projector For Bright Rooms
The Epson 3LCD XGA projector has a 3,300-lumen bulb (in both color and white light), plus True 3-chip technology to display the entire RGB color range, so it's designed to deliver a crisp image even in brighter environments. It can work with 4K content and has a wide versatility in terms of connectivity: the HDMI and USB-B ports allow you to hook up your laptop, gaming console, Roku, phone, tablet, and more (you provide the cord), while the built-in speaker is great for video calls and Zoom meetings. Finally, its built-in skew sensor automatically senses and readjusts the picture to help square the image. With more than 1,000 five-star reviews for the line on Amazon, reviewers are thrilled with the quality and the value.
Brightness: 3,300 lumens | Throw: long-throw (roughly 20 feet) | Illumination source: lamp
One reviewer wrote: "I teach a morning class and use this projector for PowerPoint and videos. It works great and is super bright! Works well in a lit room. I've used it on both big and small walls and the picture quality is still great. The projector speakers aren't the best, but in my opinion, that's not why you buy a projector. I just hook up my Bluetooth speaker to my laptop and play it directly from there. Overall I would definitely recommend this projector. Especially for the price!"
2. The Brightest Projector
With a brightness of 4,500 lumens, this Optoma professional projector has earned a 4.5-star overall rating for the line and a spot in many buyers' well-lit houses, yards, and conference rooms. From roughly 10 feet away, you get a 120-inch image that's sharp and vivid, all thanks to its 50,000:1 contrast, 709 color profiles, and 4K HDR input. There's also a wide range of connectivity options, including two HDMI ports, VGA in and out, audio in and out, and a USB-A port. Plus, the 10-watt speaker allows you to watch videos and present without the need for any additional speakers. Finally, the on-device zoom and keystone correction help make focusing your image easy.
Brightness: 4,500 lumens | Throw: long-throw (roughly 10 feet) | Illumination source: lamp
One reviewer wrote: "I have personally used dozens of projectors over my career, many of them had short lives with some drawbacks. The Optoma EH416 has been a reliable platform and I have logged over 60+ hours of lamp use within a months time using this item [...] Bright clear image with the image shown on a plain white wall with the ballroom fully lit."
3. The Best Projector Under $100
If you're looking to spend less than $100, this mini projector is a best-seller on Amazon (with over 17,000 reviewers) for a reason: It offers a comparatively bright bulb and 1080p resolution for a great price. Despite its affordability, it also has built-in speakers, wide compatibility, and an included remote control. Place it close up or further away for screen sizes that range from 32 to 170 inches. (While it's not recommended for make-or-break presentations, it's a great budget option for home use, so long as you have realistic expectations for the price point.)
Brightness: 2,600 lumens | Throw: long-throw (3.3 feet to 16.4 feet) | Illumination source: lamp
One reviewer wrote: "This is a great little projector to use for movie night in the backyard. I live in the city around a bunch of street lights and also a dusk to dawn flood light on my patio so I was worried that we wouldn't be able to see the picture [...] but that was not the case. We could see the picture great!"
4. The Best Laser Projector For Bright Rooms
For a top-notch image, the Epson EpiqVision is "worth every penny" for an "absolutely stunning picture," according to reviewers. It doesn't have the highest number of lumens on this list — but it's definitely up there — but what sets it apart is the short-throw laser technology which makes a massive difference when projecting in a bright environment. Its additional high-end features also include a Yamaha sound system, built-in Android TV and Chromecast, 3LCD technology for a full RGB color signal, and a remote control with Google Assistant for voice control.
Brightness: 3,600 lumens | Throw: short-throw (roughly 1 foot) | Illumination source: laser
One reviewer wrote: "Very good picture quality and brightness. Having had experience with traditional projector, I had concerns with picture quality and brightness for projectors. This EpiqVision Ultra LS300 uses 3LCD technology that makes the picture looks sharp and bright. I had no problem using it during daylight and/or when light is on."