The 11 Best Shampoos For Purple Hair — Plus, Expert Tips On How To Keep Your Color From Fading
Keep your violet tresses looking fresh.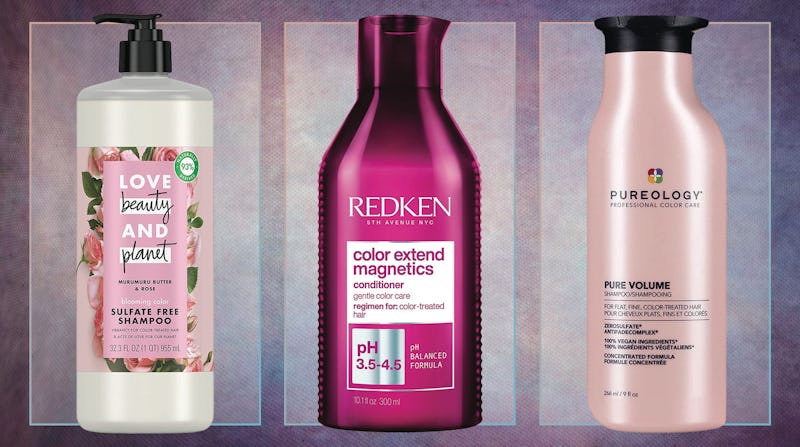 Bustle/Amazon
We may receive a portion of sales if you purchase a product through a link in this article.
Whether you've dyed your hair a shade of soft lilac, deep indigo, or electric orchid, maintaining your purple hair color can pose a challenge. The best shampoos for purple hair are sulfate-free, color-safe formulas that'll extend the vibrancy of your color, and some are fortified with moisturizing or strengthening ingredients. Plus, they're available in an array of options, from budget drugstore picks to splurge-worthy volumizing formulas, so you can find the right one for your hair.
The Expert
Lorena M. Valdes is a colorist at Maxine Salon in Chicago. Lorena's signature looks include everything from bold fashion shades to subtle dimension colors.
How Do I Keep My Purple Hair From Fading?
Use a Color-Safe Shampoo
To preserve your violet shade, opt for a color-safe formula, which will help maintain vibrancy. You may also want to consider shampoos that infuse hair with moisturizers or strengthening ingredients like coconut oil, vitamin E, and amino acids — which can hydrate and fortify strands that may be dry and brittle after the coloring process.
At the same time, there are certain ingredients you'll want to be wary of, namely, sulfates. These surfactants (read: foaming agents that help remove dirt and oil) cause your shampoo to lather, but they are known to also make your hair color fade quickly and can strip strands of much-needed moisture. However, according to Lorena M. Valdes, colorist at Maxine Salon in Chicago, "many great formulas help balance the sulfates so they aren't so harsh."
Avoid Heat And Sun Exposure
Valdes tells Bustle that aggressive sulfates can indeed cause your purple color to fade faster, but she notes they aren't always the sole culprit. Hot water can also lead to premature color fading by making the outer cuticle more porous, which, in turn, allows color to escape. And while it's not realistic to stop washing your hair altogether, using a lightweight dry shampoo can help you cut down on washes to prolong your hair's color. (And when you do wash, try using a cooler water temperature.)
Valdes also suggests limiting sun exposure and the use of hot tools. Luckily, there are some options on this list that promise to protect your hair against UV rays and we've even included a bond-building mask recommended by Valdes herself.
Should You Use Purple Shampoo For Purple Hair?
While purple shampoo is typically considered a bleached blonde's best friend, Valdes recommends against using purple shampoo for purple hair. "The purple shampoo will make it fade," she notes. "Unless it is a purple depositing shampoo intentionally meant for fashion purples, but even then I would be cautious as it may create a build-up in the hair."
Shop The Best Shampoos For Purple Hair
In a hurry? These are the best shampoos for purple hair on Amazon:
Below you'll find the best shampoos for purple hair to keep your tresses looking fresh in between dyeing sessions.
1. The Overall Best
Best For: Preventing color from fading
With an overall rating of 4.7 out of five stars on Amazon, Redken's Color Extend Magnetics shampoo lives up to the hype. The pH-balanced, color-safe formula is sulfate-free to help maintain vibrancy without stripping moisture. Plus, it works to enhance shine and is fortified with amino acids to add strength to brittle strands. At a moderate price point, Redken's shampoo is an all-around great investment that will give you the results you're after, wash after wash. For a complete hair-washing routine, you can also pick up Redken's color-safe conditioner.
According to a reviewer: "I colored my hair mid-August blue and purple. It's now end of Sept and it's still blue and purple with no fading. This is great for vibrant colors."
Pros
Reviewers attest it works at preserving color
Promises to leave hair feeling soft and manageable
Cons
May leave hair feeling greasy and weighed down
Key ingredients: Cranberry oil and the brand's color care complex | Recommended Use: All wash days | Sulfate-free: No
2. The Best Color-Depositing Shampoo
Best For: Adding fresh color to hair
This color-depositing shampoo works as a semi-permanent hair dye that refreshes your pigment every time you wash your hair, and it's particularly helpful for maintaining brighter shades that may need a little extra boost in vibrancy. Formulated with palm and coconut oils, the vegan shampoo hydrates hair while cleansing, and it's sulfate- and ammonia-free to prevent moisture- and color-stripping. It's available in two purple shades — a soft lavender and a brighter purple — the latter of which is available in a shampoo and conditioner set. While this pick is on the pricier end of the spectrum, it's worth considering as you're getting a dye and shampoo rolled up into one.
According to a reviewer: "I have dark brown hair with bleached highlights dyed purple. The shampoo keeps my color fresh. It's easy to use and doesn't stain my hands in the shower. I find that I need to condition with it, otherwise, it dries my hair out a bit."
Pros
Adds color back into your hair
Available in multiple shades of purple
Noticeable results in just one or two washes
Cons
Described as drying
Messy and can leave stains
Key ingredients: Palm and coconut oil | Recommended Use: Use as needed for a color refresh; Apply to wet hair for 2-5 minutes. Rinse. Repeat | Sulfate-free: Yes
3. The Best Budget-Friendly Shampoo
Best For: Hydrating dry and damaged hair
If you're looking for a more cost-effective product that's safe on color-treated hair, check out this moisturizing shampoo from L'Oréal. The key ingredient here is rosemary, which quenches dry strands, boosts shine, and adds softness. Made without sulfates, the gentle vegan formula won't strip your hair of pigment or hydration, and the UV filter offers an extra layer of sun protection, which is especially useful for color-treated hair. L'Oréal also has a compatible color-safe conditioner, and at such an affordable price, you'll want to stock up.
According to a reviewer: "I bought this because I needed an inexpensive shampoo and conditioner for my curly purple hair. It ended up NOT taking any color out and I was heavily surprised by that. I typically see at least a little color fallout, but... nothing! It also smells pretty great too. It left my hair soft and shiny! My curls are so happy!"
Pros
Backed by 11,000 Amazon reviews and a 4.5-star rating
Affordable
Protects color from the sun
Cons
May leave hair feeling greasy and weighed down
Key ingredients: Rosemary | Recommended Use: All wash days | Sulfate-free: Yes
4. The Best Volumizing Shampoo
Best For: Flat, color-treated hair
The best shampoo for fine color-treated hair, Pureology's volumizing shampoo will enhance body and keep your strands feeling full and lifted, thanks to two specialized ingredients: wheat protein and eucalyptus extract. The sulfate-free formula cleanses hair without drying it out, and sunflower seed, vitamin E, and UV protection help prevent color from fading while leaving hair with shine. The shampoo's fragrance is a tantalizing blend of grapefruit, rose, and cedarwood that reviewers have reported "smells great." While it's on the pricier side, this vegan formula's effective ingredients make it worth the splurge if you're after volume.
According to a reviewer: "This product is a bit pricey BUT I love it! It smells great, keeps my colored hair fresh looking & gives my fine hair volume. Hint... a little goes a long way."
Pros
Lightweight and ideal for fine hair
Pleasant, light smell
UV protection to help protect color from the sun
Cons
Key ingredients: Wheat protein, eucalyptus leaf | Recommended Use: All wash days | Sulfate-free: Yes
5. The Best-Smelling Shampoo — & A Personal Favorite
Best For: Dry hair in need of hydration
A personal favorite, Love Beauty And Planet's Blooming Color Shampoo is formulated with Bulgarian rose, murumuru butter, and coconut oil to hydrate hair and leave it feeling silky soft. There are no sulfates — so it won't strip hair of moisture or color — and the shampoo also smells divine, like a rose garden on a spring day. That being said, rest assured that the scent isn't overpowering or chemical-smelling, so it's ideal for those with sensitive noses. The formula is cruelty-free and vegan and available in a color-safe shampoo and conditioner set.
According to a reviewer: "I have vibrant colors of purple, blue, red and orange in my hair. While washing I didn't notice a lot of color in the water when I rinsed like I usually do with salon-recommended shampoo. Hair is also soft from using their conditioner also."
Pros
32-ounce bottle is long-lasting
Rose and murumuru butter-scented
Leaves hair feeling soft according to reviewers
Cons
Takes a lot to create a lather
May leave hair feeling greasy and weighted down
Key ingredients: Bulgarian rose, murumuru butter, coconut oil | Recommended Use: All wash days | Sulfate-free: Yes
6. The Best Shampoo Bar — & The Most Eco-Friendly
Best For: Brittle Hair In Need Of Extra Nourishment
This shampoo bar works similarly to a traditional shampoo — just add water, rinse, and repeat — but the solid formula doesn't require a plastic container, making it an eco-friendly option. The sulfate-free formula is specifically designed for color-treated hair, so it won't strip strands of color or hydration. Plus, rice water protein helps balance your scalp's pH. This formula is vegan and cruelty-free, and you can pick up the Kitsch conditioner bar to reduce your plastic use even more. One shampoo bar is the equivalent of two to three regular shampoo bottles, so you won't have to restock anytime soon.
If you totally love the idea of shampoo bars, check out this roundup of the best shampoo bars for all of your hair needs.
According to a reviewer: "I was very hesitant, especially with longer hair that is damaged from coloring but it had definitely turned my hair back around for the good. Highly recommend"
Pros
Lasts much longer than an average bottle of shampoo
pH-balancing
Suitable for all hair types
Cons
May be too drying for some
Key ingredients: Rice water | Recommended Use: All wash days | Sulfate-free: Yes
7. The Best Dry Shampoo
Best For: Maintaining fresh hair in between washes
One way to prolong your purple hair color is to cut back on washing your hair, but since you might want your hair to still feel clean, I recommend this dry shampoo from Pureology. Formulated with rice starch, the aerosolized spray absorbs oil while also protecting color-treated hair. Better yet, fans attest that this dry shampoo doesn't leave behind any residue, typical with other dry shampoos on the market. On the days you don't plan on washing, just apply a small amount to your hair and brush it through. This sulfate-free shampoo also smells great, giving your locks a touch of fragrance as you head out the door.
According to a reviewer: "I have tried several other dry shampoos and they all left a white residue and no I don't like it. However, Pureology does not leave any residue and it makes my hair feel and look great. I highly recommend it."
Pros
Saves you from a wash day
Does not leave residue
Fragranced
Cons
Pricey
Reports of nozzle breaking
Key ingredients: Rice starch, tuberose, almond milk, cedarwood | Recommended Use: In between wash days as needed | Sulfate-free: Yes
9. The Best Shampoo For An Oily Scalp
Best For: Removing excess sebum & build-up
Having both color-treated hair and an oily scalp can be especially tricky; you don't want to overwash your hair in an effort to preserve the color, but you also don't want to walk around with oily hair that feels dirty. Therefore, a deep-cleansing shampoo like this one from Living Proof could be your solution. It's formulated with activated charcoal to gently remove buildup and excess sebum from your scalp without stripping color. It's also a great defense agent against hard water — which is notoriously known for causing mineral buildup that causes the color to fade faster.
According to a reviewer: "I was having trouble with my color-treated hair. It was breaking, dry, falling out, and just looked a mess. Within a week, there was a huge difference in texture, color and shine. I also noticed less hair falling out. Don't know what it is, BUT...if you need help with your color-treated hair, you should definitely try this!!"
Pros
Allows more days in between washes
Formulated with activated charcoal to remove buildup without stripping color
Great against hard water
Cons
May be too drying for those with normal-to-dry hair
Key ingredients: Acitvated charcoal | Recommended Use: Use as needed in place of regular shampoo; Leave on for 1-2 minutes before rinsing to target hard water buildup | Sulfate-free: Yes
10. The Best Strengthening & Conditioning Shampoo
Best For: Dry and overprocessed hair in need of hydration and proteins
After all of the bleaching, coloring, and processing, your hair is going to need a little break. Opt for a strengthening and conditioning shampoo like the Joico K-Pak Color Therapy Color-Protecting Shampoo. It promises to revive your hair's health and restore shine all while preserving your fresh salon color. This shampoo is formulated with ingredients such as Argon Oil and African Manketti Oil that are rich in Vitamin E to nourish and hydrate your strands as well as protect against fading. Additionally, the Keratin works to repair and prevent breakage from combing and brushing.
According to a reviewer: "I love this shampoo and the matching conditioner. I have been using it for years. I have very long color-treated hair and it keeps it in great shape.
Pros
Leaves hair feeling soft and shiny, according to reviewers
Does not weigh hair down
A little goes a long way
Cons
Key ingredients: Argon oil, African Manketti oil, keratin | Recommended Use: All wash days | Sulfate-free: No
11. The Best Clarifying Shampoo
Best For: A deep cleanse for dry or normal hair
Clarifying shampoos aren't typically recommended for color-treated hair because they tend to strip color over time. However, the Eco Chic 50:50 Balanced hydrating clarifying shampoo from Giovanni is sulfate-free so you won't have to worry about that. It's formulated specifically for color-treated hair that's also on the dry, overprocessed side. Gentle enough for everyday use, this shampoo uses botanical extracts like aloe vera and rosemary to balance your scalp's pH while hydrating your stands and locking in color.
According to a reviewer: "It is really difficult to find a shampoo that leaves my hair soft and moisturized without my scalp feeling dirty. This shampoo seems to be doing the trick! And it's a natural product with a very low rating on EWG's Skin Deep!"
Pros
Contains natural botanical ingredients
Gentle for everyday use
Removes build-up without stripping color
Cons
Not suitable for oily hair
Key ingredients: Aloe vera, rosemary | Recommended Use: All wash days | Sulfate-free: Yes
12. Also Great: A Restorative Mask For Color-Treated Hair
Best For: Deep conditioning dry or damaged hair
This hydrating hair mask is a bit of a splurge but it does come recommended by Chicago-based hair colorist Lorena M. Valdes. It's also won over the affection of reviewers with one writing, "This product is like caviar for your hair!" The Chroma Absolu hair mask from Kerastase is formulated with restorative acids that rebuild hair fiber, reduce oxidative stress, and gently exfoliate color-treated hair. As a result, you're left with silky, smooth, and vibrant tresses. Because of its rich and thick density, this mask works best for medium to thick hair and is recommended to use about once a week or with every other shampoo.
According to a reviewer: "My hairdresser gifted me a couple of samples, and I loved the result after using. My hair is colored, curly, with a tendency to frizz. After drying with a diffuser, I was left with soft curls and no frizz. It IS expensive, but you get what you pay for."
Pros
Expert-recommended
Formulated with restorative acids
Locks in hydration and prevents color fading
Cons
Fine hair may feel weighted down
Pricey
Key ingredients: Amino acid, tartaric acid, lactic acid | Recommended Use: Use weekly; Leave in for five minutes before rinsing | Sulfate-free: Yes
How We Found The Best Shampoos For Purple Hair
Bustle spoke with a professional hair colorist to gain insight into which shampoo formulas are the best for purple hair. Based on the professional's advice, all of the shampoos vetted for this article are color-safe formulas with fortifying and restorative ingredients beneficial for overprocessed hair. All of the shampoos included are also sulfate-free to prevent further color fading and protect your hair.
A team of writers and editors combed over first-hand reviews with the products and factored in positive Amazon ratings, with particular attention given to reviewers who have color-treated hair and, even more specifically, purple hair. While shampoo isn't an expensive item necessarily, to ensure there is a good pick for every budget on this list, the shampoos here range from less than $10 to upwards of $60.
Other Articles You Might Like
Considering red as your next bold move? Check out this roundup of the best shampoos for red hair. Or maybe you're just looking to maintain a few highlights — we've narrowed down the best shampoos for highlights as well.
Expert:
Lorena M. Valdes, colorist at Maxine Salon in Chicago.
Studies Referenced:
Huggins, B., Gummer, C., McMaster, C., & Pack, E. (2005). Replenishing amino acids in damaged hair. Journal of the American Academy of Dermatology, 52(3). https://doi.org/10.1016/j.jaad.2004.10.463
This article was originally published on