If You Dye Your Hair, You Need These Color-Preserving Shampoos & Conditioners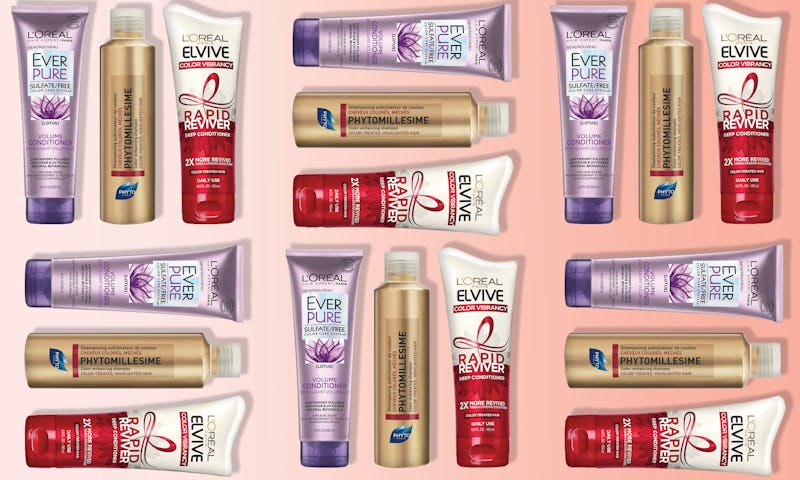 Bustle/Amazon
When you start dyeing your hair, you quickly realize that you can't just keep using whatever shampoo and conditioner is on sale at the drugstore. Many hair-care products contain ingredients that can cause color to fade, which is why hair colorists always recommend buying a shampoo and conditioner made specifically to keep your color looking vibrant and fresh. Ahead, a handy breakdown on how to decipher between the best shampoos and conditioners for color-treated hair, plus six of the top picks you can get online.
As you likely already know, dyeing your hair typically causes some form of damage, especially when there's bleach involved. Any sort of chemical process opens up the hair cuticle, making it more porous, which causes moisture to evaporate more quickly than it would in or non-dyed hair. This is why, when shopping for a shampoo for color-treated hair, you want to look for a formula that's moisturizing. Similarly, it's also important to steer clear of ingredients that can sap the hydration from your hair like sulfates. Conditioners for dyed hair are much easier to shop for, since they typically don't contain sulfates (a foaming agent) in the first place — and since, across the board, their primary goal is to moisturize and repair.
From volume-boosting formulas to clarifying cleansers to heavy-duty hair masks, scroll on to discover six of the best shampoos and conditioners for dyed hair.