The Best Solid Wood Bookcases For A Timelessly Chic Home Library
We only recommend products we love and that we think you will, too. We may receive a portion of sales from products purchased from this article, which was written by our Commerce team.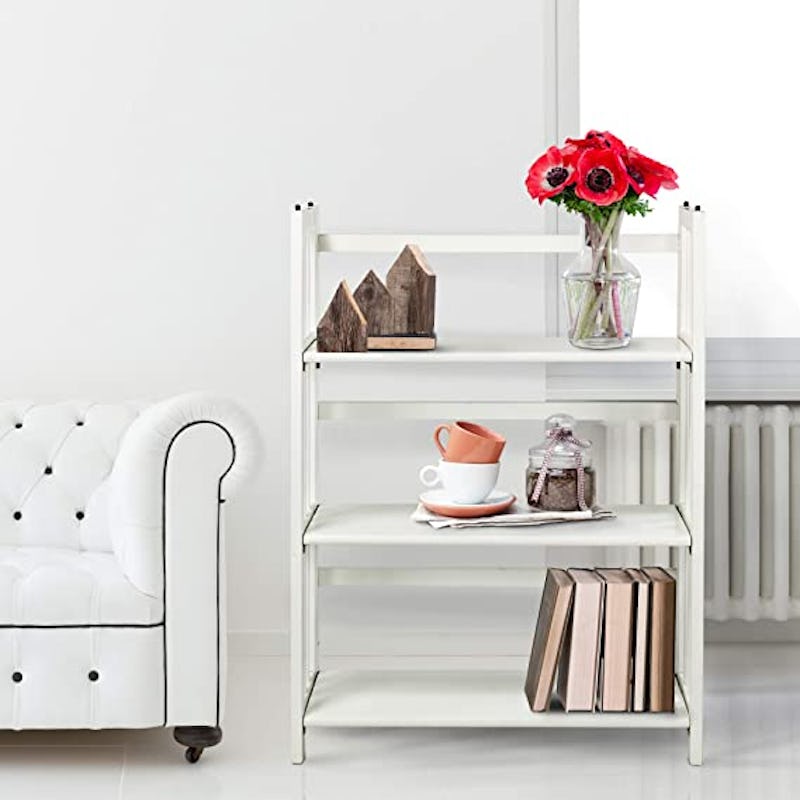 Amazon
While you can find bookcases made of a variety of sturdy, attractive materials, none have the golden reputation of 100% wood. The best solid wood bookcases are made of pure wood like fir or parawood, rather than the more commonly found composite wood. Besides the cachet of owning solid wood furniture, it can hold a lot of weight without sagging. That's a major benefit when you're looking for a bookcase that can hold lots of books.
As you shop for solid wood bookcases, avoid anything labeled MDF (medium-density fiberboard), particleboard, or engineered wood, as these are all composites, not 100% wood. Composite woods are generally more affordable than solid wood, and quite durable, though they only have about a quarter of the strength of real wood — not ideal for a bookcase.
So, what kinds of wood should you look for in a bookcase? Both hardwood (like maple, oak, and parawood) and softwood (like pine, fir, and cedar) are quite durable, but wood with tighter, closer grains are generally more stable. You'll find a mix of both hardwood softwood on this list. However, it's important to note that some sources warn against pine, as it's the "softest" of the softwood — but pine is the most common option, because it's less expensive than other wood and boasts an attractive-looking grain.
Aside from material, you'll need to consider size and weight capacity. Bookcases come in a multitude of dimensions, ranging from 35 inches high to more than double that, so you'll have plenty of options to suit your space. (There's even a fold-away bookcase if you're very limited on space.) Likewise, weight capacity is a major factor in storing books. Since all the bookcases here are made of solid wood, they'll hold up well over time, but it's still smart to take note of the manufacturer's information on each shelf's weight-bearing capacity. If that information isn't available, you can calculate sag using an online sag tool. (And always store your heaviest items on the lower shelves).
As is often the case with furniture, the style of your home bookshelf is arguably as important as its function, so you'll find a variety of aesthetics below. Whether you use it to display your knick-knack collection or all those novels you've definitely read, read on to shop seven of the best solid wood bookcases on Amazon.