The 5 Best Steamers For Wedding Dresses, According To The Pros
Picks that have gotten the thumbs up from pros and Amazon shoppers who've used them for their ceremonies.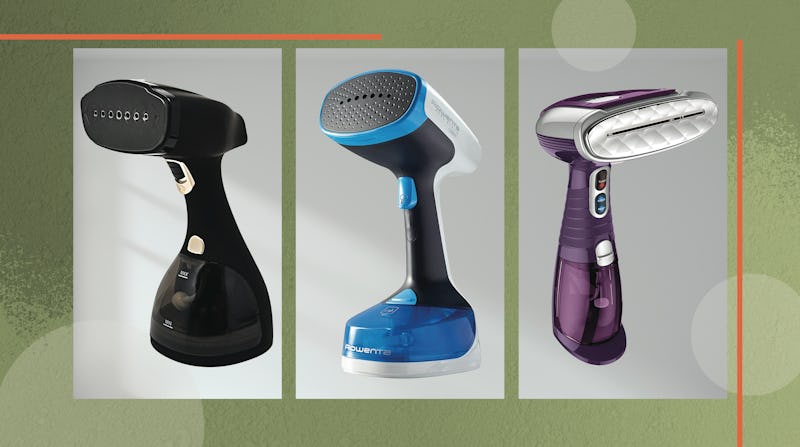 Bustle / Amazon
We may receive a portion of sales if you purchase a product through a link in this article.
When your wedding day comes around, the last thing you want is for your gorgeous gown to be creased and wrinkled — or to damage it with your ironing efforts. But don't fret: The best steamers for wedding dresses will have enough power to effectively remove these nuisances while still being gentle on your gown, so long as you follow the proper technique and take precautions. As you shop, consider whether you prefer a large standing steamer with a rack or a more lightweight, compact handheld steamer. Also be on the lookout for products with certain extras (like heat time, cord length, and any helpful attachments) that may make the steaming process much easier overall.
The Experts
Kellee Khalil is the founder of Loverly, a website that helps couples simplify their wedding planning, providing everything from advice to inspiration to vendor lists and more. Khalil is also a seven-time bridesmaid and a bride-to-be.
Caitlyn Parish is the co-founder and chief digital officer of Cicinia, which is a company that sells beautiful bridesmaid dresses at a more budget-friendly price. She has over 10 years of experience in both the fashion and beauty industries.
Valentina Ring is the owner of The Stars Inside, an international wedding planning company that specializes in destination weddings and elopements.
Cacky Rivers is the owner and founder of Cacky's Bride+Aid, which provides helpful wedding day services to the bride and bridal party, including dress steaming.
How To Shop For A Wedding Dress Steamer
To choose the best garment steamer to use on your wedding dress, consider the type of steamer, its wattage, and any other extra features you might need.
Standing Or Handheld Steamer?
Consider whether a standing steamer or a handheld model is a better fit for your wedding day. Standing steamers have a handy rack that you directly hang your garment on (no need to try and find another spot for your gown as you work). They're large in size with a tank that can usually hold quite a bit of water which makes it a good option you won't have to refill often if you're steaming multiple garments. However, Cicinia co-founder Caitlyn Parish notes that "a standing steamer might be too bulky and unwieldy to use on a delicate wedding dress," and it can also be a little more difficult to travel with should you be getting ready at a location outside of your home, though wheels help to make it more portable.
Wedding planner Valentina Ring prefers using handheld steamers for wedding dresses since they are travel-friendly and "usually give you a little bit more control, are safer for delicate fabrics, and also can be operated with more ease no matter where your dress is being hung or stored." The downside? You may need to stop mid-steam to refill the water reservoir — but the manufacturer may give you an idea of how much continuous steam the product will provide before needing to be refilled.
Wattage
The power of a steamer is typically measured in watts, indicating how forcefully it'll put out steam. Founder of Loverly Kellee Khalil told Bustle in an email: "In general, it is recommended to get a [steamer with a] minimum of 1,500 watts but if you have a delicate fabric (lace, silk, etc.), we recommend getting a lower wattage" to avoid causing damage.
Ring adds that if the steamer has multiple steam settings, you should start on the lowest possible level and increase it "if it seems the steaming isn't removing the creases effectively."
Extra Features
Beyond the aforementioned factors, you'll also want to pay attention to how long it takes for the steamer to heat up and the cord length. Ring also recommends looking for a steamer with a bonnet attachment to prevent water from dripping onto your dress, and she considers it a bonus if "the steamer could be used both vertically and horizontally, as this means that you can get to even the trickiest sections of your dress and veil."
Shop The Best Steamers For Wedding Dresses
In a hurry? Here are the top picks for the best steamers for wedding dresses:
Scroll on for five steamers that are perfect for wedding gowns — and more tips from the pros on how to steam effectively and safely.
1. An Expert-Recommended Handheld Steamer
Pros:
Direct recommendation from Kellee Khalil, founder of Loverly
Features standard and turbo steam settings
Comes with a 3-in-1 attachment for different fabrics
When asked for recommendations on steamers for wedding dresses, Kellee Khalil pointed to this one from Conair as her favorite handheld option, and Amazon reviewers totally dig it, too — the product has garnered a solid 4.4-star rating overall on the site after 16,000-plus reviews. So why all the love for this steamer? Well, it heats up in just 40 seconds, plus it has a 7.3-ounce water tank that'll provide up to 15 minutes of continuous operation. Two different steam settings allow you to start on the "standard" option and work your way to the more powerful "turbo" one if needed (though remember to proceed with caution).
This pick has a quilted aluminum steamer plate, and it comes with a three-in-one attachment — the silicone band pulls fabric taut for easier steaming, the spacer helps to protect delicate materials, and the bristle brush loosens fibers for a deeper steam. Reviewers have mixed feedback about the length of the power cord; most put it anywhere from 9 and 12 feet long.
Note: The plum-colored steamer has 1,550 watts of power, while the white/champagne option is a slightly different model that puts out 1,875 watts, which may be too much for a wedding gown.
One reviewer wrote: "The most popular item I took with me to my son's wedding. From getting wrinkles out of dresses to freeing up wrinkles on over 15 table linens last minute that were supposed to be pressed and delivered wrinkle free! It was amazing!"
Type of steamer: Handheld | Wattage: 1,550 watts | Steam settings: 2 | Water tank capacity: 7.3 ounces | Heats up in: 40 seconds | Size: 13.6 x 8.8 x 5.6 inches | Weight: Not specified | Bonnet attachment: No
2. A Lower Wattage Handheld Steamer With An Accessory To Prevent Drips
Pros:
Comes with a protective bonnet accessory to prevent water drips
Lower wattage should be suitable for delicate fabrics
With its lower wattage, this handheld steamer from Rowenta is a good option for wedding dresses made from delicate fabrics like lace, silk, and more. Another major plus? This pick comes with three super handy accessories, most notably a bonnet attachment that can prevent any water drips from getting on your precious garment. A fabric brush is meant for heavier materials, while the door hook can be utilized to hang up your dress as you steam. Amazon reviewers have indicated that the power cord on this steamer is about 8 feet long, and the 5-ounce water tank allows for around 10 minutes of continuous steam. Rowenta also offers a 1,400-watt option should you want a steamer with a little more power.
One reviewer wrote: "I needed a steamer for my wedding dress (tulle) and bridesmaids dresses but was really nervous about using one. After reading what felt like every review for every steamer, I bought my 'top two' to test out. This one was a clear winner, and comes with a little attachment to prevent water marks. It worked perfectly on my dress and veil. Just in case it's helpful for any future brides! I'm now using it on every day items also and love it."
Type of steamer: Handheld | Wattage: 1,100 watts | Steam settings: 1 | Water tank capacity: 5 ounces | Heats up in: 45 seconds | Size: 10 x 5.5 x 5 inches | Weight: 2.5 pounds | Bonnet attachment: Yes
3. An Expert-Approved Standing Steamer
Pros:
Recommended by Cacky Rivers, owner of Cacky's Bride+Aid
Has a large water tank for over an hour of continuous steam
The hanger rotates and is height adjustable
If you have a lot of garments to steam and want to go the full-sized steamer route, Cacky Rivers recommends this standing steamer from Conair for use on her client's wedding days — so you know it has to be a solid choice. With its 80-ounce tank capacity, this steamer will put out 70 minutes' worth of continuous steam. That means you should be able to steam your wedding dress and a few other garments like bridesmaid dresses or tuxes without needing to stop for a water refill. The attached rack has an adjustable height (up to 5 feet tall, according to shoppers), rotates 360 degrees, and features sturdy clips to secure garments. This steamer is on wheels for easier maneuvering — a major plus considering its bulkier size and weight.
Some Amazon reviewers indicate that the steamer's power cord is a bit short. However, this likely isn't as big of a deal as it would be with a handheld option since the steamer head is on a 5-foot-long hose for added reach.
One reviewer wrote: "Bought for my daughters wedding. My wife steamed wedding dress, Suits, flower girls dress etc.. very nice product."
Type of steamer: Standing | Wattage: 1,500 | Steam settings: 1 | Water tank capacity: 80 ounces | Heats up in: 45 seconds | Size: 17.5 x 17 x 14.25 inches (base) with a detachable telescopic pole | Weight: 10.4 pounds | Bonnet attachment: No
4. A Handheld Steamer With A Large Tank & 18-Minute Steam Time
Pros:
Relatively large water tank for a handheld model
Can use vertically or horizontally without spilling
This handheld steamer has the largest water tank capacity of all of the handheld options on this list, and it has the largest max run time — a whopping 18 minutes of continuous steam. Plus, it heats up in 30 seconds and weighs just 1 pound, so you'll be able to maneuver it with ease. Choose from two different steam settings (remember to always start on the lower one when steaming your wedding dress), and use it vertically or horizontally without fear of water spilling due to its design. This steamer boasts a 12-foot power cord and comes with two accessories — the lint brush attachment removes pesky lint, while the fabric brush can help eliminate creases.
One reviewer wrote: "I bought this one for my wedding dress based on the high reviews and the reputation of the brand. The last thing a bride wants are spots from a cheap steamer on an expensive white gown. I used distilled water in it. It heats up quickly and runs long enough to complete the garment. I recommend running it a little away from the garment to get out the initial sputters. It works beautifully after that. Also, the attachment with the lint catcher worked great, especially when I found a little cat hair."
Type of steamer: Handheld | Wattage: 1,500 watts | Steam settings: 2 | Water tank capacity: 10 ounces | Heats up in: 30 seconds | Size: 12.4 x 7.1 x 7.1 inches | Weight: 1 pound | Bonnet attachment: No
5. A Standing Steamer With 4 Steam Settings
Pros:
Four steam settings for extra customization
Lightweight for a standing model
Has wheels for better portability
With four different steam settings to choose from, this standing steamer from PurSteam is a customizable option that's worth the investment, according to Amazon shoppers who've used it on their wedding days. (Just remember to start on the lowest setting and work your way up from there should you have issues getting creases or wrinkles out.) The manufacturer doesn't specify the tank size, but one shopper reported that it "holds well over a quart," which is "enough for about one hour of steaming."
Despite its large size, this pick is relatively lightweight, and it's on wheels. You can hang your garments on the 5.5-foot pole as you steam, and the anti-leak nozzle has an attached fabric brush to eliminate lint. This standing steamer has a 5.5-foot telescopic pole and a 6-foot power cord, and reviewers have estimated the hose length to be about 3 to 5 feet.
One reviewer wrote: "Love this tool. Bought it for my daughters wedding held in our home. Steamed her wedding dress, all the bridesmaids and moms dresses. I use it everyday and love it."
Type of steamer: Standing | Wattage: 1,500 watts | Steam settings: 4 | Water tank capacity: Unspecified (but upwards of 4 cups, according to shoppers) | Heats up in: 60 seconds | Size: 16.9 x 10.9 x 9.7 inches (base) with a detachable telescopic pole | Weight: 2.2 pounds | Bonnet attachment: No
How To Steam A Wedding Dress
Khalil stresses the importance of purchasing a new steamer for your special day: "Do not rely on the hotel's or a friend's! You do not know when it was last used on dark fabric or cleaned."
After you have your equipment, remember the first rule: Never place the steamer directly on the fabric. And if your dress has detailing like beads or sequins, Khalil mentions you should "try to stay away from them with steam as high heat can melt the gems. You can always steam your dress inside out to miss these details."
In order to safely and effectively steam your wedding dress, Ring recommends that you take a gentle approach, "working your way from the bottom to the top, so that the steam from the bottom rises and start uncreasing the upper sections while you work on the lower ones." Cacky Rivers, founder of Cacky's Bride+Aid, also notes that she starts at the back of the dress first — just in case an issue were to occur.
When it comes to technique, Khalil recommends working in circular motions, layer by layer.
Finally, if you don't purchase a steamer with a protective bonnet attachment, Ring notes that for a little added protection "you can place a clean white t-shirt or thin white towel over the steamer head to catch any drops of water falling on the dress - or on your arms as you steam!" Don't forget to steam your veil, too.
Experts:
Kellee Khalil, founder of Loverly
Caitlyn Parish, co-founder and chief digital officer of Cicinia
Valentina Ring, owner of The Stars Inside
Cacky Rivers, owner and founder of Cacky's Bride+Aid