The 6 Best Wallpaper Removers For Home Improvement
We only recommend products we love and that we think you will, too. We may receive a portion of sales from products purchased from this article, which was written by our Commerce team.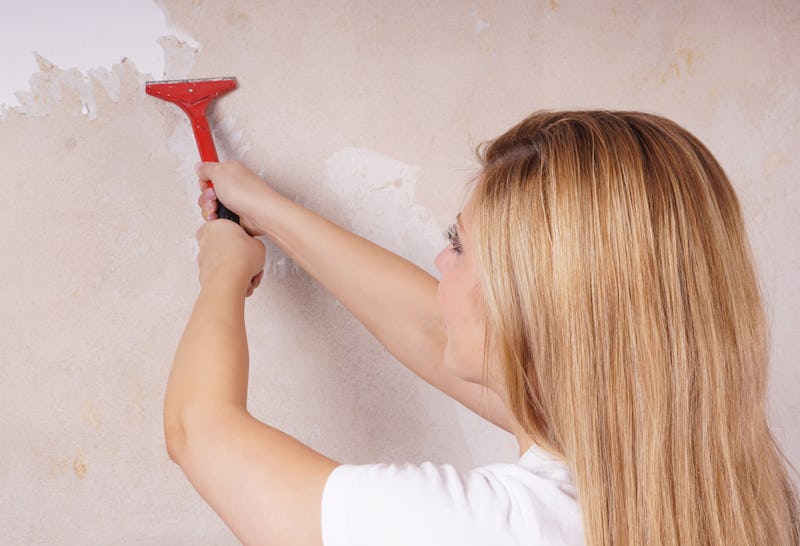 Axel Bueckert / Shutterstock
Wallpaper removal can be a total hassle, but the best wallpaper removers work together in combination to efficiently get the job done. To loosen the paper, you'll need to choose between a liquid stripper or wallpaper steamer. Stripper is cheap and convenient, but a steamer can be great if you prefer not to use chemicals or you have an extra-stubborn wallpaper removal job on your hands (just be aware that steamers tend to be pricy). Both options work best with a rolling scorer tool to help the chemicals or steam reach the adhesive, as well as a scraper tool that's comfortable to use to remove the loosened paper.
Liquid strippers are super helpful for wallpaper removal since they help to loosen not only the paper, but also its backing and any adhesive or paste that was used in its application. Some strippers are considered "concentrated," meaning you'll have to mix the product with warm water before applying it to your walls. When mixing a concentrated stripper, be sure to follow the manufacturer's instructions closely to achieve the correct ratio. Other strippers come ready to use — no measuring, pouring, or mixing required — but these convenient options are usually a bit pricier.
Some wallpaper strippers can be quickly sprayed on the walls, while others need to be rolled or even sponged on for more precision, so choose a product that's applied in your preferred way. Many strippers will list how many square feet of wallpaper the product can remove, so use this as a general guide to figure out how much to buy for your project.
To help the wallpaper absorb the stripper, a scorer tool that makes small perforations rather than a blade-based scorer can be particularly useful. And to get into corners and other small spaces, look for a compact scorer that fits into tight spots. You will also need a scraper to get the wallpaper off once you spray it with the stripper or apply steam — make sure yours comes with a comfortable grip. If you have taller ceilings, look for a scraper with an extra-long handle for better reach.
These six products will make your wallpaper removal go much smoother overall. However, if you still didn't love the removal process but you had your heart set on putting up new wallpaper, consider using peel and stick wallpaper, which is super easy to apply and remove.
1. A Wallpaper Stripper In An Easy-To-Use Spray Bottle
With more than 1,800 and growing reviews on Amazon and a solid 4.3-star rating overall, reviewers on the site love this stripper from WP Chomp since it's easy to use and super effective at removing stuck-on wallpaper. The liquid stripper comes pre-mixed in a convenient spray bottle — aka you won't have to waste any time mixing or measuring — so just apply it to the wallpaper and let it work its magic. It's recommended to use this pick in combination with a scoring tool for the best results.
The wallpaper stripper has a mild citrus scent, and it works on all wallpaper types. Each bottle can remove approximately 100 feet's worth of wallpaper, so use that as a rough guide to determine how much to purchase — though I'd recommend getting more than you think you'll need since there's nothing worse than running out of stripper mid-way through a project. This pick is also sold in two-, three-, and four-packs for your convenience.
Enthusiastic Amazon review: "Holy moly. I was nervous about whether or not this product would actually work. I decided on a whim to rip off the wallpaper border in my half bathroom... just days before the house is to be painted. There was so much of the adhesive part still on the walls! Sprayed this stuff and waited a few minutes as directed. Some parts the wallpaper was starting to peel off on its own! This stuff made getting the rest of the border down quick and easy!"
2. A Concentrated Wallpaper Stripper That's A Bargain For Big Projects
With a price tag of under $35, this wallpaper stripper from Rust-Oleum is a total bargain, since it gives you an entire gallon of product — and since it's concentrated, a little goes a long way. In fact, the manufacturer claims the bottle contains enough product to strip wallpaper from 10 rooms that are 12 by 12 feet in size, so it should have you covered for a while.
You'll need to do some prep work before applying this product to your walls, since it's a concentrated formula. To make the most effective ratio, mix 1 to 2 ounces of stripper — FYI one cap's worth is about an ounce — with a gallon of warm water. The stripper can be applied to the walls with a sprayer, roller, or sponge, so use the technique you're the most comfortable with. Amazon reviewers confirm that this pick is quite powerful, with the ability to break down wallpaper, backing, and adhesive with no problems whatsoever. The product has a mild scent.
Enthusiastic Amazon review: "This product works amazingly well and stretches a long way. I stripped one ply of wallpaper out of a small master bedroom, a study, and a 1/2 bath and used less than 4 cups of the concentrated solution in my garden sprayer and that included scrubbing/scraping the leftover paste off. Scoring does help, but isn't necessarily needed unless the paper is being difficult to work with."
3. A Wallpaper Scorer
Scoring your wallpaper before applying a stripper can make a huge difference when it comes to how much product is absorbed. And this scoring tool from WP Chomp is definitely the best of the best. The scorer features cutting wheels that are made from tempered steel, which is super strong and durable. For thinner wallpapers, use mild pressure and run the scorer along the walls to make perforations. And for thicker or textured wallpapers use the same technique, only apply a bit more pressure. The scorer is compact in size, so it's easy maneuver along the walls, including corners and tight spaces.
Enthusiastic Amazon review: "I had to remove a lot of wallpaper in our new home - several rooms covered in wallpaper floor to ceiling. Some of it was applied over texture, some of it on primed wall, and some was directly on drywall. It was an exhausting project, but this scorer worked really well and held up for the whole job!! It's not the cheapest one out there, but I looked at reviews and knew I needed one that would hold up to the job I had. I'm glad I went with this one!!"
4. A Basic Wallpaper Scraping Tool
A scraping tool is a necessity for any wallpaper removal job, and this one from WP Chomp is a favorite on Amazon — boasting an impressive 4.4-star rating overall, among 1,200 and growing reviews — with loads of reviewers indicating that it can handle even the toughest of jobs. The scraping tool has a sharpened, dual-edge blade (the scraper head is about 5 inches wide) that'll effectively remove wallpaper from the wall without causing any damage. And the easy-to-grip handle is super comfortable to work with for extended periods of time.
The blades on this pick can be re-sharpened or even replaced if needed. In addition to wallpaper removal, the tool can also be used to remove paint, putty, adhesives, decals, signs, labels, windows, mirrors, tile, and more — so you'll definitely get your money's worth with this pick.
Enthusiastic Amazon review: "There is [nothing] bad about this product. It has saved us so much time in comparison to what we were using. I purchased one to just try it. After 15 minutes of use, I knew I had to order several more. [...] The designed layer (top) comes off rather easy but using this tools makes removing the backing paper a breeze. If you have to remove wallpaper, this tool is a must-have."
5. A Wallpaper Scraper With An Extra-Long Handle
If you have taller ceilings or just don't want to bother as much with ladders, then you'll want to add this scraping tool from BBTO to your wallpaper-removal arsenal before you start your next project. The tool features an extra-long handle (it's about a foot in length!) so you can easily reach sections of wallpaper that you normally couldn't without a ladder, saving you both major time and headache. The tool has a 4-inch blade and a nonslip handle, and it's made of solid plastic and durable steel.
Enthusiastic Amazon review: "Got this tool because my arm was not long enough to remove some wallpaper in my bathroom. Easy to use and did the job well!"
6. A Fan-Favorite Wallpaper Steamer
If you're looking for an effective steamer for wallpaper removal, this one from Wagner Spraytech is the best option out there. Tons of Amazon reviewers indicate that while it is expensive, it makes wallpaper removal incredibly easily. The steamer heats up to 212 degrees Fahrenheit in under 9 minutes — the orange light will turn off when the steamer is ready for use. With a full tank of water (it holds up to 40 ounces worth), it'll provide up to 40 continuous minutes of steam. The 8-foot hose allows you to reach higher areas of wall, and the wheels on the bottom make it simple to move the machine as you work.
This pick comes with a whopping 18 accessories and nozzles — including a wallpaper steam plate, a large cleaning brush and mop pad, a window and tile squeegee, a fabric steamer, a microfiber bonnet, a jet nozzle, a straight adapter, nylon and brass utility brushes, a fill funnel, an angled adapter, and extension poles — so you'll find tons of uses for it around your home beyond wallpaper removal. While this steamer is the best option for wallpaper removal from the brand, Wagner Spraytech also sells other models of streamers including the Elite Steam (that's best for cleaning floors) and Auto Steam (that's best for steaming cars).
Enthusiastic Amazon review: "This thing is amazing! Renovating my new house and tons of wallpaper needs to be removed. Worth every penny for that alone but the various cleaning uses are awesome too. Great buy."