Why Don't I Have Instagram Reels?
These tips should do the trick.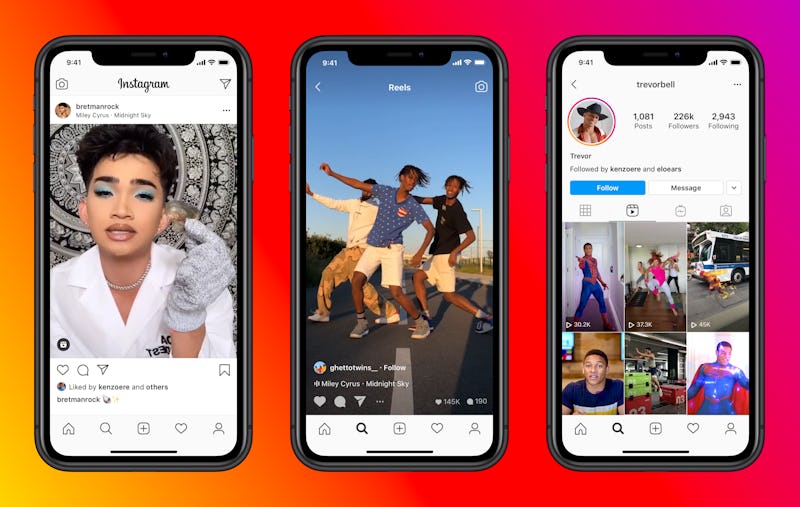 Instagram
On August 5, 2020, Instagram released its short-form video feature, Instagram Reels. Similar to TikTok, Reels allows users to upload videos and then share them with their followers or the app's larger community. While Instagram had been testing the feature in since November 2019 in Brazil, it's available to all users in 50 countries, including the U.S, India, Brazil, France, Germany, UK, Japan, and Australia. But even though it's been widely rolled out for a while, it's possible that you still can't find Instagram Reels on your app. Rest assured, the feature isn't just for select users, and if you don't have Instagram Reels, there are some easy troubleshooting tips that can help you find it.
Since rolling out Reels, Instagram has made it a lot easier to find the feature on the bottom tab of your Home page. There should be a movie reel icon in the middle of the menu bar, where you can open Reels. (This is where the create post button used to be.) You can also find Instagram Reels by going to your Explore page, where IGTV and Shop also live. This is where you can discover Reels created by other Instagram users. If you see other people's Reels, the feature should be available to you as well. To see if you're able to create your own 15 or 30-second video, check by going to the create post icon in the upper righthand corner. The option to create a Reel should be third on the list of drop-downs.
Why Don't I Have Instagram Reels?
If you don't have a Reels icon in your bottom menu tab, you can't post on Instagram Reels, or you can't even see Instagram Reels in the app, it's possible that your phone or the Instagram app haven't been updated in a while. You can update your phone by going into your phone's settings and seeing if there's an update available. Instagram can be updated via the App Store or Google Play Store. Just search for Instagram and hit "Update." Some other troubleshooting methods, as recommended by RepublicWorld, are to log out of your Instagram account and sign back in, or clear the cache of your Instagram account. And if all else fails, try restarting your phone.
How To Make An Instagram Reel
If you have Reels and are ready to start making your own content, you might be wondering how to make a Reel on Instagram. The feature (as you might have guessed) works a lot like TikTok, though, there are some differences. Swipe to your camera feature and click "Reels" on the bottom of your screen. There, you can choose a sound to shoot with by clicking the music symbol, change the length of your shooting time between 15 and 30 seconds, speed up or slow down your video, add effects, touch up your appearance, set a timer before shooting, and align your shots with each other. When previewing your Reel, you can also add music, a voiceover, and typical IG story features like stickers, drawing, and text.
Reels could be the biggest feature to hit the app since Instagram came out in October 2010. So, whether you're eager to up your Instagram game by creating an Instagram Reel yourself, or just want some new content to scroll through, making sure your Instagram app is up to date is your best bet for getting your Reels rolling. Lights, camera, action!
This article was originally published on