How To Use Instagram Reels
The platform added new features like poll stickers, templates, and more.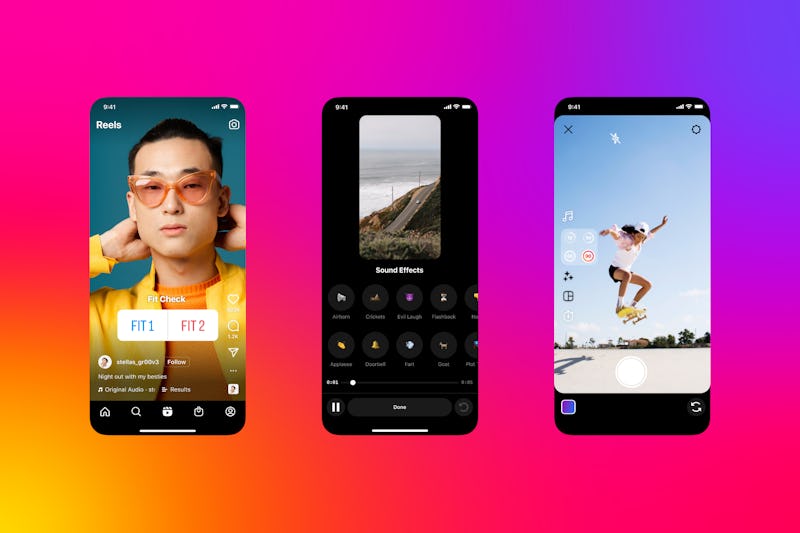 Instagram
After Instagram launched its TikTok competitor, Reels, in August 2020, the short-form videos have pretty much taken over the app. In November of the same year, the social media platform redesigned its homepage to put Reels front and center, and in June 2021, Instagram head Adam Mosseri announced that it was "no longer a photo-sharing app," emphasizing the platform's pivot to video. While not everyone appreciates the ubiquity of reels, the short videos have helped creators reach new audiences: per a press release from Instagram, public accounts with more than 10,000 followers that posted at least five reels in two months gained more than twice as many followers as their non-reel-posting peers. Once you get the hang of how to use reels — it's really easy — you can spend hours tapping through entertaining short videos from people in your personal network and beyond.
On June 2, nearly two years after Reels first arrived, Instagram announced new features to "help you engage more with your audience and help you express your most authentic self on Reels," according to a press release. Where the platform started out by letting you post just 15-second videos, and later expanded to 60, you can now post 90 seconds of #content. The new update also lets you use Instagram Story stickers like Poll or Quiz on your Instagram Reels, as well as introduces new audio options. Finally, the update also includes a feature called Templates, where you can import the audio and clip placeholders from another reel you like, then swap in your own videos.
Ready to send your knitting progress videos stratospheric-level viral? Here's everything you need to know about how to use Instagram Reels.
How To Create A Reel On Instagram
When you're ready to start creating reels, tap the Reels icon in the middle of the Instagram menu at the bottom of the screen, then tap the camera icon in the top right corner. There, you can take photos or video in real time, or swipe up to upload content from your camera roll.
Play with the tools on the left-hand side to edit your clips to create the reel of your dreams. To edit the sound on a reel, tap the music note icon on the top right. There, you can pick one of the the millions of pre-loaded songs from Meta's library, or you can upload your own sound or song. You can edit the speed on a clip by tapping the 1x button, and speeding up or slowing down accordingly. You can use the grid icon to make split-screen videos, though if you're doing this with the front camera, consider using a tripod to hold your face steady. Similar to Stories, you'll notice you can also choose from a variety of AR filters and effects to lay over your video by swiping around the camera shutter button.
The timer lets you time your video down to .1 seconds, so you can make sure it syncs up with your music. If you want to take a multi-shot video with costume changes, dance breaks, or any other creative effect you can think of, you'll use the "Align" feature, which will help you keep your shot, well, aligned. Lastly, you can use the text or doodle tool to decorate or annotate your clips, the same way you would in Instagram stories.
If all this sounds like way too much effort, Instagram's new reels feature, Template, will take the guesswork out of creating reels. The tool lets you use a reel that you like as, well, a template for a new reel of your own: It'll import the clip timing and audio, and you just have to swap in your own video. To use it, just hit "Use template" above the poster's username, and you'll be directed to a new editing screen where you can swap in your clips, pre-cut to sync with the audio in the reel you liked. You can also Remix viral reels — aka, making your own reel in response, like TikTok's duet feature — by hitting the three dots on the bottom of the right-hand menu. Click "Remix this reel" and record your response in the window that pops up.
How To Share Reels On Instagram
To share your reel, tap through the Preview prompts. The first time you go to share a reel, you'll be asked whether you want your reels to be promoted to other users (i.e., to show up in other people's "Suggested Reels"), and you can allow that or not.
Once you get to the share page, you can edit the cover image, write a caption, tag people, add locations, add a fundraiser, and more. If you're a content creator and need to add a paid partnership label, you can do that in "Advanced Settings."
If you want to wait on sharing your creation with the world, you can save it as a draft. But if you're ready for the reel to be public, you can hit Share, and it'll be discoverable on the main Reels page, or from the Reels tab on your profile.
If you're not ready to make your own content yet, but want to see what's out there, head to your Reels page and you can see featured videos from people around the world. You can browse through songs, effects, or hashtags to find specific content, or just experiment with searches.
This article was originally published on