13 Easy Turkey Recipes For Beginners
Because nobody wants to spend all day in the kitchen.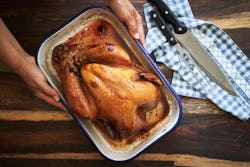 GMVozd/E+/Getty Images
After the year we've all had, we deserve a bit of a break this Thanksgiving. Fortunately, the food bloggers of the internet have blessed us with plenty of easy Thanksgiving recipes so you can satiate your appetite without breaking too much of a sweat. The only perspiration you need to experience should be that of eating too much meat.
First and foremost, if you're planning to cook a whole turkey, get a meat thermometer. The National Turkey Federation — a real organization that exists — has a helpful guide to meat thermometers from their recommended internal cooking temperature to where to take the temperature from. It'll keep you from the guess-work of trying to figure out whether your bird is cooked or praying to the turkey gods that you don't give yourself and your loved ones salmonella.
Food blogs like Brown Eyed Baker also have tons of tips and tricks on how to cook a turkey. Use them to answer the age-old questions: to brine or not to brine your turkey. Stare at them while you contemplate ordering take-out. This year, rules do not exist and that absolutely applies to your Thanksgiving meal. Whether you're a novice in the kitchen or just don't want to spend hours babysitting a baking bird, here are 13 easy turkey recipes that'll be a hit this Thanksgiving.
If all else fails, order takeout and stick a feather in it. Close enough.