How To Avoid Seeing Your Exes On Facebook Without Unfriending Them
Snooze is about to become your new best friend.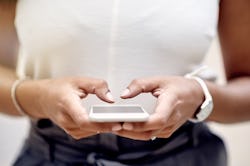 Mikolette/E+/Getty Images
From your ex fling's cheesy engagement photos to coronavirus conspiracy theories that your uncle keeps sharing, your Facebook News Feed can quickly become a strange and confusing place. One of the downsides of having social media accounts for a long time is that you end up losing control of what your feed looks like. You may even sign on sometimes and realize your feed is filled with posts from people you met at a party in college and never spoke to again. And if you don't use it consistently, you've probably missed out on new tools and features you'd actually want to take advantage of. Luckily, there are a few Facebook News Feed hacks that can help you see photos and posts from the friends, family, and pages you care about the most — and you won't have to Unfriend anyone and feel awkward about it for years to come.
Read on to find out about six Facebook News Feed features you might not have known about. From Snoozing people who post status updates every five minutes to adding Close Friends, just like you can on Instagram, to prioritizing the updates you see first when you sign on, there are plenty of ways to hack a better feed.
Whether you're trying to see more of someone or see way, way less, Facebook has features meant to help you do exactly that.