The 14 Best Goal-Setting Apps To Keep You On Track
For New Year's resolution season and beyond.
by Megan Grant and Kaitlyn Wylde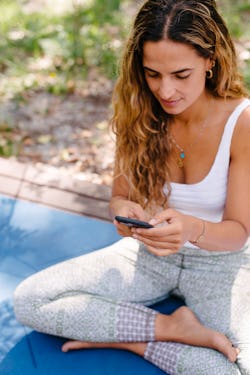 Natalie McComas/Moment/Getty Images
Every now and again, the self-reflection mood strikes — where are you now, where have you been, and where do you want to go? Maybe your fantasies are about where you're heading in your career, or maybe they're about waking up earlier, or drinking a comical amount of water every day, downloading a goal-setting app can help keep you accountable.
Imagine the unbridled joy of crossing off a completed task from an IRL notepad. With bonus features like colorful visuals, reminders, and charts to see your progress over time, goal apps multiply that feeling of accomplishment exponentially. The best goal-setting apps don't just record your progress, they're also satisfying to use.
Creating goals has psychological benefits whether you're trying to keep your indoor plant collection alive or making a major career move. According to executive coach Kaylin Aarts, keeping track of little successes makes you more likely to reach your larger, long-term targets. "When you use an app to break down your goals into action items and keep track of every little accomplishment, you're more efficiently working towards the goal because you're more engaged with the process," Aarts says.
According to a 2016 study published in the journal Psychology Bulletin, keeping track of little successes is much more sustainable than always (and only) focusing on an endgame that seems so far off. In other words, set goals, write them down, track your progress, and you'll position yourself to be far more successful in reaching those milestones than if you were to skip those first three steps.
While journaling your goals is an excellent way to connect with yourself and be mindful of your intentions, adding a goal app to your arsenal offers a more interactive way to engage with your objectives. Whether you're honoring those 2022 resolutions or want a better way to record your achievements starting today, these 14 goal apps can help.
This article was originally published on