The Luckiest Day Of 2022 For Your Career, According To Your Zodiac Sign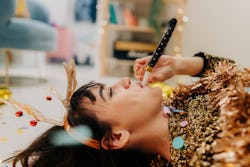 AleksandarNakic/E+/Getty Images
We've officially made it through another year of video conferencing and virtual water cooler hangouts, and if you've made drastic changes in your professional life in light of this year's uncertainty, you're not alone. But with a new year comes new vibes, and knowing what days are the luckiest for your career in 2022 based on your zodiac sign can help you thrive in your professional endeavors in the year to come.
When leaning on the stars for guidance in money and career, it helps to look closely at Venus, Saturn, and Jupiter. Venus is the planet that governs romance, beauty, and finances, so keeping tabs on this planet will tell you a lot about managing your money. Discipline and hard work both resonate with no-nonsense Saturn, which rules over Capricorn, the zodiac's workaholic). Saturn is central to understanding your ambitions and motivation in your career. As far as luck goes, Jupiter is the planet that rules abundance and fortune, so it pretty much plays a direct role in your future prosperity.
Reading into the aspects of each planet is crucial to understanding which days will bring luck and success in your career in 2022. For example, trine aspects indicate a positive and auspicious interaction between three planets, while sextile aspects denote harmony between the planets in question.
Following the movement of these celestial bodies and the relationship they have with each other will paint an astrological picture for the year to come. Astrologer Tali Edut, one half of The AstroTwins, co-author of their yearly astrology planner, The AstroTwins' 2022 Horoscope, gives us all the juicy details on the luckiest day of 2022 for career based on your zodiac sign, so you can plan to ask for that promotion accordingly.