Greggs Is Launching Vegan Versions Of 2 Lunchtime Classics
It's Veganuary every month of the year at the nation's fave baking chain.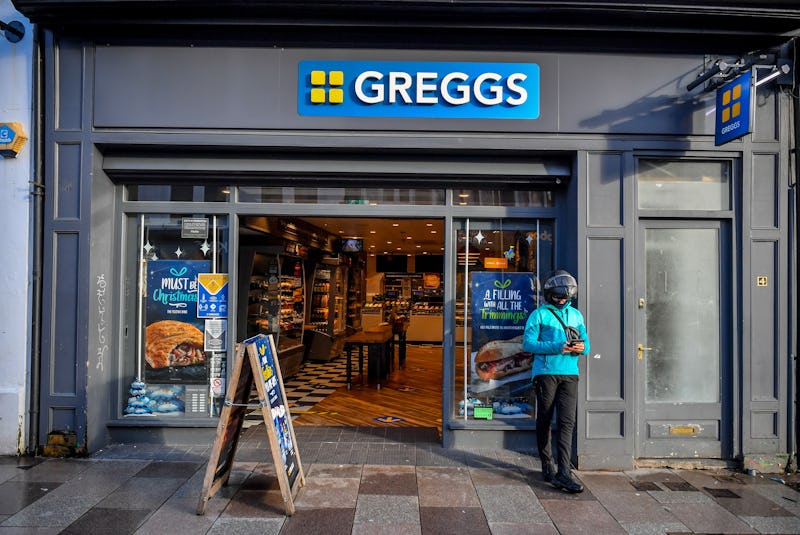 Ben Birchall - PA Images/PA Images/Getty Images
Once again, Greggs is proving that it doesn't have to be Veganuary to discover delicious new plant-based dishes. Alongside their now-legendary sausage roll, everyone's fave bakery chain is back to brighten up your breakfast, lunch, and maybe even dinner with two new vegan options. This time it's baps and sandwiches.
With a record-breaking 500,000 people signing up to go vegan at the start of the year, and meat substitute sales growing by 451% in the European market in the last four years, Greggs is giving the people what they want.
The vegan sausage bap features a plant-based Quorn sausage topped with your choice of sauce, of course, all sandwiched between a tasty toasted roll. All that for an affordable £1.90.
Meanwhile the baking brand's Ham and 'Cheeze' baguette sounds like the ideal lunchtime sarnie. It consists of Quorn ham alongside cheddar-flavoured vegan cheese slices and is priced at £2.95.
Greggs has already blessed the nation with their much-loved vegan sausage rolls as well as their famous Vegan Steak Bake over the last few years, both launching in Veganuary. They also have a couple of menu items that happen to be vegan, including the Glazed Ring Doughnut, Hash Browns, and Southern Fried Potato Wedges.
However, the baps and sandwiches won't be rolling out nationwide just yet. A spokesperson for Greggs told Metro: "Over the coming weeks we'll be trialling our delicious Vegan Ham and Cheeze Baguette and Vegan Sausage Breakfast Roll in a very small number of shops, with a wider launch planned for later in the year."