Krispy Kreme Is Selling Heart-Shaped Doughnuts For Valentine's Day 2021
Plus six other heart-shaped foods you should treat yourself to this year.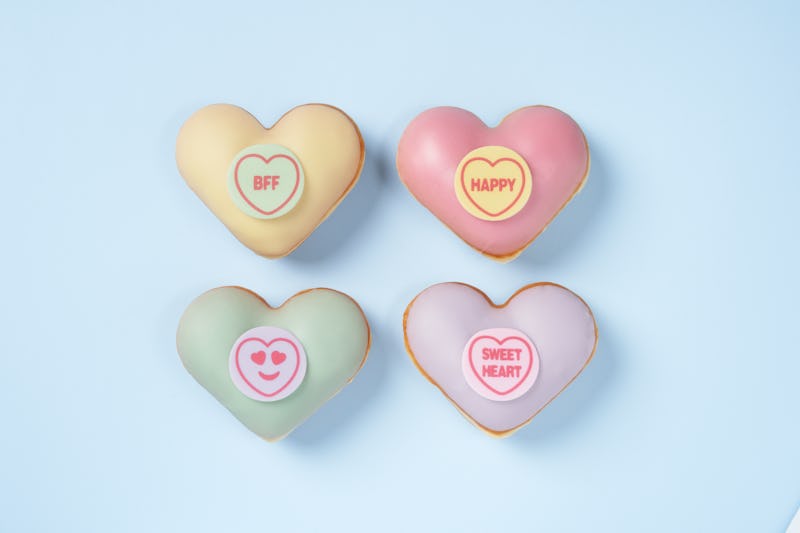 Krispy Kreme
Like it or lump it, Valentine's day is fast approaching and everywhere you go there are cards, hearts, flowers, and a whole bunch of corny Instagram posts. But even those opposed to this loved-up annual event will admit that the food side of things is the silver lining, and these heart shaped foods are no exception. This year, things will look totally different, as IRL dates or Galentine's Day parties are off the table, but that doesn't mean we can't indulge in all the seasonal treats that hit the shelves around February 14.
Although slightly on the naff side, the annual celebration of all things romantic is believed by some historians to have surprising historical roots. In fact, the origins of Valentine's Day date back to the Romans and their celebration of Lupercalia, an annual festival to encourage fertility and appease the gods. During these festivities there would be a whole lot of hedonistic behaviours including getting naked and (to put it politely) getting jiggy with it.
So why not do like the Romans do and give into Valentine's Day? Any by that I mean, eat all the ridiculous heart-shaped food you can get your hands on. Below are my pick of the best.
Contributions from Aoife Hanna.