How Will The Royal Family Spend Christmas This Year?
As the Queen cancels Christmas lunch, the royals might have to give some of their traditions a miss this year.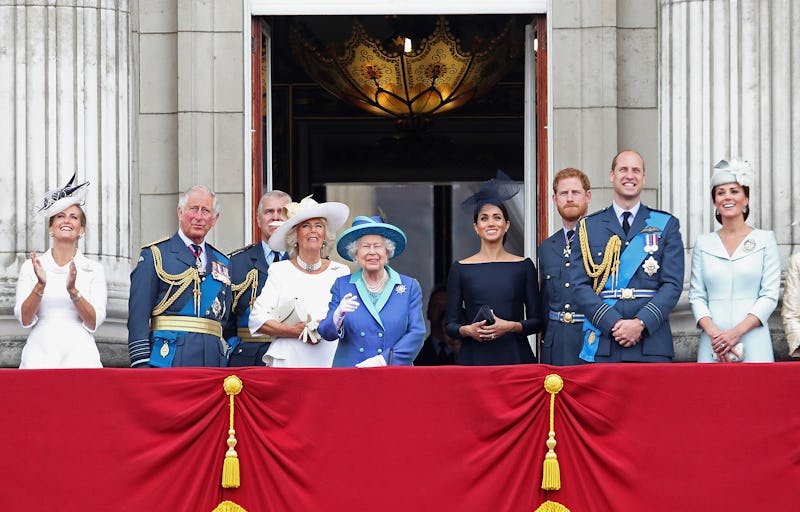 Chris Jackson/Getty Images Entertainment/Getty Images
Members of Queen Elizabeth's immediate family, like Prince William and Kate Middleton, for example, are expected to take part in many Christmas traditions as a family. One that the royals would have been looking forward to would have been the Queen's Christmas party that was due to be held at Windsor Castle.
However, the outbreak of the Omnicron variant of the Covid-19 virus has dampened those plans, leading the Queen to make the decision to cancel the festive lunch, which was planned to take place at on Dec. 21.
According to the Sun, the decision was described as "a precautionary one" out of fears that the party would "put too many people's Christmas arrangements at risk if it went ahead". Almost 50 members of the Royal Family, including the Duke and Duchess of Cornwall, were due to attend the festive lunch, but the Queen said cancelling the bash was "the right thing to do".
This Christmas will be a very sombre one for the Windsor's following Prince Philip's passing earlier this year, as well as the Queen's health scare in October that led to her spending a night in London's King Edward VII's Hospital.
In October, a Palace insider said the Queen was determined to spend Christmas with her family at the estate. They told the Mirror, "This year, more than ever, it is incredibly important for Her Majesty to be surrounded by her loved ones. The Queen is totally committed to hosting everyone as she hopes to make it back to full health in the coming weeks. After being forced to cancel a host of engagements, the family get-together will be the perfect tonic."
Last year, it was reported that the Queen and Prince Philip enjoyed their Christmas quietly at Windsor, instead of the whole family descending en masse to the Sandringham estate for the festive period.
The Duke and Duchess of Cambridge and their children chose to bubble up for Christmas with the Middleton family in Berkshire last year, as they had spent the past few years with the royals. The Duchess also has two siblings, Pippa Matthews and James Middleton, so whether they're planning on spending Christmas with their parents is another potential roadblock.
Elsewhere, Prince Harry and Meghan are expected to celebrate Christmas in sunny Los Angeles, California, with Archie and Lilibet. The couple has not confirmed their plans publicly, but they reportedly do not include a trans-Atlantic flight.
While the family's seasonal schedule will be subject to major changes this year, here are a few ways the royals typically spend Christmas:
Contributions from Jessica Booth, Rebecca Fearn, Orla Pentelow, Sam Ramsden, and Sophie McEvoy.
This article was originally published on