How To Help Your Relationship Survive Quarantine, Based On Your Partner's Sign
Lockdown can be an opportunity to connect on a deeper level.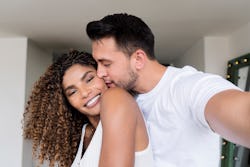 RicardoImagen/E+/Getty Images
Remember when you actually looked forward to spending weekends at home with your partner? No? Well, being in quarantine for three months can do that to you. It's easier to love and appreciate someone when you're not stuck at home with them all day, every day. But no matter how much lockdown is getting to you, it doesn't have to affect your relationship negatively. In fact, your partner's zodiac sign may be able to give you the insight you need to help your relationship survive quarantine.
"All of us can attest to the fact that 2020 has been one wild year that's taken many of us on quite the rollercoaster, and has tested many of us on a personal level," Aaya Samadhi, Aligned astrologer, tells Bustle. "If you've been quarantined with your significant other since the earlier part of the year, this alone can cause huge shifts within the dynamic of your relationship."
This is especially true for zodiac signs who value their independence and aren't used to spending so much time at home with their partner. For a fire sign, like Aries or Sagittarius, or an air sign, like Gemini or Aquarius, a need for more space and freedom may change the way they show up in their relationship right now. For example, they may become more moody, irritable, or distant, and it will impact their relationship throughout lockdown.
If you know your partner's zodiac sign, you can figure out what you can do to help your relationship survive quarantine.