How To Use The Shook Filter On Snapchat, TikTok, & Instagram
Could we be any more shook?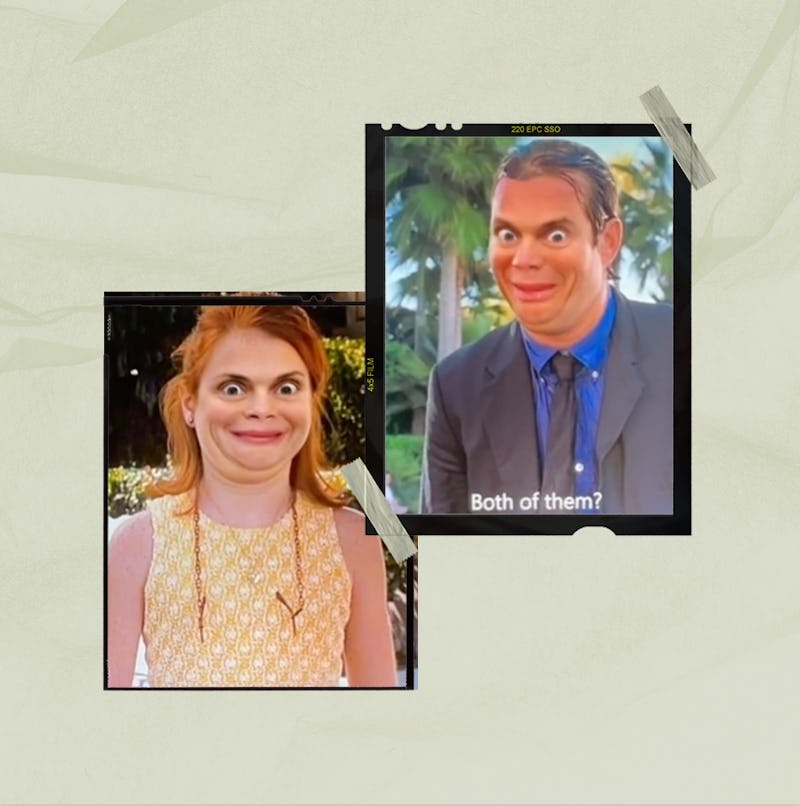 TikTok/@lisayambo
Maybe you still haven't gotten tired of using the Snapchat "Crying" lens that went viral all over social media in early May. But, if you're ready to turn that frown upside down, Snapchat has just debuted another hilariously realistic filter to use on unsuspecting loved ones. Launched on May 20, the Snapchat "Shook" lens has major potential for being the internet's newest filter trend.
Plastering crazed eyes and a wide grin over its subjects, the Shook lens has seen already similar trend trajectory as the Crying lens — as many TikTokers have started to use the filter on friends or even movie scenes. Per Snapchat, 144 million Snapchatters have engaged with the lens over 1 billion times since it came out.
If you're ready to make your calm S.O. look like a frazzled Mr. Bean, here's everything you need to know about Snapchat's new Shook lens.
What Is Snapchat's Shook Lens?
The Shook lens is only available on Snapchat, but that hasn't stop internet users from sharing their Shook content on other platforms. TikTokers and Instagram Reel-ers alike have gotten crafty with shooting on Snapchat using the lens and exporting it to other apps to create viral content.
One of the most common uses of it so far is fairly similar to the Crying lens, where users apply the filter to friends without their knowledge. However, unlike Crying, which saw plenty of teary-eyed cocktail sippers and food-sharers, the Shook filter has its subjects looking, well, shook by often mundane circumstances.
"Can you stop look at me like that? It's kind of stressing me out," says TikToker Nicki Baber to her significant other, who is completely mystified as they scroll on their phone.
Another common Shook filter trend is using the lens over movie scenes. Ever wished that Ozark characters weren't so composed in the face of constant chaos? Well, watching the show with the Shook filter applied might capture how you're feeling while watching the Byrde family crumble. Consider also how the absolute chaos of The Parent Trap could be improved if everyone's faces belied how truly shook they were throughout the movie. One user applied the filter to convey Nick Parker's absolute shook reaction to learning that it was actually his long-lost daughter Annie, not Hallie, hanging out at his Napa mansion.
How To Use The Shook Lens On Snapchat, Instagram, TikTok, & More
If you're ready to shake things up yourself, you can make your own video using the Shook filter fairly easily. Just head to Snapchat and open the smiley face icon next to the record button on your camera tab. Click the "Explore" tab on the bottom right of your screen, and search for "Shook." You can also follow this link to use the filter.
Next, find a face to make Shooketh, and start recording. (Might we recommend taking your filter for a spin on an especially shocking Love Island pairing? Or, a steamy Conversations With Friends scandal?)
You can post your creation to your Snapchat, or download the video to share it on other platforms by clicking the save button on the bottom of your screen. To upload it to Instagram, TikTok, or other social media, just find it in your camera roll like any other video you'd share. Go forth and be shook.