How To Use Strava
The run-tracking app is an underrated form of social media.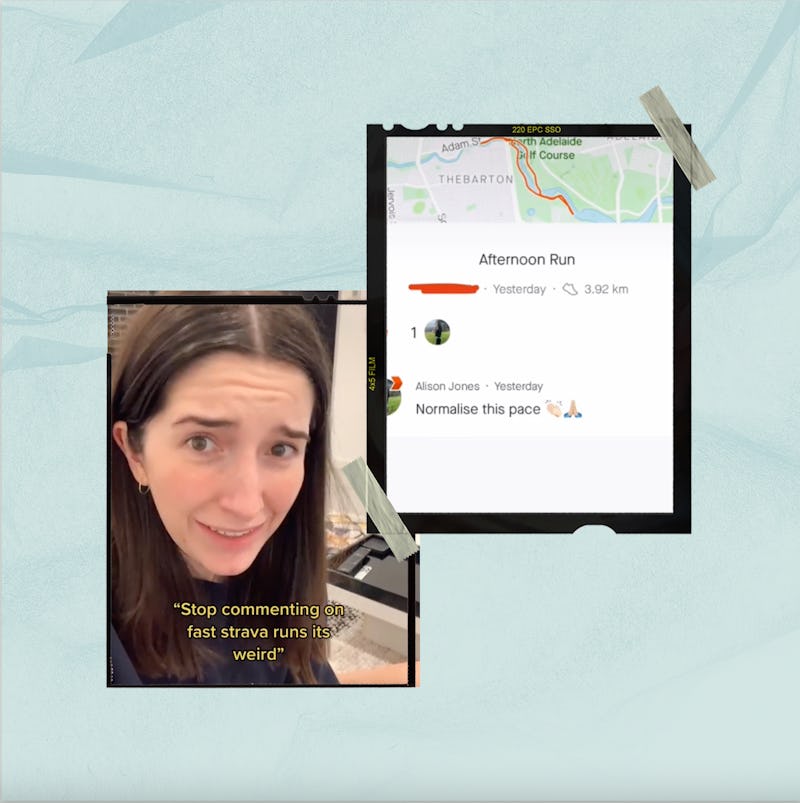 TikTok
Whether you're a hot girl walk enthusiast or an avid runner, getting in your daily steps is often an ideal time to tune out from technology. Maybe your daily speed walk is your one outdoor respite from the blue light-drenched haze of your WFH grind. Or, perhaps you run to fight the urge of endlessly scrolling on TikTok. Just you, a pair of earbuds, and the great outdoors. But what if I told you that the hottest form of social media right now is actually… running? No, I'm not talking about some new VR track in the metaverse. I'm talking about Strava, the run-tracking app that runners are using for an added social component to their solo runs.
Strava, founded in 2009, allows you to track your runs and see those of your friends, and even race against your neighbors on local running paths. Recently, the app has achieved meme status online thanks to viral TikToks of Strava users trolling their friends' mile times. Videos with the #strava hashtag have over 110 million views, with clips like "Different Types of Runners on Strava" and trolling hardcore Strava users.
Whether you've got a competitive edge you're ready to flex, or just want to add your one trusted BFF to keep you accountable on your training routine, Strava can enhance your running experience. Lace up and read on for everything you need to know about Strava.
How To Use Strava
Downloading Strava is free for iPhone and Android. Just search for the app in the app store on your smartphone, download it, and sign up for an account. You can opt for a subscription for $7.99/month to access enhanced features like extended leaderboards.
To log a workout, just hit "Record" at the center bottom of your screen, select whether you're heading out on a run, trail run, walk, cycling session, or hike. You can also choose from a variety of cycle sports, water sports, and winter sports, among others. Enable location services to track your run, then press "Start" to begin.
Once you've completed your run, tap the stop button at the bottom of your screen, then tap "Finish" to submit your final run. You'll be prompted to add a title, notes, photos, and other information about your run. (This is where you can bring some personality to your Strava posts, the same way you would on your latest photo dump.)
How To Add Friends On Strava
As you've probably seen online, one of the factors that sets Strava apart from other running apps is its social component. To add a friend on Strava, tap the "Find Friends" icon on the top left of your home screen. You can connect your Facebook or phone contacts, or you can search for friends using the search bar. Once you find a friend, tap the "Follow" button on their profile.
You can like your friends' runs, comment on their stats, and even tag your pals in your run descriptions for some friendly competition. If you don't want certain people seeing your running stats, you can also scroll down to "Visibility" to choose who can view your run and whether they can view your calories and/or pace.
How To Adjust Privacy Settings In Strava
No matter how proud you are of your new 5K PR, you might want to keep your runs between you and the road. Maybe working out is something you'd prefer to keep private — especially if the watchful eye of your competitive friends makes you sweat. Or, as some TikTokers have highlighted, you may be concerned about safety. Since Strava's primary functions rely on your location, your Strava stats can reveal info as seemingly private as your home address, if you typically start your runs there, or which paths you frequent at certain times of day.
TikToker @megansmarathon mentions that it is possible to hide the start and stop location of your run, thought she notes that this doesn't prevent someone from staking out the rest of your route. She also notes that hiding your location makes you unable to participate in "segments," or local paths where you can race against neighbors. So, instead, she opts for removing followers she doesn't know personally.
To adjust your visibility settings, open Strava and click on your profile tab in the bottom right of the screen. Tap the settings gear icon in the right right corner, then click "Privacy Controls." Under Additional Controls, tap Map Visibility, and you can choose from a few options. The first option is to hide the start and end locations of your runs that happen at a certain address (i.e., your home address). You can also hide the start and end location of your run no matter the location. Both of these settings allow you to hide the start and end of your runs for up to a mile. If you want to be extra safe, you can also hide all of your activity maps.
Once you get the hang of the app, you can set out on your Strava journey. Happy trails (and happy trolling).