3 Sneaky Ways To Watch Instagram Stories Anonymously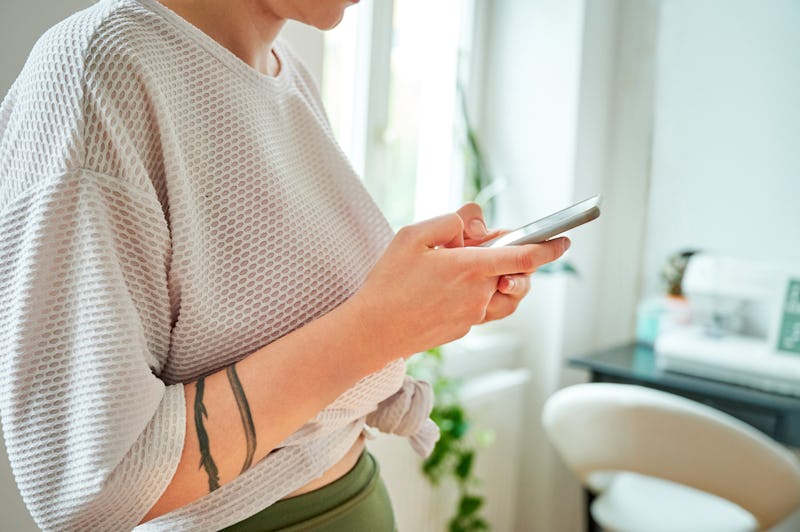 Charday Penn/E+/Getty Images
The ability to check out who has viewed your Instagram Story is a double edged sword — pretty satisfying when it's your Story, and pretty exposing when you're on the other side. Though you might enjoy being able to see who is watching your Stories, you've likely wondered how to watch other people's Instagram Stories anonymously.
"I kept ignoring this one friends DMs just because I wasn't in the mood to read and respond and I was trying to be careful to not watch their Stories, but I did accidentally," Taylor, 24 tells Bustle. "I had to immediately reply and pretend that I hadn't seen their messages — it was embarrassing, and it happens a lot," she says.
Being seen in a Story audience is often reason enough to avoid watching it. While Instagram doesn't offer any obvious way around having your name pop up, there are a few different ways you can peek at a Story without being seen, so long as it's a public account or someone you already follow.
Turn On Airplane Mode
Instagram preloads a handful of Stories, so that when you log on you can instantly view them, regardless of your connection status. When you don't have a WiFi or cellular connection, Stories can't count your view —so if you pull up someone's profile, and then duck into Airplane mode, turn off your cell signal and return to their page to view their Story, it will load, and the user won't see you in their viewer's log. Note that if this poster has a particularly long Story, or many slides, they likely won't all preload, so you'll only be able to see a few.
Use Your Finsta
If keeping your info private is important to you, and you want to be able to see what everyone's up to without letting them know you're online, you can use a secondary Instagram account to peep in secret. So long as the account you're viewing is public, or you've been accepted as a follower of a private account, you'll be able to view the Story without the person knowing it was *you*.
Use A Third-Party App
At your own, risk, if you're *really* curious, you can use a third party app that will allow you to privately screen a Story of an account that is public, without logging in. Sites like Insta-Stories only require you to enter the user name to view their Stories anonymously. But if the account is private, you won't be able to sneak your way in.