If You Want Thicker Hair, Experts Say These 23 Products Are *So* Effective
We only recommend products we love and that we think you will, too. We may receive a portion of sales from products purchased from this article, which was written by our Commerce team.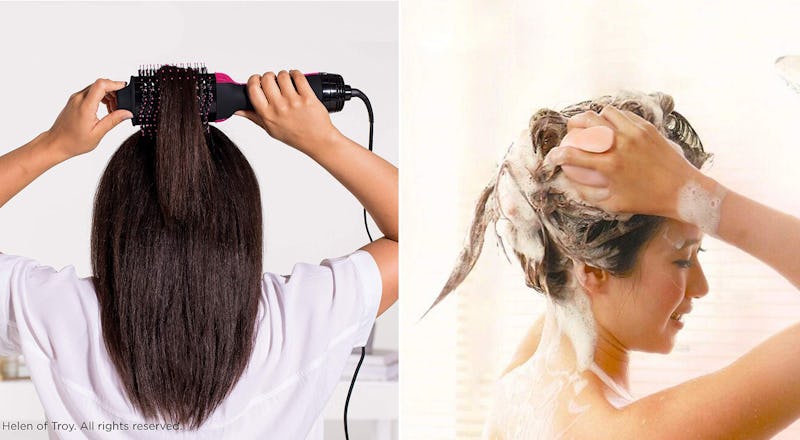 Amazon
On every beauty store shelf, there are products that promise to grow your hair longer, thicker, and fuller — but, no pun intended, most of them fall short. I've been trying to grow and thicken my hair for over a decade, and I've only just started to see results in the last year and a half. In an attempt to narrow down the best hair growth products on Amazon that actually work, I sorted through endless reviews, researched tons of ingredients, and got in touch with actual experts in the health and hair care industries.
According to the experts I spoke with, the rate and thickness at which hair grows is influenced four main things: diet, supplements, hair tools, and hair care ingredients. "Diet has a large impact on hair growth. A lack of nutrients such as biotin, iron, vitamin A, C, D, and E, along with B vitamins, may slow hair growth or even result in a loss of hair," according to dietician and author Erin Palinski-Wade, RD, CDE. So Palinski-Wade suggests eggs, blood oranges, salmon, avocado, and steel-cut oats as foods that support thick, healthy hair.
We'll get more into the recommended tools and hair care products below, but Jonathan Matias, lead stylist and colorist at Brooklyn's [salon]718, says this: "Patience, my friend! Most product lines will require a regimen for optimal results. Stick to the plan with your end goal in mind. Be open to different styles as your locks grow longer."
Finally, if you're not sure where to start, "listen to your stylist when they offer advice," Patrick Butler, technical director of education at Floyd's 99 Barbershop, tells Bustle. "Explain your goal and then ask what they recommend. This can be important when discussing color options, styling tools, and hair products."
Now that we've covered the advice portion of Thick Hair 101, it's time for the recommendations. Whether you're trying to grow your hair thicker or have it appear that way in the meantime, here are 23 products with expert-approved ingredients to promote growth and thickness.
This article was originally published on