3 Incompatible Zodiac Signs For Virgo, According To An Astrologer
When it comes to finding a partner, this sign wants nothing short of perfect.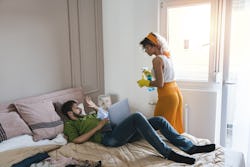 freemixer/E+/Getty Images
When your life goal is to be seen as practically perfect in every way, it makes sense for you to be particular about the company you keep. But what if you have high standards? You're a practical, hard-working, deep thinker who only wants the best for themselves. Since you're the analytical type who likes having all the facts before making any big moves, knowing the three most incompatible signs for Virgo can be really beneficial for your love life. When you know the types of people you should steer clear of, you can put your efforts toward those who will be worth your while.
"Virgo has a reputation for being kind, caring, and nurturing — who wouldn't want that in a partner?" astrologer Wayne Gonzalez tells Bustle. "Unfortunately, because of these qualities, Virgos can often end up in relationships with someone who's uncomfortably dependent."
Since Virgos are ruled by Mercury, the planet of thinking and communication, they often enjoy a good puzzle. According to Gonzalez, it's not uncommon for Virgos to try "puzzling out a partner's unreasonable behavior," which is how they often find themselves trapped in a difficult relationship.
Chances are the perfect person for you is out there. It's just a matter of sorting out who's all wrong and all right for you. Not that you'd mind, of course. You're all about organizing your life and making lists. So, here are the three zodiac signs that are least compatible with Virgo, according to Gonzalez.