These 7 Intimate Questions Will Strengthen Your Relationship
Emotional intimacy will lead to even better physical intimacy too.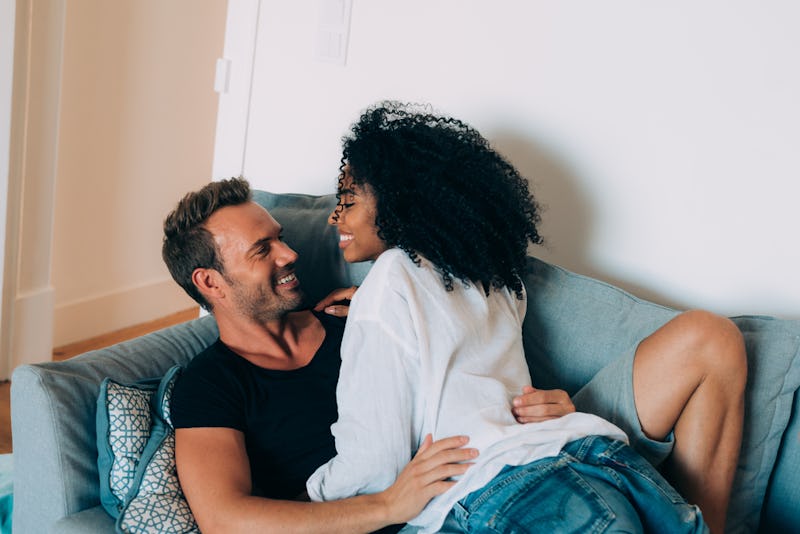 David Prado Perucha/Shutterstock
If you and your partner are looking to take your connection to the next level, being open and vulnerable with each other is key. When you're able to do that, you'll likely have an easier time building emotional intimacy within your relationship. Asking the right questions can help foster something much deeper and more meaningful, so if you're looking to take your relationship to the next level, try asking your significant other these seven surprisingly intimate questions.
According to psychotherapist Laura Dabney, M.D., nothing will ever progress in your relationship unless it stands on a solid emotional foundation. That means you both trust that you won't hurt, betray, or shame each other in any way. It also means that you have respect for each other's boundaries and you trust that you're committed to each other.
"I counsel couples and individuals alike to spend as much time reinforcing the emotional core of their relationship as they do the physical core," Dr. Dabney previously told Bustle. "While there are many exercises and conversations that a coach or therapist can facilitate for you, there are an equal number of conversations that you can and should be having within the privacy of your own walls."
When you build a solid emotional foundation in your relationship, you can have a bond that lasts. So here are some surprisingly intimate questions you can ask your partner in order to take your relationship to the next level, according to experts.
Sources:
Dr. Laura Dabney, psychotherapist
Caitlyn Paltsios, relationship expert
Lesli Doares, couples consultant and coach
Samantha Morrison, wellness expert
Laurie Berzak, MSW, dating coach
This article was originally published on