15 Kombucha Cocktails To Try Before You Buy More Wine
From margaritas to Moscow mules.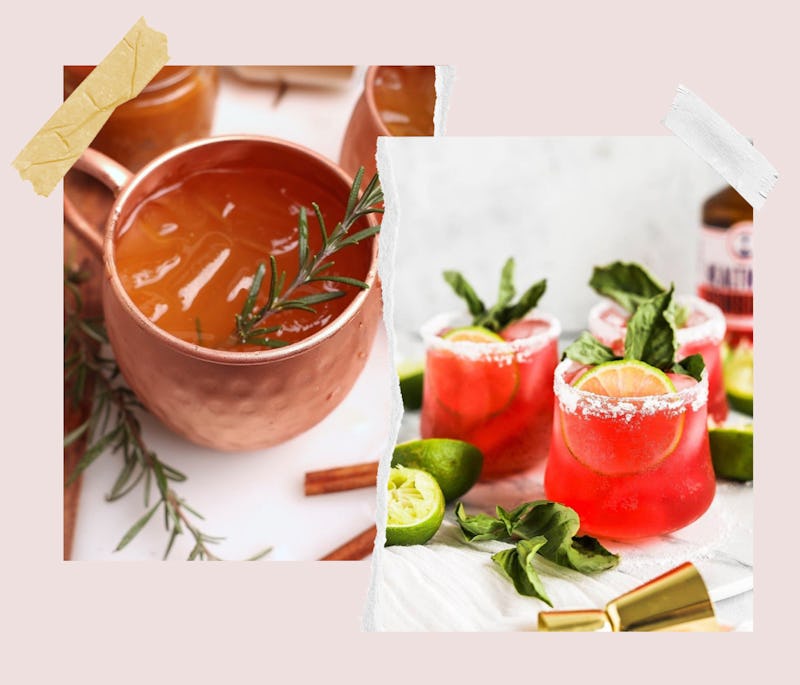 My Darling Vegan/Health-Ade
In just a few years, kombucha has gone from being an obscure Whole Foods oddity to a trendy health-adjacent drink to a beverage that lines grocery aisles and is even served on tap. Thus, it was only a matter of time before kombucha cocktails took over the internet. If there is a way to spike something, the internet will find out how.
As you may know, kombucha already has a very small percentage of alcohol. However, that percentage is typically only about 0.5% though some have a 3% ABV, depending on their fermentation process. For context, O'Doul's non-alcoholic beer has about a 0.5% ABV and most low-calorie beers have around 4% ABV. So, if you're wondering whether kombucha can make you drunk on its own, the answer is probably not. There are brave souls who have tried to get drunk off kombucha alone, but, after drinking nearly a gallon of the stuff, were left with a 0.01 blood alcohol level and bad gas. In other words, if you want to get tipsy on kombucha, your best bet is just to add your alcohol of choice to it.
Whether you're new to the kombucha game or you're looking to spice up your cocktail repertoire, there is a kombucha cocktail on this list you'll want to try. Pour yourself a glass of that stinky fizz and enjoy.
If all else fails, try adding some kombucha to your wine of choice for a tangy, spritzer-like cocktail.